There's a revolution afoot in hockey country, a culture shift more dramatic than even the most enthusiastic proponent of Canadian basketball could have predicted. At the epicenter of it all is an inspired generation of young athletes with no concept of geographical glass ceilings.
At a time when high school seniors on the cold side of the border know nothing but a reality in which Steve Nash is a two-time NBA MVP and that southern Ontario alone has pumped out five top-eight draft picks in the last six years, it's safe to say that #TheyTheNorth are evolving.
In June, a pair of young men from vastly different backgrounds walked across a stage in Brooklyn for a handshake that would forever change their lives. What then and will forever link Jamal Murray and Thon Maker, however, is the fact that they played high school basketball for the same upstart prep program in the outskirts of Toronto.
Fast forward three months later and the war drums beat for a new generation of talent at the same facility, the latest group of insatiable sophomores, juniors and seniors already preparing bodies and showcasing skill sets for the assembly line of NCAA Division-I coaches that make the trip in droves.
"The point of our program," says Chris Cobbina, head coach of Mono, Ontario's Athlete Institute, "is to give kids in Canada a platform where they can remain home but get the same opportunity that a kid leaving Canada would get, that an American kid would get."
The humility in the 33-year-old's tone serves as a subtle reminder of the national inferiority complex that until a decade ago could have reasonably defined Canadian basketball.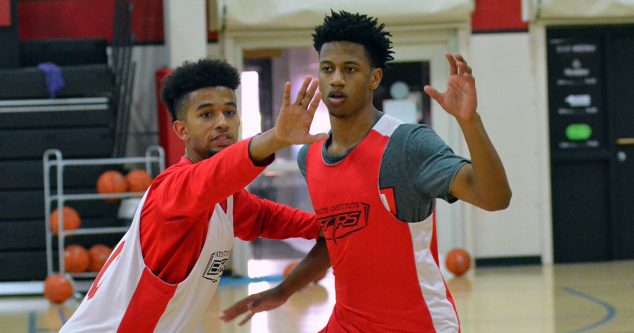 "The idea that they created something here just outside the GTA where our elite guys can come to is amazing," Cobbina says. "I'm of a generation where that would have been laughed at. Now it's not just happening, it's thriving."
Fueled by a cocktail of contributing factors from the arrival of the Toronto Raptors to Canada's substantial and always growing migrant population, the game has taken root in the very fabric of the country's sports landscape.
"I feel like we were definitely looked down upon, but that was a couple of years ago," says 6-9 senior Oshae Brissett, a four-star recruit whose top-four includes the likes of Oregon and Syracuse. "Now because of the rise of people in college and people going to the NBA from Canada, I feel like we're definitely more respected."
It's not just a patriotic sense of duty that brings players like Brissett to the three-season-old basketball academy though. It's a clearly defined vision that became a reality in 2012.
"It was a building process of personal experience and family experience, being in the basketball world a lot and seeing what was missing," says President Jesse Tipping of his decision to launch the ambitious program out of an existing local sports complex. "I wanted to have the atmosphere of a really great training environment, mixed with a private school where you would have a lot of pride in where you go to school."
In the years since, the reputation of the program has grown and more young basketball players have turned to it as a vehicle through which they can legitimately and methodically reach Division-I.
"I wanted to be able to focus on my body and get ready for the next level," says Howard Washington, a point guard who previously attended school in Florida. "Here I can get better every day, work on my body every day and win also."
Washington, like Murray and Maker before him, sees the NBA as an attainable goal and the Athlete Institute as an undeniably valuable resource that can help him get there.
"They have a full-time strength trainer here, they put out meal plans here, work out plans," Washington explains. "All the things you need to get to the next level."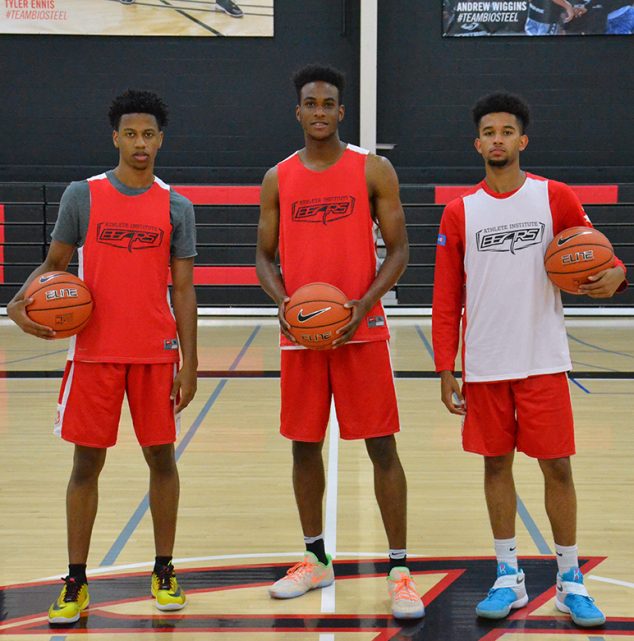 On top of that, the students who live and play on campus attend public school in nearby Orangeville, where all the too easily forgotten social and academic needs of a teenager can be met.

"We didn't go to a high school at Findlay. We had our own classes as players," says Brissett. "Here we actually go to a real high school, so there are kids our own age that we can talk to."

Supplemental factors like these are what initially convinced Maker, then a top-10 recruit in the 2016 class, to abandon Carlisle High School in Virginia and head north to Mono back in the fall of 2014. During his two years with the program, one with each of the two rosters that make up the basketball academy, Maker added 30 pounds to his frame and bypassed college to enter the NBA Draft.

For a country whose previous homegrown exports like Andrew Wiggins and Tristan Thompson had little choice but to pack up and fly thousands of miles for a taste of world-class prep training, the growth of a relatively local powerhouse is much welcomed.

With 6 million people in the region, the Athlete Institute is less than an hour from the Air Canada Centre in downtown Toronto. If there remains any misconceptions that the program is too far away or inaccessible, they've long been abandoned by some the biggest names in college basketball.

John Calipari, Jim Boeheim and John Beilein are but a handful of the NCAA figureheads who've identified the ever-evolving basketball academy as a major stop on the North American recruitment tour and more will continue to come as the country's most promising prospects elect to fortify their portfolios at home rather than south in the States.

"At Findlay we had a lot of people that have gone to the League," says Brissett, referring to recent alumni like Rashad Vaughn and Kelly Oubre Jr. "But coming here, knowing that it's not only in the States, that we can do it too, is nice."

The kids do, after all, get more than enough opportunity to test their mettle against top American competition either through offseason summer camps or in-season tournaments. Just last season Athlete Institute rosters squared off against both Findlay Prep and Oak Hill Academy in televised matchups.

Jahvon Blair, the currently uncommitted MVP of 2014's Jordan Brand Classic International Game, is more than familiar with the prospect circuit that so many aspiring D-I players navigate.

"Some of [the kids we play against] haven't really heard of us before, but they're starting to get to know us because Jamal came through and Thon came through. They're starting to realize who we are. Having those guys go to the NBA is big for the whole program."

Of course gaining recognition is only the first part of the process. What these kids, the teenaged products of a previously unimaginable new generation of Canadian basketball, really want is to see just how talented they and their countrymen have been all along.

"I think it's gotten to a point where we expect more. We're not happy with just participating," says Tipping. "Canadians want to win in whatever they do. Now we're not just happy to have a Canadian in the NBA, we want him to be the first overall pick."

Follow Athlete Institute on Twitter, Instagram and Facebook.

***

Austin Kent is a freelance writer and the Editor-in-Chief of player efficiency-based fantasy basketball platform Sports.ws. Follow him on Twitter @TheGoodPoint or @SportsWS. 

Photos courtesy of Austin Kent.

239

[ngg_images gallery_ids='1841' display_type='photocrati-nextgen_basic_imagebrowser']