In the Alterra neighborhood of Chino Hills, CA, you'll find just one white-painted house in a community filled with peach, pink, brown and grey colored homes. It's a corner house with an extensive backyard that features a couple of basketball hoops, some pull-up bars, push-up bars and dip bars, all mostly visible above the surrounding cement fence to anyone walking by across the street.
This is where it all started for this past season's top nationally ranked HS team. LaVar Ball, a former Washington State and Cal State-LA basketball standout and his wife Tina, also a former hooper at Cal State-LA, live here with their three sons. And the house itself has served as an example to the kids of straying away from complacency and going after what they really want. LaVar, a jovial 6-6, 320+ pound former tight end for the NFL's New York Jets and Carolina Panthers (he played football in HS and got invited to a tryout in the early '90s after his college hoops career) from South Central LA, was told he couldn't paint his house white after he changed it from peach due to the community homeowners association guidelines, so he did the one thing he knew would allow him to keep it.
"Yes! I'm currently the president of the homeowner's association, baby!" yells LaVar, who took on the role in 2013, banging on the dinner table at the very same home. "For the whole community right here—300 and something houses. You want to change something or put up a rock wall, you have to come see the Big Baller! I told them, If Obama can have the White House, Goddamnit Big Baller can have a white house! Completely different. But it's all fun."
Fun is all the local Chino Hills High had on the basketball court this winter thanks to LaVar's three boys.
Chino Hills, an eastern suburb of Los Angeles in San Bernardino County, was the talk of the prep hoops world this past season—and for a variety of good reasons. On the surface, its local public high school featured three brothers of different grades in the starting line-up. And not only did they have some fresh and creative names like Lonzo, LiAngelo and LaMelo, they were actually pretty good at basketball too—like, good enough to be the top three scorers on a team that went on a historic run in which they went undefeated and finished as the top-ranked team in America.
Then there's the fact that all three have committed to attend UCLA on basketball scholarships, with LaMelo having made headlines when making his pledge last year as a 13-year old—before he'd even started high school.
Running the show this season was Lonzo, a 6-6, 190-pound point guard who seems to make the right play just about every time. The long and athletic playmaker is your prototypical PG who can score when need be but whose best attribute is running the offense and getting everyone involved with his crisp, on the money dishes. Saying he's versatile doesn't do it any justice. This dude averaged a triple-double for the SEASON: 23.4 points, 11.5 rebounds and 12.9 assists per game. By season's end, he was the recipient of the prestigious Naismith National HS Player of the Year honor and drew constant comparisons to Cali great Jason Kidd.
"To be honest, I didn't see it like this," says Lonzo of what transpired this past season when he first enrolled at relatively unknown Chino Hills. "It's crazy, now we go to the store and everyone knows us. I thought I would just try to get a scholarship and go from there. But to be No. 1 in the country and go undefeated, and with my brothers too, it's kind of crazy. I felt like I helped change the culture over there. Looking back at it, I'm just like, Wow."
Meanwhile LiAngelo, a year younger than Lonzo, was the team's leading scorer. Yeah, you know a team is serious when the National POY isn't even the top scorer. Also standing at 6-6 but with his dad's football player physique thanks to his 235-pound frame, the rising senior played the shooting guard/small forward positions and is known for his deep range and overall scoring prowess. He averaged 27.5 points per game.
And then there's LaMelo. He was third in scoring after LiAngelo and Lonzo, posting 16.4 points per game as a freshman this season. Standing at 5-10 (his parents say he's grown to 6-feet as of June) and 135 pounds, the youngest of the Ball Bros is a mixture of his two older siblings. A crafty ball-handler who has the rock on a string and can get others involved like Lonzo does, but can also shoot it like LiAngelo, the baby of the family turned out to be just as deadly.
And while three biological brothers killing it on the court simultaneously for the same team is deserving of attention in its own right, it isn't really what completely drove Chino Hills to national fame this past season. The Huskies went 35-0 this year, claiming their first state title in school history along the way.
With Lonzo being the only senior Chino Hills is losing, confidence is pretty high in the household, and community, that things won't be much different come next season.
"I'm going to work as hard as I can because I want to come back next year and lead this team," says LiAngelo (below). "I'm going to put them under my wing and try to go undefeated once again. We have a great chance of repeating. I'm not trying to lose this next year so we should be repeating."
How they earned their first title, though, is what have many touting them as one of the best prep teams in history.
Chino Hills deployed a run-and-gun style of play on offense while constantly trapping on defense. The goal of the free-flowing offense was to shoot as soon as possible without letting the defense set up, meaning lots of field goal attempts early in the shot clock, including some 30-foot (or beyond) jumpers along the way. The logic was, if you're shooting twice as much as your opponent, the chances of you winning are in your favor.
LaVar says Chino Hills only ran two plays last season—one was a screen and roll and the other was a clear out for Lonzo and LiAngelo in the post—everything else was just letting the boys have fun.
And so while traditionalists would argue against an offense that constantly takes what would be perceived to be 'bad shots,' the results for Chino Hills proved its effectiveness in ways never seen before.
The Huskies averaged 98 points per game this season, and surpassed 100 points in 18 of their 35 games (tying a state record)—easily becoming the top offensive HS team in the land, if not in history. Putting things in perspective, high school games are made up of 8-minute quarters, totaling 32-minute games. Chino Hills averaged more points than the Lakers, Sixers and Jazz did this past season despite playing games 16 minutes shorter.
Obviously, two distinct levels of competition, but remarkable numbers nonetheless—and unprecedented at the prep level.
The team's average margin of victory for the season was over 30 points. And if you're curious as to the type of teams they were beating, 11 wins came against nationally-ranked teams. Take for example the 48-point victory over perennial California powerhouse Mater Dei in the Southern Section semifinals. Or the 22-point win over well-respected Sierra Canyon in the Southern Section title game, a team who had been ranked as high as 6th in the nation this season. At the prestigious City of Palms tourney in Florida last December, Chino Hills defeated Montverde Academy (crowned national champions the previous three years) in the quarterfinals, with the Ball Bros trio combining for 77 of the team's 83 points.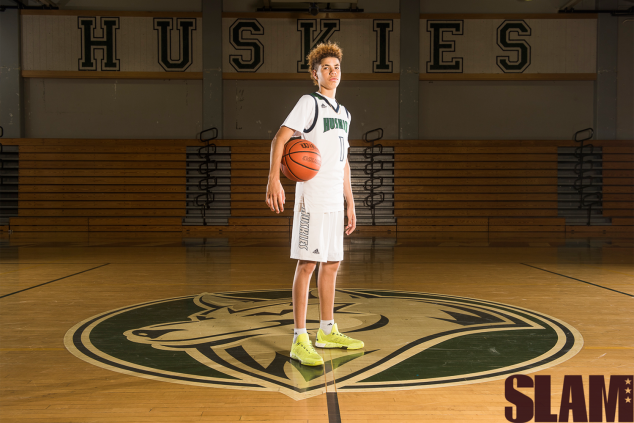 "I actually have been playing with them my whole life so it was fairly easy," says the ultra-confident LaMelo (above) of his impressive freshman season, a kid who has only ever played at the 17U age-level in AAU [More on that later—Ed.]. "I wasn't nervous. It was just like AAU for me. I knew we just had to get up and down the floor and just score as much as we could, like always."
The first of three Ball Bros is slated to arrive in Westwood this fall, where Lonzo hopes to turn things around at UCLA, just like he did at Chino Hills, before his two other brothers' arrival.
"Going to UCLA, obviously they didn't have a good season this year, but with me getting used to winning now, I can bring that attitude there," says Lonzo (below), who likely will only spend one season with the Bruins as he's projected to be a lottery pick in next year's NBA Draft. "You have to set a path for yourself and then follow it. For me, I'm trying to bring back the culture of winning to UCLA."
The origin of Chino Hills' emergence on the national stage can be traced back to LaVar's plan of developing his boys differently since a young age.
Lonzo, despite today being a top-5 national prospect in the Class of 2016, did not start playing organized AAU basketball until the summer before his freshman year of high school, according to his dad. It was at a Double Pump tourney in Anaheim in 2012 when Lonzo, as an eighth grader, hooped in his first AAU game while playing with QJZ Elite, where a friend of LaVar's coached and asked for 'Zo to join them after losing a player. The following year, LaVar allowed LiAngelo to play for QJZ before deciding to launch his own AAU team in 2014 called Big Ballers VXT. LaVar wasn't a fan of the AAU scene, so he decided to do things different with his team.
LaVar formed just one age-group team, a 17U squad, around Lonzo, LiAngelo and LaMelo, who at the time was only in the seventh grade. The Big Ballers have no sneaker affiliation and therefore do not partake in any of the three main sneaker circuits: Nike's EYBL, Under Armour's Association or adidas' Gaunlet series. Instead, the program stays local and participates in four Double Pump tourneys in the Anaheim area every AAU season, with the exception being the Las Vegas showcases at the end of July. This approach is far from the norm for high-level players, who usually travel the country under one of the three sneaker circuits in order to seek exposure and play in front of college coaches and scouts.
Having all three brothers, despite the age differences, play together in the 17U division for the last few years, granted them a bond and chemistry that couldn't be matched by any high school lineup in America. The rest of the Big Ballers team is made up mainly of other Chino Hills varsity players, basically making the Huskies a year-round program.
Doing it different from the start—whether it was the white house, taking a different approach to AAU ball or style of play—is how the Ball family ultimately put together a year for the ages.
"We're doing some shit that has never been done before," says LaVar. "We kind of march to our own beat in the fact that we make our own rules. Anyone that's super successful, they didn't stay on the same road. They kind of went their own way, so we jumped out the box and took a risk."
Photos by Atiba Jefferson / @atibaphoto
Christmas Day With Ball Brothers: