While the New York youth hoops scene has always been known for its summertime outdoor blacktop culture as well as for being the host city of postseason national events like the annual Jordan Brand Classic, the in-season/winter high school months haven't been able to provide that same level of experience for local or national players.
Other states have become major hosting sites of high school season showcases in recent years, while NYC, who once hosted the prestigious Nike Super 6 at Madison Square Garden annually for top high school basketball programs, has fallen behind in bringing in top national talent to the Empire State during the winter months.
With that in mind, Toronto Raptors shooting guard Danny Green, a New York native himself, and a couple of his childhood friends have embarked on a mission to bring back a top-level national high school showcase to NYC that aside from converging some of the nation's best recruits also goes beyond hoops to intertwine the game with music and fashion to create a unique cultural experience.
The inaugural Battle in the Apple showcase on Sunday, December 9th at Barclays Center in Brooklyn will serve as the hub for that fusion of culture. On the basketball side, BITA will bring together six top-40 recruits into an NBA arena for one evening, while a soon-to-be-announced hip-hop artist will do a live performance and an on-site pop-up shop with the latest trendy threads will bring in the fashion element.
The six participating programs were selected based on their star players, the team's talent level and their historical ties and following in New York.
Nationally ranked prospects that will be playing at Barclays include Terrance Clarke (ranked No. 1 in the Class of 2021), Jaden McDaniels (ranked No. 4 in the Class of 2019), Moussa Cisse (ranked No. 6 in the Class of 2021), Jalen "Baby Westbrook" Lecque (ranked No. 22 in the Class of 2019,) Alonzo Gaffney (ranked No. 29 in the Class of 2019) and Aidan Igiehon (ranked No. 36 in the Class of 2019).
Additionally, there will be local talent on display as well, such as last season's NYC public school champs South Shore HS, which features Kadary Richmond and Femi Odukale, and the runner up in the Catholic league's "AA" division Christ the King Regional HS, which counts Cisse and Quaran Mcpherson among its star players.
Green, along with childhood friends Kevin Spann and Darren Duncan, are the names behind this new national showcase.
"We kind of thought, with Danny having a great high school story–[he] dominated in games like this—it's the same thing for these players. A lot of them are on the cusp of making the Jordan Brand Classic or the McDonald's All-American Game, and we wanted to provide a platform for these players to showcase their talents and actually get in that game," says Spann.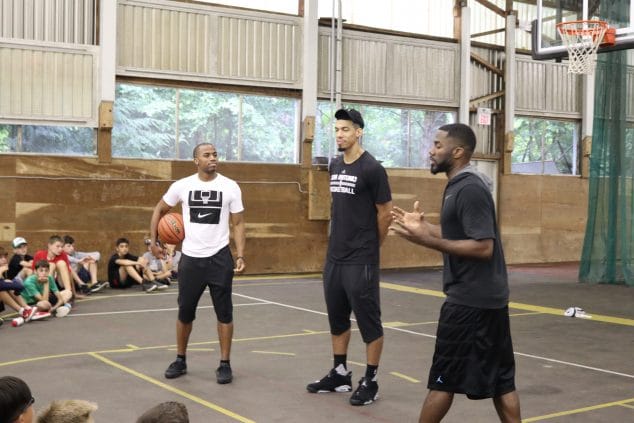 Adds Green, "Players are leaving New York because they feel they won't get the college looks that they deserve here, and we disagree with that line of thinking and we're trying to do our best to erase that mindset."
Green, Spann and Duncan wanted the Battle in the Apple to actually emphasize the Big Apple, and so the first game of the showcase will feature the aforementioned champions of the city's public school league (South Shore in Brooklyn) against the runner-up of the Catholic league (Christ the King Regional in Queens). CTK has arguably been the most successful program in the city for the past decade—under head coach Joe Arbitello Christ the King has won six Brooklyn/Queens championships, five Catholic city championships, and three New York State Federations Championships since he took over the helm in 2008.
The second matchup of the showcase will feature a battle of the coasts, with Jaden McDaniels's Federal Way High School out of the greater Seattle area matching up against New York's Aidan "The Irish Hulk" Igiehon and his Lawrence Woodmere Academy squad out of Long Island. McDaniels is a 6-10 versatile forward ranked among the top 5 seniors in the country, while Igiehon, an explosive 6-9 senior, committed to Louisville just last week.
The primetime matchup will feature two of the top prep schools in the nation, as Brewster Academy of New Hampshire takes on Saint Thomas Moore of Connecticut. The two programs have 16 Division I athletes on their roster combined, and four potential McDonald's All-Americans.  St. Thomas More is the old stomping grounds of Detroit Pistons center Andre Drummond and home to legendary coach Jeri Quinn. Brewster, whose alumni list includes Donovan Mitchell, Will Barton, Devonte Graham, JaKarr Sampson and TJ Warren, feature high-flyer Jalen Lecque, a top 25 recruit committed to NC State and originally from the Bronx. The team also features Terrence Clarke, whom many regard as the top sophomore in America, and Alonzo Gaffney, a 6-8 senior wing committed to Ohio State.
"I gotta be honest with you. It really wasn't my idea," says Green. "I have to give most of the credit to Darren and Spann. It's going back to where we came from, how we grew up, tournaments we played in—we want to bring that culture and pride of playing in New York back."
Aiming to make New York a staple of the high school season calendar once again while providing local programs with an opportunity to play against national competition in an NBA arena, Battle in the Apple is a classic example of local childhood friends teaming up and using their resources to give back to their city.
"This is a project that [Spann and Darren] set. They've done most of the leg work," adds Green. "They brought the idea to me and I was all for it, because I miss that part of New York basketball. Growing up it was super competitive and everyone wanted to be the next big thing. Every game was a battle and I was fortunate enough to make it through."
Tickets for the Battle in the Apple are on sale now at Barclays Center's box office. Follow BITA on Twitter and Instagram for the latest updates.