In 1989, Bronx native Dave Simmons went to Australia to play for the Melbourne Tigers after hooping collegiately at Oklahoma City University. There, he met his wife Julie before ultimately deciding to settle Down Under for good. That was until a couple of months ago, late August to be exact, when after 25 years, Dave Simmons relocated to the United States.
Ironically, hoop dreams led him back to where it all began. This time, though, the dreamer is his youngest son, Ben, who many now consider the top high school senior in the US.
The youngest of six siblings, Simmons—or "Benny," as many affectionately call him—played Australian Football and rugby up until the age of 14, when he decided to focus on basketball. Once in high school at Box Hill Senior Secondary College, Simmons proved to be on another level than his peers. Not just his Australian ones, either. Having participated in the Pangos All-American Camp, which was held in Long Beach, CA, in June of 2012, where he competed with the likes of Zach LaVine, Stanley Johnson and Cliff Alexander, Simmons knew he could hang with the best in the US.
"[Moving to the US] became the next logical step for him," says Dave Simmons. "It then became a conversation around what's going to be best for him, both in terms of school and basketball development."
"I actually was never that comfortable with [the move]," says Ben's mother, Julie. "I'll always remember when he came to me and said, 'Mom, I want to go. You just can't hold me back.' It was very hard letting my baby go, but we knew America was the benchmark. It was all a leap of faith, I guess."
And so, recognizing the academic and basketball prowess that Montverde Academy provided, Simmons hopped on a plane on January 9 of last year. With his sister, Emily, living in Chicago at the time, and his brother, Liam, in Louisiana, the teenager knew he had family close by if need be.
The 6-8 lefty, who excels in and out of the paint, made his debut that April at the NHSI (National High School Invitational), where he helped lead the Eagles to the title. Last season as a junior, he averaged 18.5 ppg and 9.6 rpg while leading his team to a second consecutive national championship. And this past summer, the soft-spoken Simmons, who asked his parents to rejoin him in Orlando, won MVP at the prestigious NBPA Top 100 Camp, solidifying his status among the best.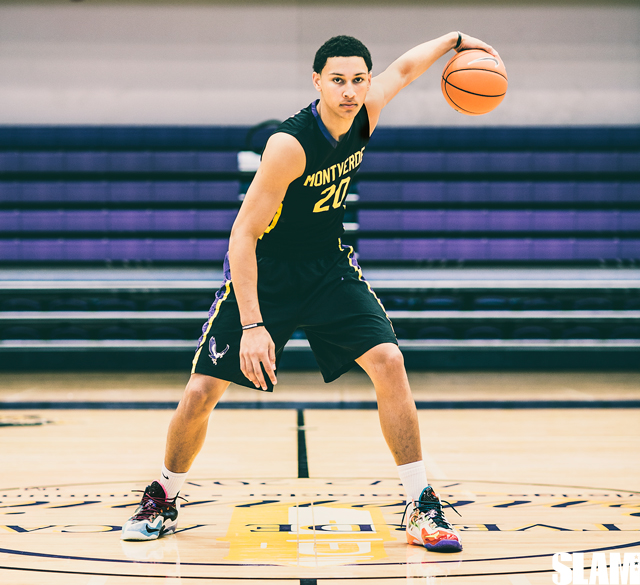 He could have stayed in Australia like his friend, Dante Exum, did. (Ben's father played alongside Dante's dad, Cecil, in the NBL). The benefits included bypassing college and entering the NBA earlier as an international prospect without potentially exposing his weaknesses and hurting his Draft stock. But for Benny, it isn't necessarily about the easy way. If so, he wouldn't have chosen to attend a college next season that hasn't made the NCAA Tournament since 2009, and where his godfather, David Patrick—an Australian who helped recruit Patty Mills to St. Mary's—now serves as an assistant coach.
"I knew I wanted to go to college and compete against the best prep players," says Simmons. "I knew the best competition was here and so that's why I came. Me going to LSU was a decision where I never wanted to go to a team that's already stacked, but to a team where we'd need to work and play hard in order to win."
portraits by Ahmed Klink
Franklyn Calle is an Assistant Editor at SLAM. Follow him on Twitter @FrankieC7.
4,209