"Where's Biggie?"
Roosevelt Barnes waited anxiously at the airport. It was 2011, and his life was in flux. Barnes was just recently divorced, his kids were grown and he was about to be a father again—to a 6-2, 360-pound son. But despite Biggie's size, he couldn't be found.
It was all set up just a few weeks prior. Carl Swanigan Jr, a former AAU player of Barnes', called to ask if he would take care of his 14-year-old brother Caleb—aka Biggie. By that point, Caleb, his mother and his siblings had bounced around from Indiana to Utah, living in homeless shelters, all while their father, Carl Sr, was addicted to crack cocaine and in and out of jail.
Carl Jr was himself once a basketball standout and Ole Miss commit but dropped out of high school and later lost his right eye in a shooting. He knew his brother needed a change, and he hoped Barnes could help.
"I told him if he comes out here, I have to adopt him," Barnes remembers. "I'm going to raise him like my own child."
Barnes, though, still didn't know what to expect. Outside of a brief phone conversation, he hadn't seen or heard from Caleb since he was 6 years old. And when the plane landed, he couldn't spot his hard-to-miss new family member, who was collecting his own thoughts.
"The biggest thing I remember was being afraid about my future," Caleb says. "I wasn't really sure what was going to happen."
Then Biggie emerged. He wasn't the Caleb Swanigan that the country knows now. He wasn't the Purdue sophomore big man and double-double machine who might just be one of college basketball's best players. He was a heavy eighth-grader with his head down, wearing khaki pants, a blue shirt and even a tie.
"Wow, he has on a tie," Barnes thought.
"He decided to put that on because he wanted to make a good first impression," Carl Jr explains.
That was it for Barnes. He had found a new purpose. He thought to himself, "OK, Biggie. You got me."
Barnes took his new son to their home in Fort Wayne, IN, set him up in his room and laid down the ground rules—keep your room clean, get good grades and go to church. To the last point, he made sure Biggie knew who Caleb was in the Bible.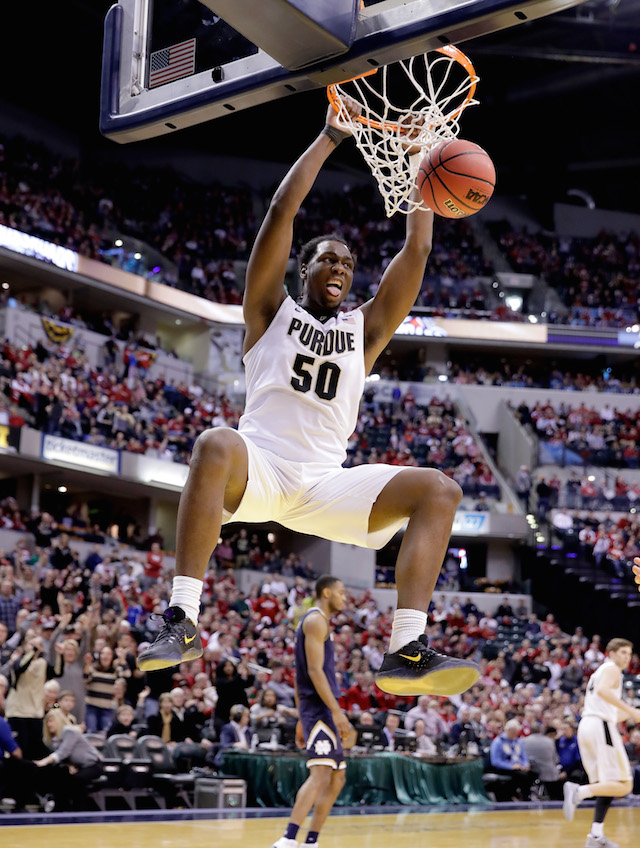 "Everybody talks about Moses, but Caleb actually made it to the Promised Land," says Barnes. "I was telling him that he was special from the very beginning. Your mother and father never planned on having you. You're here for a reason. Whatever that reason is, you have to fulfill that destiny."
With those rules in place, the two could focus on the task at hand—getting Biggie in shape and making him a basketball player. The latter was the easy part, with one exception. Biggie loved basketball so much that he couldn't focus on much else. So during his eighth grade season, his grades slipped. With his squad undefeated, Barnes pulled him off the team.
"He hated it, but the way he responded was that he never got bad grades again," Barnes said.
Losing weight was the tough part. Barnes stripped his house of junk food, set a new diet for his son and had to stay on top of him at all times, which proved to be an impossible task. As a sports agent, he was on the road a lot. That's when the relapses would happen. When Barnes returned, he'd find pizza boxes in the attic and candy wrappers under the bed.
"I knew I needed to lose weight because I was very self-aware," Biggie admits. "I just didn't know how to."
It wasn't until 2013 when things changed. That's when Caleb's biological father died. Carl Sr was 50 years old, nearly 500 pounds and suffered from diabetes. Shortly after his death, Biggie had a message for Barnes.
"One day we were talking and he said he never wanted to be fat again for the rest of his life," Barnes recalls.
Now strictly following Barnes' diet and workout regimen, Biggie's game and body transformed. He led his high school to its first-ever state title, won Indiana's Mr. Basketball and became a McDonald's All-American. Completely transformed, he now stands at 6-9 and just 250 pounds, leading the Midwest Regional's No. 4-seeded Boilermakers—who will face No. 13 seed Vermont at 7:27 p.m. on Thursday in the opening round of the 2017 NCAA Tournament—with 18.5 ppg and 12.6 rpg and putting his name in contention for POY.
When it was time to choose a college, Biggie eventually opted for nearby Purdue over schools like Michigan State (where he initially committed) and Duke. It was a chance for stability—and it's also where his adoptive father played hoops.
"With all the living conditions and situations [Caleb's] been through, they should be coming in to give Roosevelt Barnes a medal," says Purdue head coach Matt Painter.
But Barnes says this is where people always get the story wrong. His relationship with Biggie isn't about one person saving another. It's about two people saving each other.
"I gave him a focus and something outside of work," Biggie says. "He was going through a divorce right when I came and it helped him transition back into being single. Our relationship became his most important thing."
That's why Barnes' proudest moment wasn't when Biggie committed to his alma mater. It's when Biggie, who almost always calls him "Ro," called him "Dad."
"I don't think he meant for me to hear it, but I heard him say it," Barnes says. "It made me know that he felt that way about me."
—
Photos via Getty Images