Imagine a 6-8, 257-pound, 16-year-old human being, who just so happens to be the No. 24 ranked player in the Class of 2018, according to ESPN, walk into your first hour American Government class.
On top of that, imagine finding out at that same moment that he's now going to play for your high school team. That's exactly what happened to Jay Blossom who is the head coach at Webster Groves High School in St. Louis, MO.
That 16-year-old just so happens to be Carte'Are Gordon.
"He knew obviously when I came that I was going to start playing basketball," Gordon says. "He kind of heard about it. It was all over Twitter so he had an idea, but I didn't actually talk to him 'til I walked into school."
Gordon is no stranger to Webster Groves or the players on that squad either. This young hooper attended Webster Groves all the way through middle school and grew up playing with all of those guys. but after eighth grade, he decided to attend St. John Vianney High School, a nearby Catholic school. But after two years there, he's back with Webster and Blossom is pumped to have him back.
"We played him twice in his two years at Vianney," Blossom says. "We were fortunate enough to beat him both times, but he was a load to guard and handle during those games. We're psyched to have him back."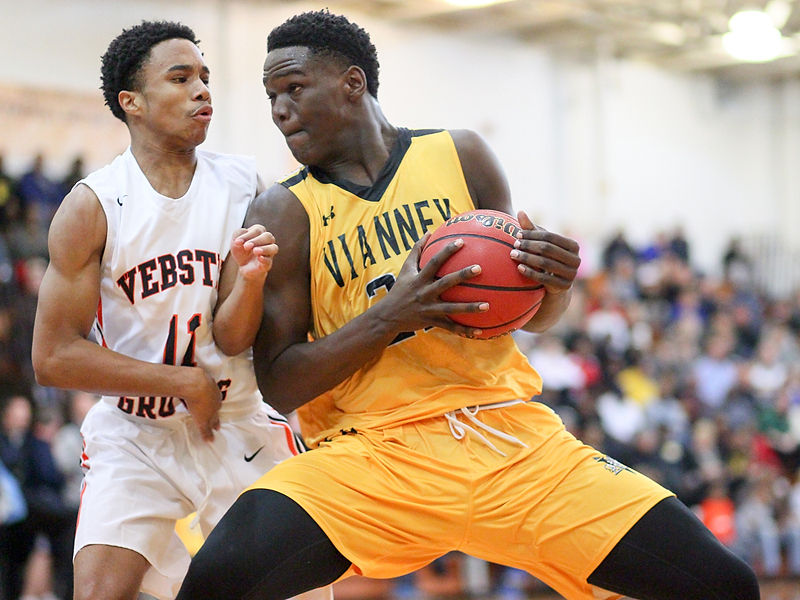 Blossom isn't the only guy excited to have Gordon back at Webster Groves. Courtney Ramey plays point guard for Webster Groves and is fielding some offers from Division I schools as well. He can't wait to team up with the big man, especially since he'll be a junior with Gordon. These two will be a force to reckon with during the next two years of their high school career.
We just know that we can do special things," Ramey says. "We played together during our freshman season of AAU. We've had that good relationship and we just feed off each other. We feel like we can translate that into the high school season."
Gordon transferred back to Webster Groves back at the beginning of 2016. Due to Missouri State High School Activities Association transfer rules, Gordon has to sit out a full year before being eligible to play varsity ball, but there is an appeal in the process for Gordon to be able to play come November. If the appeal is denied, Gordon would have to wait until January to play varsity.
The potential for him to not play until January isn't stopping him from doing work in the offseason, though. Gordon has had a summer that pretty much any high school baller would love to have. He was apart of the USA squad that took down Turkey in the U17 World Championship. After that, his AAU team, Mokan Elite, took down Mohamed Bamba and the PSA Cardinals in the Nike EYBL Peach Jam championship, which is one of the top basketball tournaments in the country. He played alongside Michael Porter Jr and Trae Young, two of ESPN's top players in the Class of 2017.
Every squad has a hype man and for the U17 USA Team, that hype man was Gordon. On Team USA's website, there's a photo gallery of the U17 squad celebrating. In a few of those pictures, Gordon is sporting some red, white and blue shutter shades.
"I got everybody up and got everybody hyped," Gordon says. "How I got those shades is, Markus Howard, he's a Marquette kid. His mom saw me and she was like, 'Carte'Are, I think these shades fit you perfectly.' She gave them to me and it was just a great moment, so I just went crazy."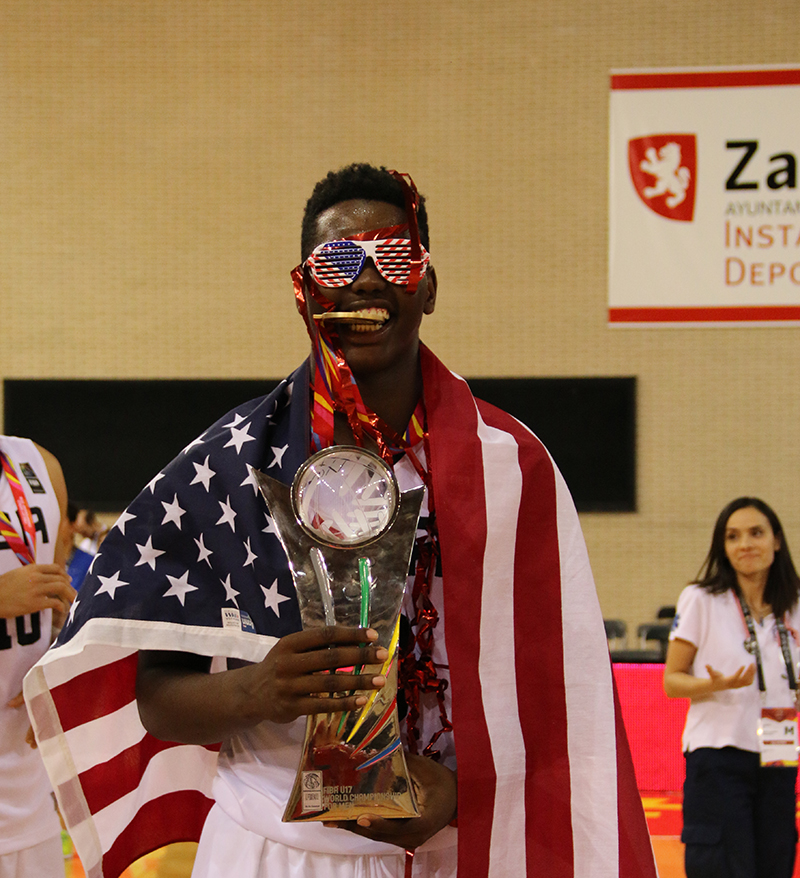 Gordon has offers from 14 Division I schools, including Iowa, Kansas and Notre Dame. As everyone knows, the process of recruiting can be really stressful for any high schooler. They're either getting letters in the mail or phone calls all the time.
"I just got a new phone, but with my old phone, I just had to turn it off," Gordon says. "Somebody will take it from me and say I need a break from it and I just have to come back to it later."
Gordon plans on making a list of potential schools soon and will be visiting Illinois, Kansas, Mizzou, USC and a few others in the near future.
"Next year Peach Jam or next year right before my senior year is when I'll make my decision," Gordon says.
Photos courtesy of fiba.com, stltoday.com and usab.com.