Chance Harman would have been 13 years old on Thursday night. Tragically, he has not seen a birthday in the flesh since 2006. A brain tumor took him away before he even turned seven years old, but that hasn't stopped people from celebrating his life each and every year. For what would have been the day that Chance became a teenager, the Chance Harman Memorial Fund and basketball community went all out with Chance's Ballin' Birthday.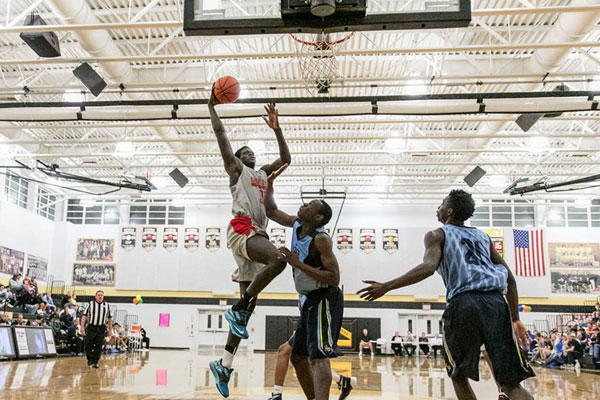 Pegging national powerhouses Oak Hill Academy and Huntington Prep against each other, the event literally brought just about everyone out of tiny Floyd, VA (population 425). With all proceeds going to the Chance Harman Memorial Fund, it was a charitable event that also served as a serious evaluation opportunity for scouts and coaches alike. Maryland, Miami, Virginia Tech, and Virginia all had coaches spotted in the crowd. There were numerous scouting services there and the remote gym was nearly packed wall to wall. Oak Hill ended up taking the two halves (the scoreboard reset at halftime) 47-32 and 53-37 respectively without the nation's top senior, Harry Giles. The depth that this year's Oak Hill unit showed was straight up ridiculous, but at the end of the night, it wasn't about the score of this game; It was about celebrating Chance Harman's life and finding a cure to cancer.
Here are a few of the players who stood out:
Khadim Sy, 6-10, C, Oak Hill Academy, 2016
With Harry Giles out, there wasn't a single player who benefited more than Khadim Sy. Making the most of his opportunity, he showed out with a variety of nice moves on the block and was able to convert with either hand over the top of the D. He was also great running the floor, controlled his area of the glass, and played with confidence that we had never seen before out of him. Given his crazy improvement over the last few months, it should come as no surprise that he has a growing list of high major offers waiting for him.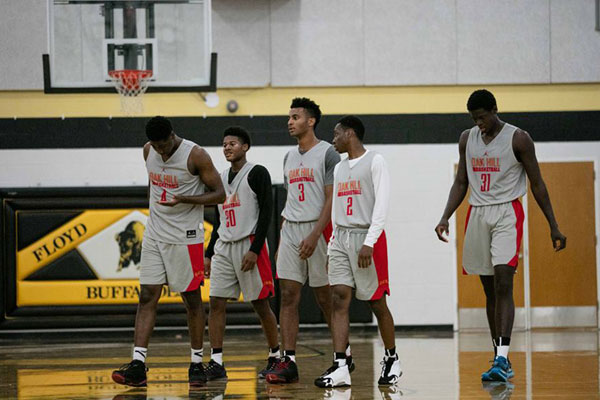 Micah Thomas, 6-7, SF, Huntington Prep, 2016
Aside from Sy, Micah Thomas was the other guy who had some of the college coaches buzzing. The bouncy athlete drilled a number of deep three pointers, was elite finishing in transition, and had no problem getting to the foul line. Coming from Memphis to play for one of the country's top prep powers should only allow Micah to add to his growing list of potential suitors that include Baylor, Memphis, and Iowa State.
Braxton Key, 6-7, SF/PF, Oak Hill Academy, 2016
The man formerly known as Braxton Blackwell showed why Avery Johnson was so ecstatic to get him locked up early in his senior year. A versatile player who can play either forward spot, Key let the game come to him and created mismatches all over the hardwood. He posted smaller defenders, drilled open three pointers, and played the game with a super smooth demeanor. Braxton and Terrance Ferguson will serve as two crucial pieces for the Little General turning things around in Tuscaloosa.
Matt Coleman, 6-2, PG, Oak Hill Academy, 2017
One of the fastest point guards in the country, Matt Coleman decided to take his game to one of the nation's perennial powers for his junior campaign. The Hampton native is still learning how to control his pace, but the talent that he brings to the table is undeniable. He put the clamps on people defensively, had the ball flying up the floor in transition, and had no problem stopping on the dime full speed for pull-up J's. As Matt continues to grow as a lead guard and learn how to change gears, he should see himself near the top of the 2017 point guard rankings.
Devontae Shuler, 6-3, SG/PG, Oak Hill Academy, 2017
A fearless scorer, Devontae Shuler made the move from tiny Irmo, SC to Oak Hill and showed that he could ball with the nation's finest. The junior was great in transition, created scoring opportunities easily, and put the clamps on guys from either guard spot. Since exploding this summer, Shuler has picked up no shortage of BCS offers and will only continue to add more.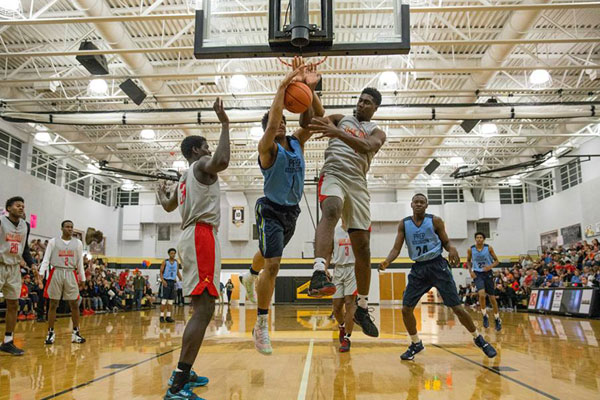 Miles Bridges, 6-6, SF, Huntington Prep
With Giles out, Miles Bridges was the marquee name of this matchup of prep powers. The Michigan State recruit started the game very slow by settling for too many contested J's and turning it over attacking the rack. Midway through the second half, the top ten recruit turned it on and showed why he's one of the nation's best. He got to the line frequently, attacked the offensive glass, and threw down a few ridiculous dunks. All in all, it was an off night for Bridges, but he still showed glimpses of how special he can become.
Big thanks to Richard Shumaker Photography for the photos