As told to Franklyn Calle / Portraits Ahmed Klink
You may have heard of me from the mixtape videos that have been going around the Internet recently. There's definitely a difference in the way people approach me because of the videos, some positive and some negative. I use the negativity as a way to push me and I use the positivity as a reason to continue to do well. When I see that other kids and even adults tell me that my game inspires them, it pushes me to want to achieve the maximum.
Now when I step in the gym, plenty of people know who I am. I think that gives me an edge in the game because some tend to be scared, but of course some people just come at me harder. I tell myself that I just have to play at a high level all the time. I can't slack off. Being that I'm 5-2, I've always felt people have underestimated me because of my size, but it's something I've learned to deal with. I've always believed that if I could be the smartest player on the court, I could use that as my advantage over others. My favorite quote is from Nate Robinson: "Heart over height." That quote sits on my mind a lot because if I play harder, then I don't need to think about my height.
Basketball has always been a part of my life. I was two years old when I started playing. My dad took me to a camp—the Baby Ball Camp in Harvey, IL. I was the youngest one in the camp. As soon as he gave me the ball, I fell in love with the game. I just had a feel for it. He always tells me that I caught on to things quick and I never stopped from there.
I've decided to attend Marian Catholic for high school because, for one, Marian has a great academic program, so I figured that after I graduate in four years, it would help me in being prepared for college.
Also, Coach [Mike] Taylor, my new coach, I think the way he got Tyler [Ulis] a scholarship to Kentucky, and the fact that he was a little guard and was able to still play team defense and in making sure Tyler didn't get caught up on the block with bigger offensive players—I just like the way Coach Taylor teaches guards to play the game the right way.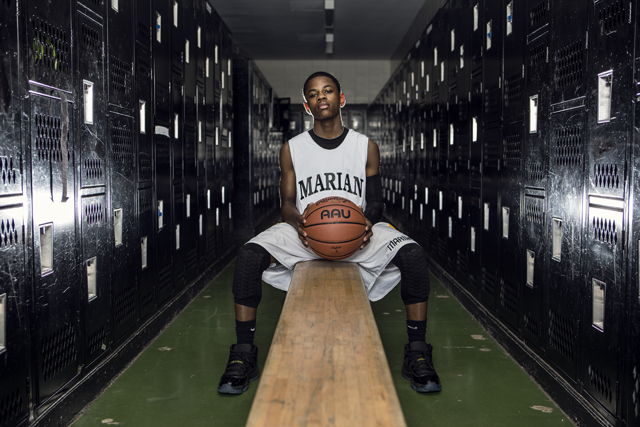 Right now, I'm simply focusing on the academic transition into high school, as well as building the proper relationships with my teammates and coaches.
I respect the game so much, especially the path that players out of Chicago have paved for me. My goal is to continue playing the game that way. So many great prospects have been coming out of my city since way before I was even born. I know they respect the game as much as I do. And it's an honor to even be mentioned with any of those players. My job is to continue putting the work in and being the best I could be so I could keep this great legacy of Chicago players going.
People compare me to Tyler Ulis. I think there's some accuracy to the comparisons because we're both point guards that can score and get teammates involved. However, as I get older and my game begins to grow, I hope to separate myself from the comparisons just because I believe no one player is like another. Everyone brings something different to the table. And of course, with my competitiveness, I just want to be better than Tyler, especially after seeing all the great things he did at Marian. Tyler and I are very close. I think the prospect out of Chicago that I'm closest with right now is Miles Reynolds, who's going to St. Louis and just finished at Whitney Young. I have a nice relationship with Jahlil [Okafor] as well. Jerome Randle, who played at Cal, I work out with him and he probably helps me the most in terms of basketball development.
They just keep telling me not to let the height discourage me at all. Sometimes playing against bigger guards can get frustrating. They're just always in my ear making sure I keep my head in the game and not let the hype get to me.
I'll be wearing the number 0 in high school. I wore 0 in grade school at Ariel [Community Academy] so I figured I might as well keep it going in high school and college. My original idea was to see if Tyler would let me wear 3 but after talking about it with my brother and dad, 3 is a really used number. I wanted to start my own legacy with 0—not many people have it. There's also another reason for wearing 0. Going into games, you always have to have the mentality that no one can guard you—especially being in and from Chicago. That's just the mentality that you're born with and the No. 1 rule in basketball here. I just have that in the back of my mind and it really helps me when I'm playing against older players. It just keeps my confidence up.
The one player I really like to watch tape of and study is Bob Cousy because he was a real guard, a small one. He didn't have much athleticism but he was just real crafty and smarter than everyone else. Back in that time no one really had handles like today, but I just admire how he was able to get the job done at the point guard position without all the tools we have now. In the summertime, when the season is over, they have Hardwood Classics on NBA TV. That's kind of how I fell in love with his game. My favorite game of his was the last game against the Lakers, when he played against Jerry West. He just outplayed the Lakers, the whole entire team. I also like a variety of small guards like Nate Archibald, Isiah Thomas, and of course, Chris Paul.
Seeing that people already have high expectations for me before I even start high school does sometimes put extra pressure on me, because when your name is out there, and people haven't seen you play and then you have a bad game, they're going to say, "Oh, he's not that good." So you have to perform at all times when your name is out there like that.
Basketball isn't all I do. One thing that people may not know or expect from me is that I actually play the violin. I started playing the violin in kindergarten and took classes up until the sixth grade. I still have a feel for the string instrument and play every now and then. No one really knows about this though. Well, now they will.
Another fact that people may not know is that since first grade, I've always maintained a straight-A report card. I've always had a 4.0 and nothing under. I just finished third in my graduating class in eighth grade. Academics come first. Basketball can be taken away, but no one can take away my education. Therefore, it's extremely important that I stay focus in the classroom and that I'm a well-rounded individual.
Related:
"Second City"? Not when it comes to hoops.
In Chicago—and everywhere else—the playground is no place for violence.
If you can make it on the streets of Chi-Town, you don't need to make it anywhere.
Nike's Chi-League is providing safe summer environments for Windy City youth.
The 50 greatest Chi-Town area basketball players of all-time.
Think Chicago basketball is all prep stars and the Bulls, with nothing in between? Time for a little College Hoops 101: The Windy City Edition.