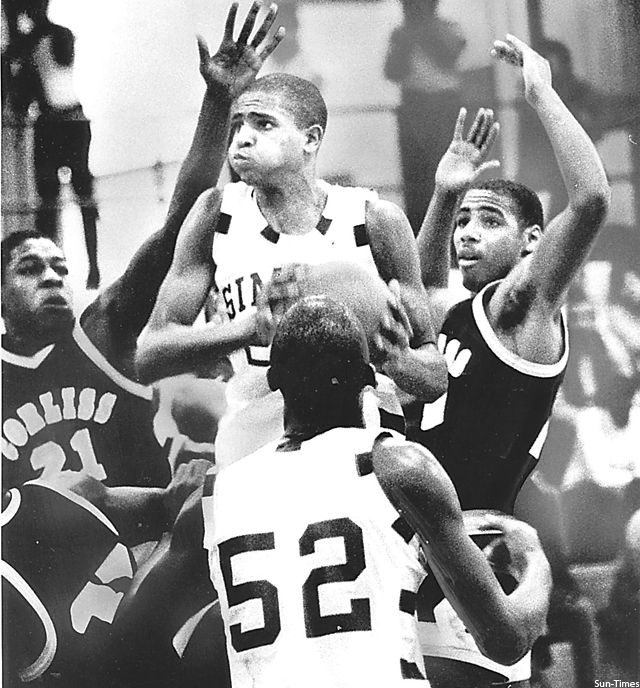 Simeon vs. King:
The city's two most famous programs started their rise to success at approximately the same point, as the late Bob Hambric began his tenure at Simeon midway through the 1979-80 season and King's Landon "Sonny" Cox got the job in 1981. Simeon won its first state title in 1984—the Wolverines were led by the late, great Ben Wilson—after defeating King in the city semifinals, a victory made sweeter because Hambric was reportedly upset over big man Laurent Crawford transferring from Simeon to King. The Jaguars got revenge in 1986, as the Marcus Liberty-led King handed Simeon its first defeat at the hands of a fellow Public League team in 69 games in the city championship, then went on to its first state title. It became a familiar pattern, as the South Side schools matched up repeatedly in the Public League playoffs. King caught the Ws in '87, '89, '91, '94 and '99, and Simeon won the high-stakes affair in '88.
Crane vs. Marshall:
These two West Side schools don't have much love for each other, whether Patrick Beverley and Sherron Collins are facing off or if either of the two historic programs are in the midst of a down year. Going back to 1955, Marshall and Crane have battled for the city title six times, with Marshall holding a 4-2 head-to-head advantage and a 12-11 lead in overall Public League championships. Both teams have been "Downstate" multiple times, but only Marshall has taken home the crown—on three separate occasions, most recently in '08. But regardless of the year, when these two squads match up, it's guaranteed to be a packed house with neighborhood pride on the line.
Westinghouse vs. King:
While other schools such as Whitney Young intermittently popped up as contenders throughout the '90s, the decade was dominated by Westinghouse of the West Side and
perennial South Side power King. They matched up five times in city-title games, both to start and end the decade in 1990 and 1999, along with a three-year stretch in '92, '93 and '94. King won a trio of the clashes, but Westinghouse—best known for producing pros like Mark Aguirre and Eddie Johnson—was no slouch in its own right. Under coaches like Frank Lollino and Roy Condotti (and later, Chris Head and Quitman Dillard, prior to the school de-emphasizing sports and becoming a magnet school), Westinghouse, for decades, was right up there with King and Simeon as far as being a household name in the Chi.
Evanston vs. New Trier:
The fact that these two schools in Chicago's north suburbs meet annually at a neutral site, Northwestern University, is a testament to this rivalry's intensity and drawing power. Evanston, immediately north of Chicago, won the 1968 state title and fell to Ben Wilson-led Simeon in the 1984 championship game, despite the presence of future Purdue star and NBA player Everette Stephens. Neighboring New Trier, in tony Winnetka, lost to Chicago's Hirsch, starring John Stockton's Utah Jazz predecessor Rickey Green, in 1973. Both teams are usually two of the strongest squads in the 'burbs, and when they play at NU's Welsh-Ryan Arena, the games tend to get heated, even when the likes of a Stephens or sharpshooter Matt Lottich, a New Trier product, aren't around.
Proviso East vs. Proviso West:
Proviso East is the crown jewel of basketball programs in Chicago's western suburbs, with greats like Doc Rivers, Jim Brewer (Doc's uncle), Michael Finley's "Three Amigos" team (high school teammates and fellow NBA Draft picks Sherrell Ford and Donnie Boyce, the latter being the school's current coach), Dee Brown and Shannon Brown among the notable alums.
The Pirates, whose iconic sleeved jerseys were better looking than anything the NBA has offered recently, are a true powerhouse, having won four state championships, producing college prospects yearly and as mentioned, sending several players to the League. Proviso West is better known for hosting perhaps the area's biggest holiday tournament, but it periodically has some players, such as current Houston Rocket Robert Covington, last season's D-League Rookie of the Year. Still a neighborhood rivalry between Maywood and Hillside, while Proviso East doesn't have much competition among local schools, at least there's some bragging rights on the line when it faces Proviso West.
Simeon vs. Morgan Park:
Under Bob Hambric protégé Rob Smith, Simeon has risen to new heights, winning an unprecedented six championships—two in a row with Derrick Rose, four straight with Jabari Parker—to become known as the present-day rulers of the Public League. Although Whitney Young, which featured the likes of incoming Duke freshman Jahlil Okafor and Michael Jordan's son Marcus, might have more of a national name, Simeon's current rival is Red-South foe Morgan Park. Coached by Nick Irvin, son of the late Mac Irvin, godfather of Chicago's basketball scene, the Mustangs have made a name for themselves, having won back-to-back state titles. The annual "Battle of Vincennes" (the Avenue where both schools are located) is intense, as many of the players have known each other for years and play AAU together, but the rivalry shouldn't be blamed for the 2013 shooting death of 17-year-old Tyrone Lawson, a spectator and Morgan Park student.
East Aurora vs. West Aurora:
An annual matchup between two schools in the same west-suburban town, this rivalry is just as contested as those in the city, if not more so. West Aurora, which won a state title back in 2000, has traditionally been the stronger program, as longtime Blackhawks coach Gordie Kerkman is regarded as one of the best in the entire region, having produced players such as Kenny Battle of "Flyin' Illini" fame. But East Aurora has had its moments, too, and the Tomcats have seen success when stars like current UConn guard Ryan Boatright played for the program.
Marshall vs. Whitney Young:
This one is on the girls' side, as the two Red-West rivals battle annually to be the best in their conference and city, though due to having different classifications, they avoid each other in the state tournament. In recent years, Whitney Young, which has produced a slew of top collegiate recruits under Corry Irvin, has been the better program, winning six consecutive city titles and two state championships. But led by the legendary Dorothy Gaters, Marshall, the alma mater of WNBA star Cappie Pondexter, is the standard-bearer, having won 23 city championships and eight state titles.
Thornton vs. The South Suburbs:
Similar to Proviso East, Thornton has been the most consistent program in its neck of the woods. A difference, however, is that Chicago's South Suburbs, where Dwyane Wade attended school, are historically much more competitive, with teams like Thornridge (alma mater of Quinn Buckner), Thornwood (Eddy Curry's school), Bloom (schoolboy legend Raymond McCoy starred here) and even Homewood-Flossmoor (where Julian Wright became a top recruit) having their moments in the sun. But Thornton has stood the test of time, going back to Cincinnati star and ABA player Lloyd Batts in the late '60s and early '70s, recently resigned Charlotte Bobcats exec Rod Higgins and Melvin Ely, who teamed up with NFL players Antwaan Randle El, Tai Streets and Napoleon Harris to go Downstate and knock off Kevin Garnett, Ronnie Fields and Farragut back in the 1995 state tournament.
Chicago vs. Chicago (Red-West, Red-South, Red-Central):
If you can't tell by now, a lot of Chicago's rivalries happen in cycles, based on a certain crop of players, individual coaches and of course, the unique make-up of the city. The Red-West might have preserved its traditional legacy the longest, as Westinghouse's reign could easily be challenged by the likes of Farragut (KG's alma mater), Marshall and Crane, depending on the year. Even with "The 'House" no longer a power, the other three still go at it, with Whitney Young, a magnet school, taking over Westinghouse's old role. In the Red-South, while Simeon faces stiff competition from aforementioned Morgan Park and others, it's nothing like the old days, when Vocational (Juwan Howard), Carver (Tim Hardaway, Terry Cummings), South Shore (Paul McPherson) and Julian (Byron Irvin) all had it going simultaneously. The Red-Central, which has been dominated by Curie (Cliff Alexander) in recent years, used to be King's domain, but with DuSable (Mo Cheeks), Robeson (Bo Ellis, the Pargo brothers), Dunbar (Billy Harris, Ronnie Lester) and others each having tough teams in various seasons, it wasn't a cakewalk.
Related:
"Second City"? Not when it comes to hoops.
In Chicago—and everywhere else—the playground is no place for violence.
If you can make it on the streets of Chi-Town, you don't need to make it anywhere.
Nike's Chi-League is providing safe summer environments for Windy City youth.
The 50 greatest Chi-Town area basketball players of all-time.