Sitting on a park bench at the basketball court on the West 24th St. side of the Carey Gardens housing projects in Coney Island, familiar faces of all ages walk up to him for a simple dap or to strike up a short conversation. Even with new Charlotte Hornets guard and CI native Lance Stephenson sitting just a few feet away, Jamel Thomas stands out from everyone else surrounding the blacktop on this breezy afternoon in early September. While still a Coney Islander at heart, the former Providence star now resides in a much calmer environment across the Hudson River in New Jersey and has moved on to a variety of post-playing endeavors.
In a sarcastic and light-hearted manner, an old neighborhood friend refers to him as "Mr. Thomas" and "Sir," pointing out that he's sitting in the park — in the middle of the hood — with his legs crossed in a more sophisticated business-formal manner in comparison to everyone else. Going with the flow, Thomas smiles back and reaches out for a handshake instead of the traditional dap.
He's enjoyed a comfortable post-playing career that's included the launch of his book, The Beautiful Struggle, in 2008, numerous speaking engagements across the country and most recently kickstarted his own athletic training company, which counts Stephenson and variety of other players at different levels among his clients.
On this Tuesday afternoon, the former Lincoln High School star, who's also the brother of current OKC Thunder PG Sebastian Telfair and cousin of former Knicks guard Stephon Marbury, is watching local teenagers trash talk in the midst of an intense pickup game, just like the countless times he partook in similar bouts throughout the neighborhood parks in the '90s. He's back in his old stomping grounds of Coney Island after a workout with Stephenson earlier that day — a session that included running the beach, just like he did back in the good ol' days with his younger brother.
Actually, it was those workouts with Bassy that initiated his devotion to physical training and development.
"I always trained my little brother Sebastian," recalls Thomas. "I grew up with a work ethic from my mentor 'Mr. Lou' (below) and Stephon's [Marbury] older brother Eric. It was instilled in me. I feel like me training others is my way of giving back to the game. When I was training Sebastian in high school, other guys would come along and I would train them too. It's something that I just began doing naturally."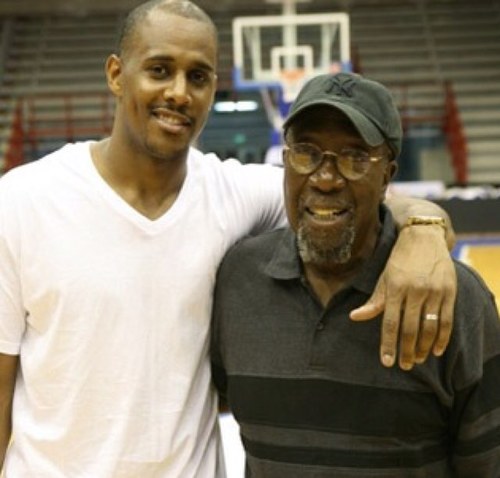 And so it comes as no surprise that today he owns and operates Movement Thru Hoops Inc, a private basketball training company that works with some of the top basketball players in the NYC area, from NBA players down to high prospects in the midst of their college recruitment process – Jair Bolden, Wolfgang Novogratz and Matt Greene, among them.
Whether it is a session with the reigning NBA triple-double leader or one of the three aforementioned up-and-coming recruits, most conditioning workouts start off in the same manner. A staple of every great Coney Island baller's training regimen, running the beach from the corner of West 37th St. eastward to the famed boardwalk's defunct Parachute Jump approximately two miles away is how most of Thomas' early morning sets begin.
From there is usually the weight room, the track, or the hardwood for variety of individualized drills. The former Big East standout conducts group workouts as well as one-to-one sessions that cater to each of his players' needs.
Bolden, for example, a 6-3 junior at Westtown (PA) with offers from Hofstra, James Madison, and Rice, needed to transition into the point guard role after playing out of position earlier in his high school career, says Thomas. And so a majority of Bolden's drills revolved around gaining the necessary speed and handles to excel at the one position.
"When we used the heavy ball, it got my handle a whole lot quicker and helped my security with the ball," recalls Bolden. "This summer we were working on moving quicker and getting my fast twitch muscles going. I had a lot of basic skills but Jamel and I were working on getting up the floor and pulling moves fast. Everything was done at a fast pace. We even walked around the city fast."
Thomas usually picked up Bolden early for a 9am run on the beach, before hitting the stairs – just like Bassy used to do – and the gym afterward. A second session in the afternoon or evening was also common, summing up to more than 3 hours per day, five to six days a week of training.
In the case of Novogratz, a 6-2 junior who recently transferred to Harvard-Westlake in Southern California after spending his first two seasons at Poly Prep in Brooklyn, NY, overall strength and explosiveness has been the biggest emphasis.
"In order for me to achieve my goals I knew I needed to jump a lot higher," admits Novogratz. "The biggest thing I saw in my game was the overall strength that I gained. Just core strength and getting balance. And my form needed some work too so we worked on that."
He is no stranger to being in the spotlight as the son of Robert and Courtney Novogratz, the renowned interior designer duo whose family have been featured in reality shows on HGTV (Home by Novogratz) and Bravo TV (9 by Design). For Wolfie, though, it's always been about making a name of his own.
"No one in my family actually played basketball," says Novogratz when asked why he chose this particular sport. "My grandfather was actually an All-American football player at West Point Army but being that I lived downtown in SoHo for the majority of my life and that there was a park across the street, it's just something that happened and grew on me. I always loved basketball and was competitive from a very young age."
And so he testifies to 5:30am-7am workouts in Coney Island with Thomas to start the day during the summer. And just like with Bolden, a second afternoon workout was the norm.
Novogratz, who says most of the college interests are coming from the Big East and Big Ten programs, while Rivals reports Villanova, Rutgers and Northwestern among his offers, will be starting a new journey this fall out west. One he felt was a necessity to his development.
"I was lucky enough to get accepted into Westlake," he says. "From a basketball point, while I enjoyed my time at Poly Prep, it's just not a very competitive league. I developed some bad habits that were not making me better. Now we'll be playing in arguably the best league in the country with schools like Chaminade and Loyola. Southern California is maybe the best place in the country for high school basketball. I'm excited to be a part of it."
Then there's Greene. A 6-6 small forward, the New York City native is a senior at The Hotchkiss School (CT). Not only does he attend one of the top prep schools in the nation, he'll also be taking his basketball talents to one of the top higher-education institutions in the planet next fall in Yale.
As was the case with Bolden, the future Ivy Leaguer was looking to improve his speed and explosiveness while working with Thomas.
"I was always big but never really that quick," admits Greene. "Once we started doing some agility drills, I started seeing that I could blow by people to the basket. We did a lot of off-the-dribble and catch-and-shoot situations that really helped with my shooting. It's helped with my consistency."
Having also considered UC Davis, UPenn and Dartmouth, Greene is the epitome of a youngin who understands the grand scheme of things.
"When I was making my decision this summer, Jamel stressed the academics side," he says. "Yale is known for its strong academics and is starting to grow its basketball program. They were second in the Ivy League last year. Jamel kept telling me that if basketball doesn't work out, I'd always have the academics credentials to be successful in my professional life. "
Regardless of personal goals, there's one common theme from all of the countless on-court hours. "I teach them the importance of knowing how to come off the pick-and-roll and how to use the screens for a shot," says Thomas of the basketball component of his workouts. "What I do is basically teach them how to get open and how to get others open." Adds Novogratz, "He always stresses the importance of knowing how to use the pick-and-roll and that the guys in the NBA that used screens well had long careers."
It is that kind of skill-set, the art of getting yourself open, that the Coney Island legend – who had stints with the Nets, Warriors and the Celtics, among others domestic and international franchises – understands separate players at the next level. In an era where many prospects simply rely on their physical attributes to bring their offense, skills have taken a back seat in the priority list of many youngsters.
"I tell my kids, when you get to the next level, everybody is going to be just as athletic as you, if not more," says Thomas. "You can't just rely on that. Your skill set becomes the most important thing."
"I also think video games have weakened the kids a bit. When I was growing up, we'd be sitting in the park, and then Stephon's older brother or my mentor, Mr. Lou, would just be like, 'Come on, let's go work out.' And you couldn't say no to them. They knew what they were doing. Let's go run the stairs. Let's go run the beach. Let's go do 100 push-ups. They always found the time to work with the kids. That's what I appreciated the most. That's what I now want to give to the kids when I train them."
Aside from personal goals being met and scholarship offers coming in, it might be the off-the-court relationships and atmosphere that Thomas provides that sets it all apart. Without giving them a heads up, he's brought Stephenson to work out with the three high schoolers this summer to show them what grinding looks like. To show them the work ethic needed to compete at the highest level. Just being around that environment seems to have gone a long way for them. As Greene puts it, "Just being able to be on the same floor as Lance, and compete with him and go one-on-one with him, it just boosts your confidence. It's an incredible experience."
And that feeling is mutual if you ask Stephenson. "When I come back, Jamel keeps me focused," says Stephenson. "He's been through all of this already. And I always get hungry and feel new again when I come back and work out with some of the young guys coming up."
Whether originally from Coney Island or not, rising prospects from New York City are still putting in work on the boardwalk just like all the other past greats have.
And Thomas is right there, just like he was with Mr. Lou two decades ago.