Just about 48 hours before boarding a flight to New York City, DeAndre Ayton is staring out the window of Maritza's Mexican Food Restaurant into the parking lot when the adorning curtains begin to distract him. The family-owned restaurant, which is located in the northern San Diego neighborhood of Clairemont, is a classic old-school Mexican joint with a décor that reflects the culture's rich artwork and colorful patterns—visible on the walls, as well as on the curtain hanging over Ayton's left shoulder. Staying true to its vintage feel, the spot features a vintage Coca-Cola menu board filled with plastic black and red removable letters and numbers. And it wouldn't be old-school if it didn't have a paying system that only accepts cash.
But for the 16-year-old, it's the distinctiveness of the curtains that piques his curiosity and leads to an array of questions about the locale to his head coach and guardian Zack Jones. As Jones begins to explain that the place hasn't changed its look since the '90s and that Maritza's brothers are cooking in the back while she handles the counter, Ayton seems to be really into the details.
"Wow, that's crazy," he says, leaning back on his chair in awe while facing the kitchen. "Never heard of that."
The conversation and overall dining out is a nice change of pace and break from the intense basketball chatter that's about to be the main focus tonight (and over the upcoming weekend) when the 6-10 rising junior heads over to practice to prepare for his 2015 summer youth circuit debut in Ardsley, NY, during Memorial Day weekend.
Ayton's much-anticipated participation in Session 3 of the Under Armour Association, the brand's elite league for its sponsored summer travel teams, will be the talk of the weekend for the national recruiting analysts in attendance looking to catch his return to the hardwood after sitting out the beginning of spring nursing a fractured right kneecap he suffered in February.
As he finishes his chicken quesadilla and carne asada burrito, the 16-year-old nods his head in recognition of the importance of the upcoming weekend trip to the Big Apple.
"I'll be ready," he says. "I've been getting ready every day this week, just going at it hard the last couple of weeks. Coach Zack and I have been talking about it. Like, don't do too much. It's not an open period, so if you feel some way we can lay off it a bit because we have a big summer coming up. It's just about how my knee is going to feel. I'm not worried about the competition. Just need to take care of things on our end."
***
Ayton's journey to becoming one of the top prospects in America (and many would argue he's the top prospect, regardless of class) began in the Bahamas in the summer of 2011 when he attended the Jeff Rodgers Basketball Camp. There, he turned heads with his play. Raw but displaying unlimited upside, he ended up as the talk of a camp he initially had no interest in attending.
"I didn't really want to go at first, but my mom convinced me to go," he recalls of the Rodgers Camp, which annually features NBA players as instructors. "I didn't really watch basketball back home. I just played a lot of soccer barefooted. That was my first sport. They had the basketball games on TV, but I just wasn't interested."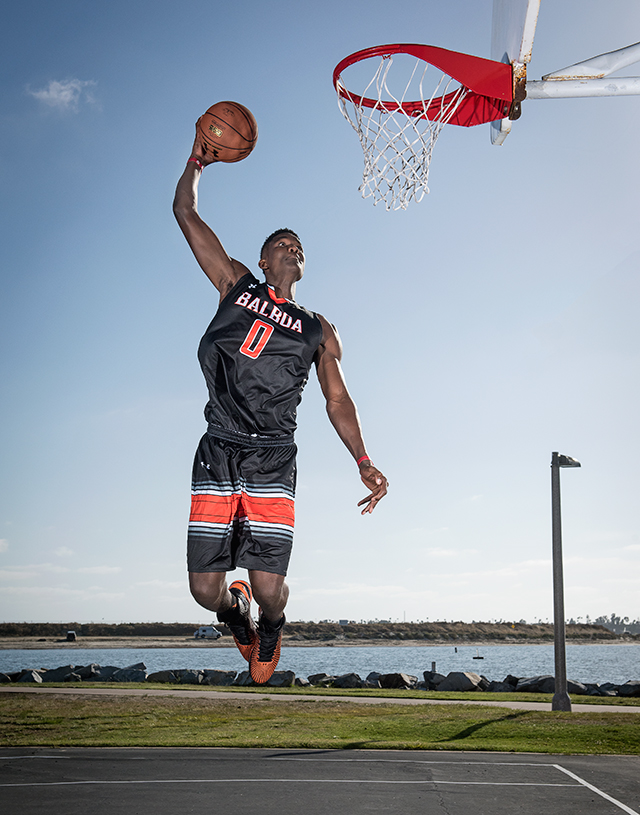 By the end of the camp, his mother was already being approached by Bahamians now living in the United States with ties to American schools. Relocating to the US seemed like the next logical step, and Ayton quickly realized that maybe he should give hoops a serious shot.
Later that summer he began visiting potential schools to attend. Among them was one in Houston, where he says he got the unique opportunity of meeting Hakeem Olajuwon.
"He told me to just keep working on my footwork and stay motivated," Ayton says. "I began watching his videos. He was the first guy I really watched."
The family opted not to pursue the Houston school, eventually agreeing on Balboa City School in San Diego. Ayton moved to Southern California that September and began classes immediately as a seventh grader. Located across the street from the Balboa Park that's home to the world famous San Diego Zoo, the private school is remarkably small, with a cumulative student body of about 120 in grades K-12, leaving many classroom sizes in the single digits.
"I told my mom I was on a mission at age 12," says Ayton. "I knew what I wanted. I knew what my mom and family were going through. I came over here for business—to work."
BCS isn't the kind place you'd initially think the top prospect in the nation would call home. The school is so small it doesn't even have a gym, and it actually didn't even have a high school basketball team until this past season. Despite being around since 1991, the school didn't even have a sports department until 2012, when Jones brought his Force Sports Foundation to operate as the athletics program there. He and his partner Ryan Stone founded Force Sports in 2010 as a recreational program for kids in the San Diego community. Jones, a native of Washington, DC, who played college ball at San Diego State, has been around the basketball prep scene in the area for a long time.
He was the head coach at Horizon HS when Milwaukee Bucks forward Jared Dudley helped lead the school to back-to-back state championships in 2000 and 2001. It's a record that still stands today, as no other school in San Diego has ever repeated consecutively as state champs.
Aside from not having its own gymnasium and a sports program that peculiarly began after Ayton's arrival, BCS also isn't under the CIF (California Interscholastic Federation) umbrella and thus can't schedule regular-season games against most other programs in the state. The advantages, though, are that it doesn't have to abide by any of the restrictions the CIF imposes. Therefore, it can hold practices year-round and play a national schedule. Among the top national players they competed against last year were Thon Maker's Orangeville Prep of Canada, Terrance Ferguson's Prime Prep of Texas, Udoka Azubuike's Potter's House Christian of Florida and Josh Jackson's Prolific Prep of Napa, CA. The program also went south of the border to play a couple of Mexican universities.
"During my years at Horizon, there were always kids in the community that wanted to go to school there, but because of CIF restrictions they never could," says Jones. "I always felt like if a kid wanted that opportunity and experience, why not provide it for him? So when we put this program together with Balboa, we decided not to go the CIF route. We wanted to give kids who wanted to come in and play at a high level the opportunity to do so."
During Ayton's seventh, eighth and ninth grades, Balboa City simply played a few games at a local YMCA league during the winter months/regular season while the majority of time was dedicated to skill development. Meanwhile, camps and the summer grassroots circuit were utilized for exposure.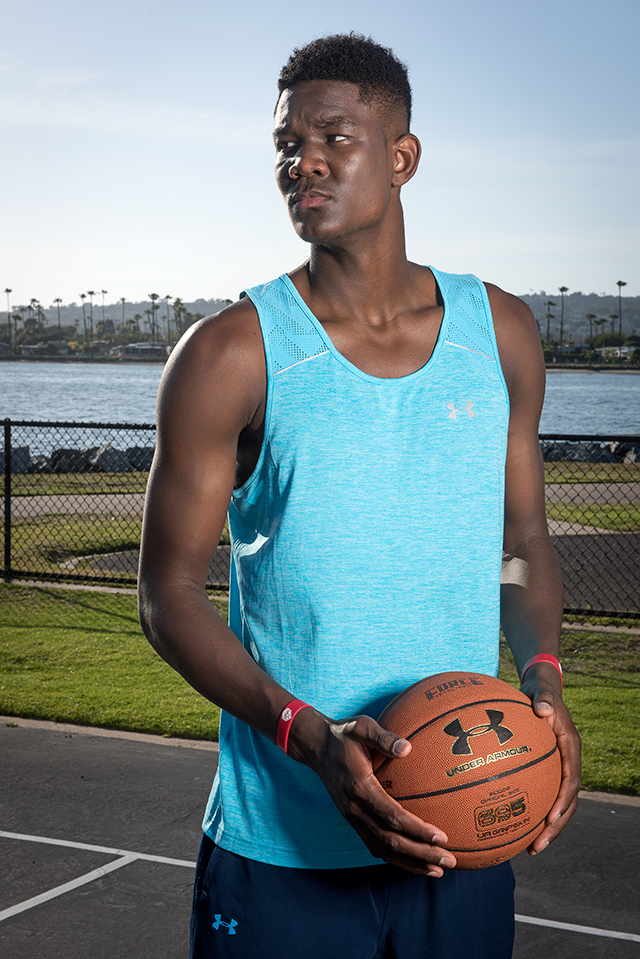 Despite not playing a single minute of high school basketball as a freshman, Ayton entered last summer as the top prospect in the Class of 2017, all due to his showings in the summer circuit. It's this kind of unorthodox journey that makes his emergence as a blue chipper in America as unique of a basketball story as it gets. Here is a kid from the Bahamas who only began taking up hoops seriously after participating in a camp that his mother talked him into attending at the age of 12, and who has quietly risen into one of the most coveted recruits over the past four years in a school that basically didn't even have an athletic program when he enrolled. The basketball program at BCS has essentially grown around Ayton. If everything goes according to plan, it may very well be known one day as the Program That DeAndre Ayton Built.
Last summer, he was one of only five rising sophomores to be invited to the LeBron James Skills Academy. Yes, despite not having any formal high school basketball experience under his belt. And it didn't take long before he and the NBA superstar connected—on an alley.
"LeBron threw me that alley-oop in front of those NBA scouts," Ayton recalls excitedly. "He threw it pretty high and so I went up there and got it. I said, I'm catching this one. He mushed me a little bit, a little pound on the head. I felt super hype. I didn't want to show too much. I kept it in until I got back to the hotel room to start shouting."
But it was his play back home in August that caught the attention of the college bball world. He suited up for a summer league exhibition team called the Providence Storm in the nation's capital of Nassau. The squad was mostly composed of college players and a couple of overseas pros. Ayton was the only high schooler on the team. Their opponent on August 15? The UNC Tar Heels. Behind 17 points and 18 rebounds from the teen wonder, the Storm pulled off a shocker by defeating North Carolina 84-83. And yes, UNC had their regular players on the court that night.
"The coach at UNC was pretty mad," Ayton says with a smile. "He was yelling, 'Somebody stop him!' He was pretty mad and I loved it."
He returned to BCS last fall as a sophomore for his high school season debut (also the inaugural season for BCS), where he averaged 21.1 points, 16 rebounds and 3.8 blocks. He shot 67 percent from the floor while finishing with a double-double in all but one of his 22 games. His first season was cut short after that kneecap fracture in February, which caused him to miss the last month and half of play.

Widely regarded as a young Kevin Garnett, Ayton has an NBA-bound body to go along with a versatility and athleticism that isn't found on too many young ballers his size. He can put the ball on the floor and step out for long jumpers.
"I think he's a little more athletic, has a better jump shot and can handle the ball better," says Jones of Ayton's game, comparing him to a young Big Ticket. "I think he's a little ahead of the game than KG was coming out of high school."
Not only are their games similar—so is their intensity and competitiveness.
"I don't like to lose," says Ayton. "When I play, I don't like to see people win—I get jealous and angry. I want to take it from you because I want to be the top guy. I want to be that guy. So that's when my competitiveness kicks in and that's when I start to dominate."
***
After arriving in New York on Thursday night, Ayton and his Supreme Court travel team waited until 10 p.m. on Friday to finally get on the court. When they did, despite his timing not being completely there after returning from his knee injury, Ayton easily dropped 15 points and 15 rebounds in a 2-point loss. Carrying that momentum to the next morning, he then posted a 28-point and 13-rebound outing on his way to a victory. He ended the weekend on Sunday with 18 points, 19 boards and 5 blocks while falling short to the Houston Defenders. Not a bad weekend for someone who hadn't played in a basketball game in months.
"The reason I wear No. 0 is because I came from nothing," says Ayton. "If I stay hungry and humbled, it will turn into an actual valuable digit one day.
"I used to Google my name and see no results," he continues, "and I wondered, Why is my name not up here too? I told myself my name was going to be there in a positive way—and it's finally here."
Franklyn Calle is an Assistant Editor at SLAM. Follow him on Twitter @FrankieC7.
portraits by Atiba Jefferson
238