A cold drizzle is coming down on a late October afternoon while DJ Wagner and his father, Dajuan, are standing in front of a construction site located on Park Boulevard. There's a plethora of iron beams standing in front of them, as the new building's façade begins to take shape. To the left of them is a cardboard rendering poster of what the final product will look like once it's completed in September of 2021. They repeatedly glance over at the image and then turn their attention right back to the construction site.
The site was home to the century old Camden High School, whose classic castle tower structure was demolished a couple of years ago to make way for a state-of-the-art $133 million new facility that is expected to be ready for students next fall (classes have since gone virtual due to the ongoing COVID-19 pandemic).
In the old building, the Wagner family's imprints were four decades deep, where each hoop star helped propel Camden onto the national stage.
First, it was Milt Wagner, who led the Panthers to a state championship in 1979 and was a McDonald's All-American in 1981. He and Camden teammate Billy Thompson went on to Louisville, where together they won an NCAA national title in 1986. Milt was then drafted in the second round of the 1986 NBA Draft, and ultimately reunited with Thompson while playing with the Los Angeles Lakers. Together, they won an NBA championship two years later.
They are currently the only teammate duo in history to win titles together at all three levels.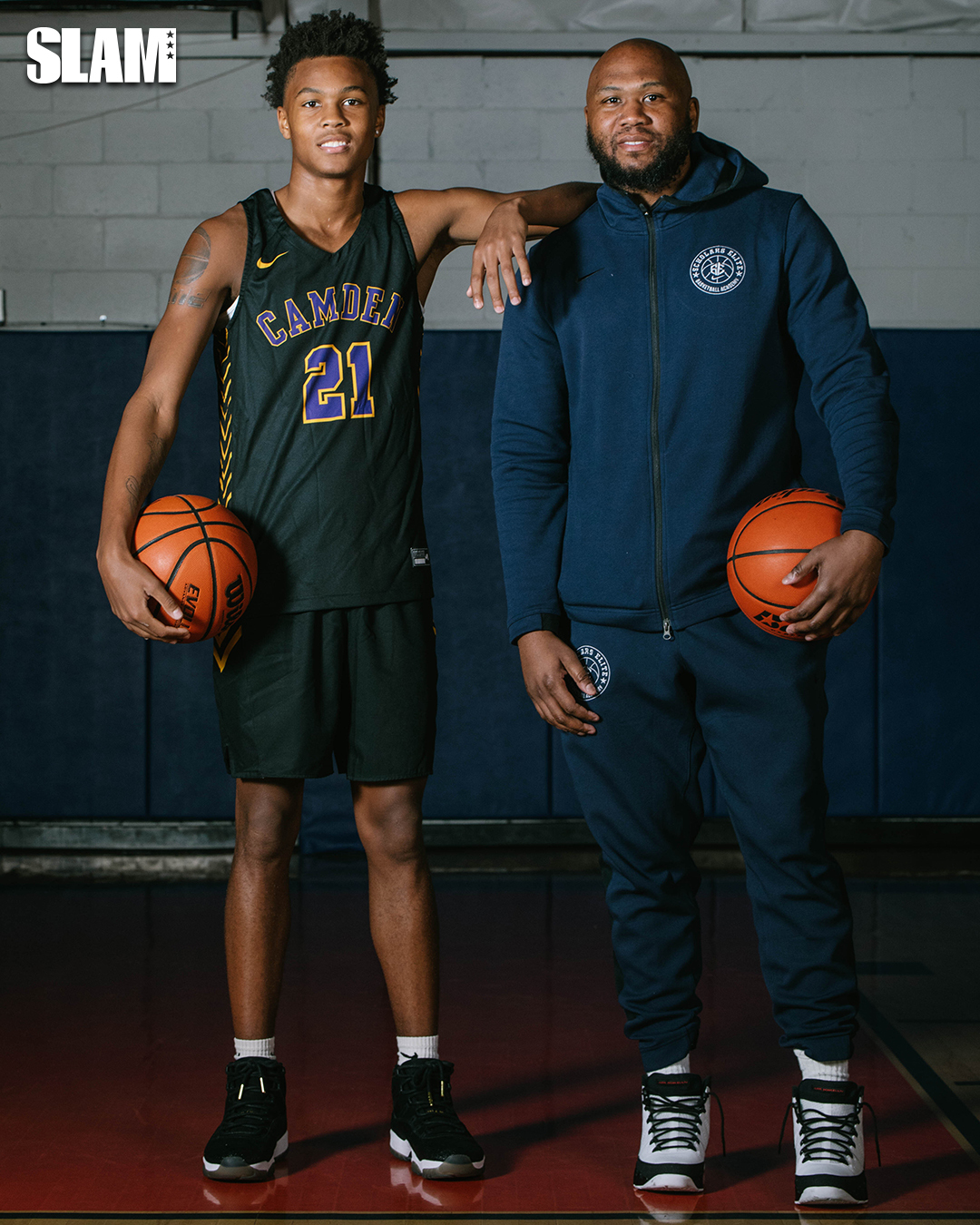 Milt's son, Dajuan Sr. (above), donned Camden's purple and gold almost two decades later and instantly became one of the Garden State's all-time greats. He averaged 27.3 points as a freshman and 35.3 points as a sophomore. He led the Panthers to a state title as a junior (which included an 80-point performance) and famously dropped 100 points in a game against Camden County Tech as a senior. The All-American graduated Camden as New Jersey's all-time leading scorer with 3,462 points. The career points and three-digit single-game performance are still-standing state records. After one season at Memphis under John Calipari, Dajuan would get selected with the sixth pick in the 2002 NBA Draft by the Cleveland Cavaliers. His professional career, though, was cut short due to a series of injuries and health issues, including a battle with ulcerative colitis.
Almost two decades after the Dajuan days at Camden, his son, DJ, is now rocking the same purple and gold threads that his father and grandfather once did—all while being labeled next heir to the city's throne. Only a sophomore, DJ is ranked as the No. 1 recruit in the Class of 2023.
DJ is ready to write his own story, to make his version of the Wagner legacy one for the books.
***
Dajuan Sr. remembers when DJ wanted to play on a football team with his older brother. DJ was only 4 years old at the time, while his sibling was 7. Their football coach was a little uneasy with letting DJ participate in all of the activities with such a big age gap.
Yet, Dajuan Sr felt like DJ had that extra edge to his step.
"When they got to their first day of equipment, they were contact hitting. The coach told me he didn't want to let him hit, [but] I'm like, 'Let him hit!'" Dejuan Sr. said. " He was a big kid [for] his age. [DJ] wanted to hit. It was full contact. These kids were three years older than him."
"The next day, we're in the house around five or six o'clock. Practice was around six, seven o'clock. He came in the front room, 'Dad, I got practice today?' That's when I knew he wasn't no p—y! They were hitting him and they weren't taking it easy on him either."
Dajuan Sr. wanted to be careful when it came to introducing basketball to his kids. He knew the family name held a lot of weight in the sport, especially in Camden. DJ initially took a liking for football and so the family spent evenings and weekends on the gridiron instead, until his passion for basketball eventually surpassed all other sports.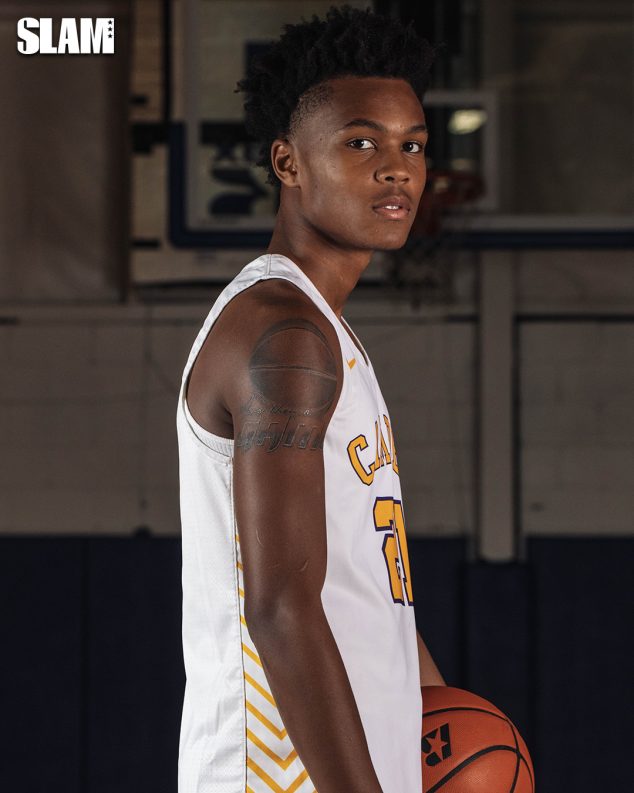 "You have most of these parents, they live through their kids," Dajuan Sr. said. "When I was coming up, because my dad played too, at the time I didn't think it was pressure. But as a parent, you think about it. You're overprotective of your kid. That was the thing about letting [DJ] play football. Letting him start his own lane. Once he got old enough to hear stories and know that his family—we play basketball—he said he wanted to play basketball. We told him we're going to do what we got to do to give him the best chance to fulfill his dream."
DJ indeed grew up hearing all the stories from around the neighborhood about who his dad and grandpa were. It was unavoidable. He eventually saw tapes of the older Wagner's putting in work with the Camden moniker stitched in gold on their jerseys.
DJ studied those tapes. He memorized some of the stories.
"It's crazy watching my dad and grandpa play in high school because just to see them in the same situation I am, playing for Camden High, it's just crazy," DJ said. "I love watching their tapes. Just seeing the way they played in high school and how crazy it was because it was the same way when they were in high school—maybe even crazier…Seeing their old highlights, I think is pretty cool."
Even when DJ had his pick of neighboring private schools to choose from, attending Camden High was the destiny he wanted from the jump.
"I never really looked at it as pressure. I just always was excited," DJ said. "I used to always just love to hear about the stories when my dad and grandpa were in high school, and how crazy the games used to be. When I was younger, I used to always go to Camden games, watch them play in States. I always thought about just playing for Camden High and how crazy it would be. I always wanted to play for them, seeing how passionate their fans [are]—that environment."
His mother, Syreeta, saw just how much her son wanted to carry on the Wagner family's basketball heritage and join the same culture that embraced their family years ago.
"All he talked about when he was younger was playing for Camden High School. That's all he talked about," said his mother, Syreeta. "For him to actually be living in this moment, playing for Camden High School, wearing his purple and gold… that moment is everything to him. That was one of his dreams, to play for Camden High after his dad and his grandpa. He's living out one of his dreams already."
During DJ's freshman season, it was looking like the youngest Wagner was on his way to breaking the 20-year drought for the Panthers. Camden — who hasn't won a state title since 2000, when Dajuan Sr. was in 11th grade—was ranked No. 16 in the country by MaxPreps this past March. Their record was 29-1 (they went on a 25-game winning streak at one point) heading into the NJSIAA Group 2 tournament semifinals, but then the remainder of the season was cancelled due to the COVID-19 pandemic.
The elusive state title run will have to wait. As for the upcoming 2020-21 season, the state association will allow teams to compete in league play, yet a postseason state tournament has yet to be confirmed and feels unlikely.
"I was mad. We were all mad because we were right there," DJ said about his freshman season ending abruptly. "We made it to States, and as soon as we got there, they just cancelled everything. It hit us pretty bad because we were excited, we were anxious to play in the states and hopefully win the state and then even winning TOC—that's like the bigger version, that's for the whole state. So, we were just upset when they cancelled it. Especially for the seniors on our team. We were right there, so it was crazy."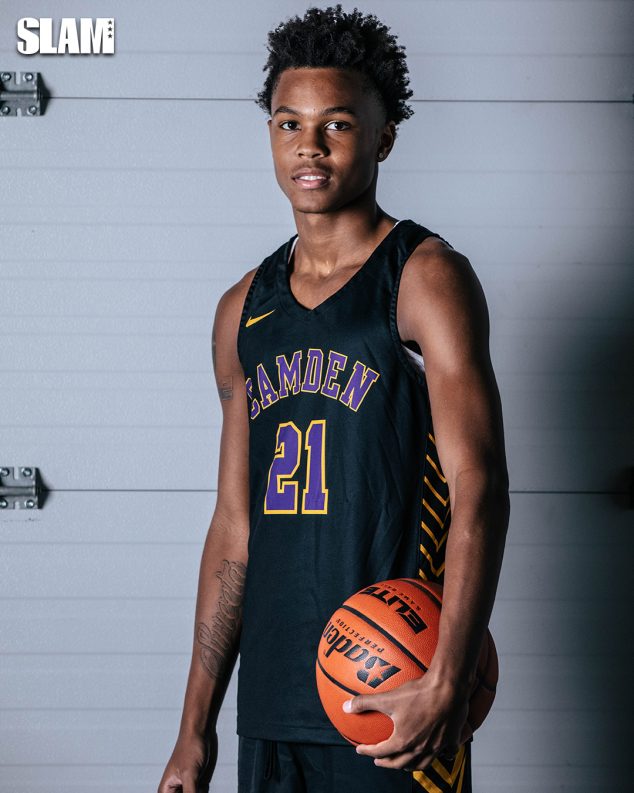 Father and son McDonald's All-American duos are a rarity, with only a handful in history: from Rick and Jalen Brunson (as fate would have it, Rick become the head coach at Camden in 2019) and Doc and Austin Rivers, to Ricky and Justice Winslow and James Blackmon Sr. and Jr. Of course, the fifth duo is Milt and Dajuan. But a grandfather/father/son All-American trio? That's never happened.
At the NBA level, the father-son(s) list is a bit longer: Dell, Seth and Steph Curry, Joe and Kobe Bryant, Mychal and Klay Thompson, Bill and Luke Walton, Tim Hardaway Sr. and Jr., among many others. But a grandfather/father/son League trio? Nope, not at this level either. If DJ's trajectory continues at this pace, the Wagner family can very well become the first family to achieve this feat on multiple playing levels.
"It's like a cycle going all over again. I think everything happens for a reason," Dejuan Sr. said. "My dad was in Europe when I was coming up [and he] used to come home every summer. I never got a chance to work on my game with my dad. So, me getting sick, I was here with [DJ] and I think that's how he developed quicker skill-wise—he got way more skills than I had at that age."
Regardless of what the future holds, living in the moment is all that DJ and the Wagner family are interested in. Forty years of basketball prowess across three generations, this journey isn't new to them. Even DJ, with a No.1 ranking and all, is focused on becoming one of the best.
His father, on the other hand, thinks DJ could be better than he ever was.
"People think I'm crazy when I say it," he continued. "I go off, you know, because I remember when I was younger [and] I played at a high level. I just think when I was his age, he's better than me. [That's] what I go back to—what I could do at that age. [He's] more skilled."