In the stellar documentary Through The Fire, cameras follow high school senior Sebastian Telfair as he and his family deal with early stardom and weigh whether the Coney Island hero should attend college or declare for the NBA draft. In the film's most climactic scene, Bassy and his family share a beautiful moment when the teenager is selected 13th overall by the Portland Trail Blazers in the '04 draft. Tears are shed and hugs are exchanged as the Telfair family and the village that raised Sebastian celebrates a kid who made it.
The morning after, cameras catch Sebastian's youngest brother, Ethan, and his older brother, Daniel Turner, heading to a local court at the crack of dawn to work on Ethan's game. The pint-sized pre-teen had already been dubbed "next up" in a family whose basketball roots run deep, stretching from home in Brooklyn to all over the world.
Things didn't originally go exactly as planned for the youngest Telfair, but these days, 22-year-old Ethan has found his footing at Idaho State University as one of the top point guards in college basketball.
Pocatello, ID, might as well be located on a different planet than Brooklyn. Ethan, now a senior, landed in the quiet city of about 54,000 after a winding journey that took him across the country and to six different schools in five years.
In 2011, Telfair, then a 16-year-old sophomore at Coney Island's famed Lincoln High, made the sports section for the wrong reasons when he was caught in the wrong place at the wrong time. As reports say and Ethan confirms, he and other local kids were playing 4-on-4 pickup ball in the neighborhood when cops found loaded guns in a nearby open backpack. With multiple people in the park, police rounded up 12 kids including Ethan and tried to pin the weapons on him—despite the fact that there were over 20 people in the park and on the courts. Ethan was released that same night and the gun charges were ultimately dropped.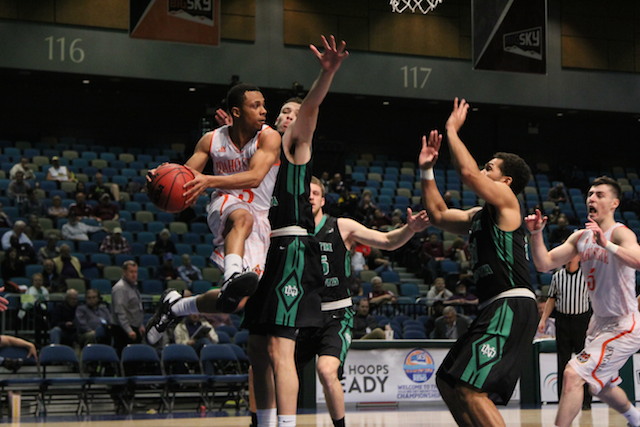 Soon after the incident, Telfair left Lincoln for Las Vegas' Quest Prep in 2012. In 2013 he went to United Prep in Oklahoma and reclassified to the Class of '14 before winding up at Northwest Florida State College later that year. In 2014, he landed back in Oklahoma, where he attended Redlands Community College (while big bro Sebastian played 16 games for the Thunder nearby).
"Some schools, they were recruiting me and then I ran into trouble—I didn't run into trouble, it was God challenging me by putting obstacles in my life," Telfair says now. "A lot of schools were afraid to recruit me and then I left New York and went to Vegas. West Coast schools, it's just a different energy out here. They were giving me a chance and seeing me for me. They weren't looking at the cover and saying, 'Oh, I know him already.' Or, 'I met Sebastian, so I already know Ethan.' They gave me the chance to be me and spread my wings, so my recruitment opened up a little bit, but I had to go to JUCO."
At Redlands, the 6-foot guard averaged 14.5 points, 4.8 assists and 4.0 boards per game. He also got a taste of the NBA life as he developed a relationship with Kevin Durant, whom he still seeks out for advice.
"Even before my brother got to the Thunder, I already had a relationship with Kevin Durant, so I had been to the facility and worked out with KD," he says. "When my brother got there, it was full circle. I was happy as hell [laughs]."
Telfair was drawing interest from D-I schools like Utah State, Fresno State and Idaho State, where head coach Bill Evans got a tip from a friend that the under-recruited, overlooked guard was the real deal.
"One of my best friends in the profession had him on a visit and it came down to him and the kid they ended up taking," says Evans. "He called and said, 'Look, you need to recruit this kid. He's not getting recruited too hard—I think I can maybe help you out.' And the rest is history."
Last season, Telfair's first with the team, he helped improve a Bengals squad that went 7-23 the year before he arrived to 16-15 (11-7 in conference)—good enough for a fourth place finish in the Big Sky and the university's first winning season since '05. While playing 35 minutes per game, Ethan put together averages of 20.2 points, 5.4 assists and 2.4 steals per. With Telfair making noise, attendance at Bengals home games rose from a couple hundred to a few thousand and the school had a legitimate star on its hands.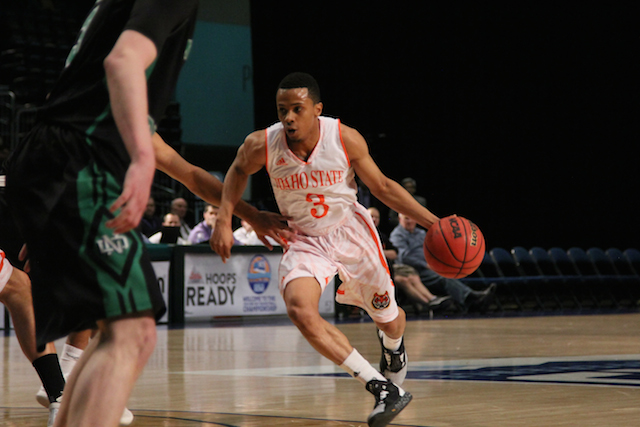 "It didn't take me long to figure out he was pretty dang good," says Evans. "He's coming from a very different environment, and Idaho is different than New York. I think he's adjusted well. He's a nice kid, a likable kid. It's not like he's a pain in the neck. People like him in the community and his teammates like him."
Following his breakout season, Telfair made himself eligible for the 2016 NBA Draft to get a feel for the process, a move he calls "probably the best decision I made all summer." After a workout with the Jazz, Telfair pulled his name out of draft consideration and returned to Pocatello for a final season and a chance to get the Bengals to the NCAA Tournament for the first time since 1987. The Bengals currently sit at 0-3, but Telfair has been putting up big numbers. In the season opener against New Mexico, he posted a 25-point, 12-rebound, 10-assist, 6-steal stat line. Through the fist three games, the senior is averaging 21.3 points, 5.7 rebounds and 5.7 assists per game and leading the team in minutes, points, assists and steals.
The Ethan Telfair story is still very much being written, and after a minor hiccup, Telfair is carrying the family flag with pride. And even though he's on the other side of the country, Ethan credits his Brooklyn roots for making him the man he is today.
"I know that wherever I'm at on Earth, I'ma be alright. That's how Coney Island made me," he says. "It made me feel like no matter where I'm at, I'll be good because the Earth is my turf. That's why it's easy for me to live in places like Oklahoma and Idaho, because all I gotta do is focus on basketball. That's what I like to do. That's me."
—
Peter Walsh is an Associate Editor at SLAM. Follow him on Twitter @Peter_M_Walsh.
Photos courtesy of Idaho State Athletics.
580