Who the heck is Frank Kaminsky III?
Until last season, hardly anyone knew. The 7-0 center had started a grand total of two basketball games for the University of Wisconsin as a freshman and sophomore. But last year he exploded onto the national scene: His 28-point, 11-rebound effort helped Wisconsin beat No. 1 seed Arizona, and Kaminsky was named MVP of an NCAA regional after lifting his Badgers into the Final Four.
No player in America has improved as dramatically in the last few years. The under-recruited Kaminsky, who hails from the southwest suburbs of Chicago, is poised to be a first-round pick in 2015 and will be perhaps America's best senior big man. How Kaminsky went from a 14-ppg high school scorer at academically focused Benet Academy to one of college basketball's most coveted players is a compelling story that begins with Kaminsky's own father, Frank Kaminsky II.
The second Frank Kaminsky may be the best 7-footer you've never heard of, but he was just 6-6 in 1972 when he graduated from St. Rita High School on Chicago's gritty south side. Dad was from the Bridgeport neighborhood, best known as the home of the Chicago White Sox and another father/son duo, Mayors Richard J. and Richard M. Daley. Bridgeport is a hotbed for, of all things, 16-inch softball, a unique Chicago institution. Played with no mitts, 16-inch is a game of craft, guile, deception and skill. It's still the city's most popular participant sport for men.
For the elder Frank Kaminsky, being a competent softballer gave him more street cred in Bridgeport than being good in basketball. And this showed in Dad's hoops game for a while: He played like a guy who considered basketball his second sport. (His own father, the first Frank Kaminsky, had been a decent amateur boxer, but basketball wasn't a priority for him, either.) Every major college passed on Frank Kaminsky II, but tiny Lewis University near Joliet finally convinced him to travel the half-hour southwest to play.
Dad was just another small college player—at first. But something important happened: Frank Kaminsky II quit basketball. He took a year off from the team and discovered he truly missed the game. Also, all that 16-inch softball in his Bridgeport neighborhood was beginning to transfer over; he had tremendous hand-eye coordination, which he was able to use to improving his ballhandling and long-range shooting.
The problem?
Virtually everyone still hollered the standard advice for big men at the time: "Get under the basket!"
This, of course, was more than a decade before the three-point shot became part of the college game. And it was years before mind-expanding European players like Dirk Nowitzki and Toni Kukoc would force American coaches to re-think the game.
Simply put, the elder Frank Kaminsky was a pioneer who was decades ahead of his time—and one who developed into a great player late. He'd already missed out on a big time scholarship, and he wouldn't peak until he was in his 30s (although he did become one of the best players ever at Lewis University).
But Dad kept playing, and the fact was that he was nearly always the most skilled player on the floor. There was summer ball at the Martin Luther King Jr Boys Club. And men's leagues at Margate Park. Going head-to-head with pros like Sonny Parker and Mickey Johnson and holding his own.
In the mid-1970s and early 1980s, the market for Americans in Europe was limited. Still, Dad played in South America briefly, and he had a great CBA season as a 33-year-old rookie. But both the CBA and overseas money was pretty modest, and he could make more with a sales job in Chicago. By then Kaminsky II was in his mid-30s and the chance to make big money playing ball was behind him—but, again, he was not too old to keep improving.
After the three-point shot was adapted by the NCAA in 1986, Dad really got rolling, traveling each fall with the AAU Marathon Oil team. (Once a fixture on the college exhibition game circuit, Marathon Oil went 24-1 with an all-DI schedule one fall with Kaminsky in the middle—when he wasn't roaming around the perimeter.) And again, back to summer ball: Anyone who knew the Chicago summer league and Pro-Am scene in the 1970s, '80s and even into the '90s, respected Frank Kaminsky—as long as they could accept a 7-footer shooting three-pointers.
Later, Dad went back to his small college roots and had a fantastic run as the women's coach at Saint Francis University in Joliet.
Does Dad have regrets? He's as upfront and no-nonsense as his old Bridgeport neighborhood: "Here's how I always looked at it. I never played basketball for money—I did it because I loved to play. And that's why I continued to play for many years, and still play." (The father is so disinterested in the commercial aspects of basketball and self-promotion that he couldn't find a single photo of himself as a player when we asked.)
Got it? Dad was unusually skilled for a big man and a very late bloomer who loved the game more than money.
***
When the son, Frank Kaminsky III, was headed into his senior year of high school in the fall of 2011, he was very thin. While not a brawler, he was tough-minded and mentally mature; he'd spent much of his childhood listening to his father's stories about South Chicago toughness, practice habits and loving the game. The younger Kaminsky remembers it all vividly.
"From just about the time I could walk," he says, "I was in lay-up lines for warm ups with my father's teams. He played all the time and everywhere! I'd pull out one of his jerseys from his bag and put it on and warm up with his team. Once the game started, I watched my dad really closely. I saw how smart and effective he was, being the oldest guy out there most of the time. I just tried to copy as much from his game as I could."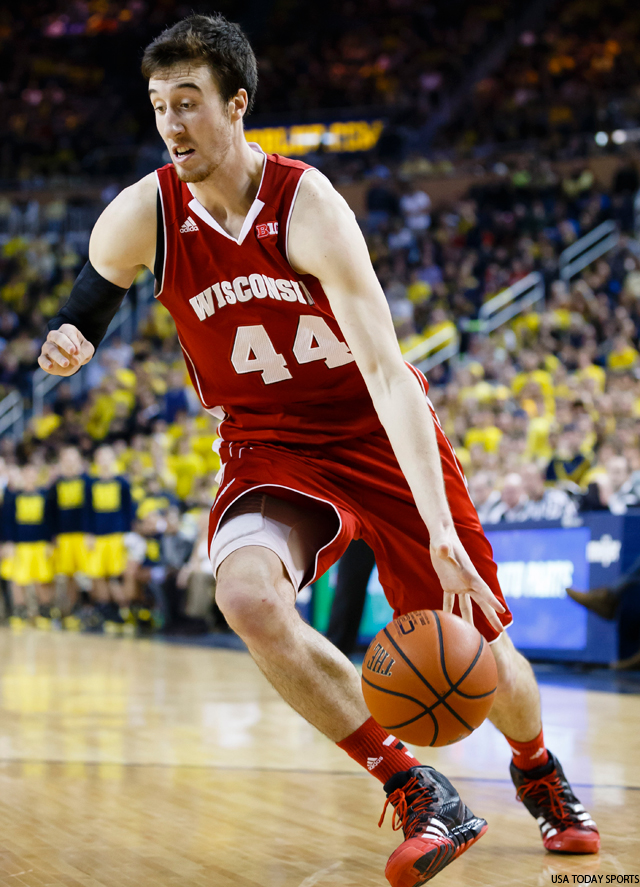 The younger Kaminsky says he was lucky to adopt a wide variety of offensive skills early. "I learned how to play away from the basket first, and that's always felt comfortable. I was less concerned about what position I played than with getting as much skill development as I could. My dad showed me that how to play is more important than running plays."
The youngest Kaminsky had aunts, uncles and sisters who'd excelled in Division I sports, yet he wasn't at all sure that he'd play big-time basketball. As a junior he'd been averaging in the low double figures at Benet Academy in Lisle, IL, a school until recently known more for its fine academics than its athletics.
His high school coach at Benet, Gene Heidkamp, gave the youngest Kaminsky the freedom to shoot open threes and even bring the ball up against the press. Heidkamp says, "Frank's development was unusual because he was a very skilled perimeter player before he learned to play in the post. For nearly every other big guy, the opposite is true."
Before his senior year, local colleges like Loyola, DePaul, Northwestern and Northern Illinois showed interest in Frank III. "For a while," the younger Kaminsky recalls, "it seemed I'd wind up at a smaller Division I school, and that would have been fine, so I didn't worry. Then Wisconsin came along and I could tell they were serious."
His father says, "I knew what I wanted for my son when I met [Wisconsin coach] Bo Ryan. He was 'Old School,' and you should capitalize that. Bo Ryan was about more than just ball; he was a genuine old-school coach. Very few guys are going to make money, but all the kids who go through the program are prepared for life. To me? That's a coach."
And Frank Kaminsky III wasn't exactly the sleeper he's being made out to be today, Heidkamp insists. Benet went 55-5 during Kaminsky's last two seasons and never lost a conference game. "But he committed very early, during the summer, and that ended it," Heidkamp says. "Had he waited, things would have blown up. But he was an incredibly smart kid, and he'd studied Wisconsin and their style of play and he knew he'd be a good fit."
Yet even after Frank Kaminsky III verbally committed to Wisconsin, the phone kept ringing. Dad ignored the calls after they'd committed, though. "We gave our word," he says. "That's the South Side way. You honor your word."
***
Ryan claims that the meteoric rise of Frank Kaminsky III wasn't a shock to him. "Frank played behind a very good player his first two seasons, Jared  Berggren, who became our all-time leader in blocked shots," the coach says. "Besides, he was proving every day in practice that he could shoot threes and play on the perimeter, that was obvious."
Still, Kaminsky's high school coach thinks that it's the young man's improvement near the basket that has truly completed his game. "Now who can match up with him? What big guys are that versatile?" Gene Heidkamp says.
Kaminsky inherited his father's passion for basketball, which includes a willingness to work relentlessly on his offensive game. Ryan sensed that early on. "Frank is smart and he loves to play basketball," he says. "That's the main thing I want, for the game to be a passion for my players."
That passion paid off this past year. Kaminsky set a  Wisconsin single-game record with 43 points against North Dakota, including 6-6 from behind the arc. Nobody was urging him to go back under the hoop during that game.
Kaminsky is also a deft passer with outstanding court vision, and he handles the ball well in the open floor with either hand. "All the things I got criticized for," Dad says today, "my son now does pretty well for Wisconsin."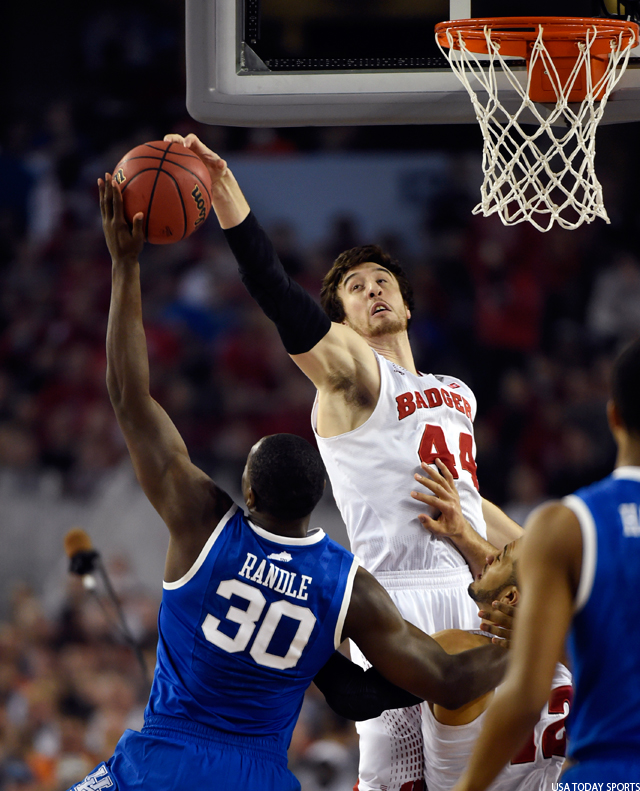 Kaminsky surprised the basketball world this past spring, if not his coaches—not just with the deep NCAA run he led Wisconsin on, but also with his post-season comments about staying in college for another year. He was having fun, the time of his life he said. The NBA could wait. "I think we'll be good next year, really good," he says. "Plus how could I put a price tag on my last year in college? I'm big on loyalty—I got that from my dad. Leaving Wisconsin just didn't feel right."
Kaminsky is still a kid— he turned 21 on April 4. His upside is astronomical—he's highly skilled, team-oriented and mentally tough—and he's peaking at a much younger age than his father. But unlike his dad, he doesn't have coaches, teammates and fans imploring him to get under the basket every time he squares up from beyond the arc.
Wisconsin will take another shot at the NCAA title this year, and they'll have Frank Kaminsky III in the middle—when he isn't roaming around the perimeter.
The point is, he has postponed the NBA, said he's coming back, and Wisconsin will be tough. Frank Kaminsky gave his word.