Grayson Allen was on the court at Madison Square Garden for a total of 75 minutes Friday night and Saturday afternoon. In that time, he scored 62 points, making 18 of 27 shots. But even after watching all of them, it's hard to figure out exactly what makes him so good.
He's arguably Duke's most important offensive player, but he barely played until the NCAA Tournament last season.
"It's not like Grayson is this combat veteran," head coach Mike Krzyzewski reminded reporters after his team's first game at the 2K Classic.
He's a scoring guard who rarely handles the ball. On offense, he floats between the elbow and corner on the weak side; when he springs into motion, his constant curls and rub-offs seem to be resurrected from JJ Redick's Duke playbook.
He's become known for his dunks–even before his highlight reel slam against Michigan State, he won the McDonalds' All-American dunk contest as a high school senior–but he did most of his damage from the perimeter at MSG. He had a few smooth lay-ups, but most of his drives were to set up assists.
Talking about a Duke player's intangibles comes dangerously close to cliché. But the person who sees Allen play the most and has presided on over 1,000 wins thinks the kid has something special inside.
To get a perspective on that X-factor, look at the stats from Allen's last game before coming to New York. He looked bad and the team floundered with him. Kentucky clogged the lane forcing Allen to focus on simply getting a shot off in traffic rather than scoring; he finished that game with four turnovers and only two baskets.
Even more dangerously, he didn't act like a player up for a fight. "He didn't have a strong face," Krzyzewski said. "When he saw it, he said 'Whoa.' But we watched it and I said, 'Look at your face. Is that how you want to look?' He said, 'I can't believe it.' And I said, 'That's what I'm looking at. But that's what Kentucky is looking at and that's what your teammates are looking at.' When you're an outstanding player, you win not just by how you perform, but you win by how you look and how you act. You set up an environment that's conducive to winning. That's the responsibility of your best players. My best players have done that and [Allen] is as good of a player as we have."
Jump ahead to the first game at MSG on Friday. It's a big game for Duke and Allen to rebound. Except he isn't starting. Even when he comes into the game, Derryck Thornton is the primary ball handler.
"I just told [Allen] 'You're not starting," Coach K later explained. "We have a great relationship. When we got back from Kentucky the next day, I met with half my team individually and just told them 'This is what I think.' And with Grayson, I said I was disappointed. 'You didn't make an adjustment. You're not going to start. You don't have to be great, you have to be consistent."
He might not have been looking for greatness, but that's what Coach K got.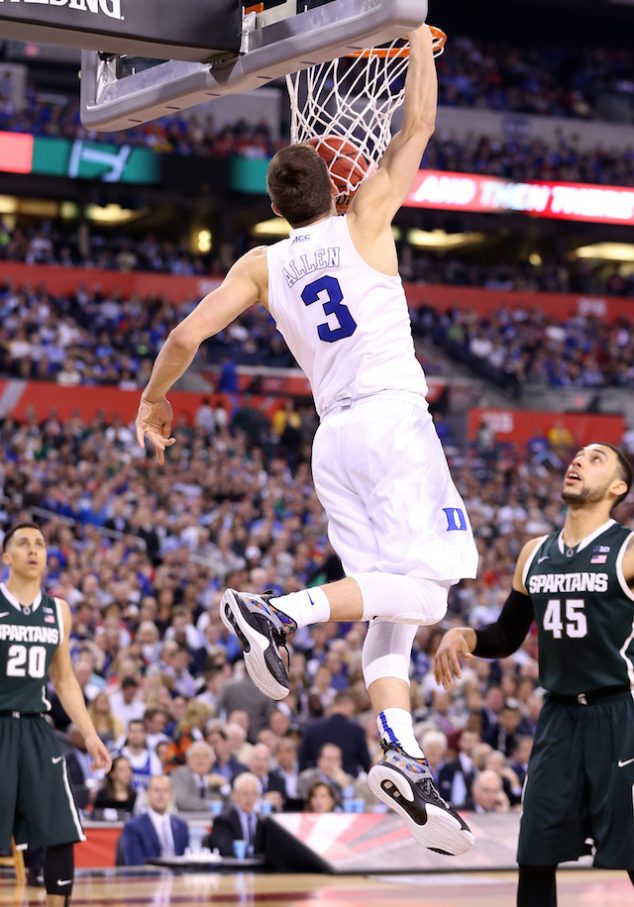 Allen entered the game against VCU for the first time at 16:25; 40 seconds later, he knocked down a three. Nine seconds after that he pulled down a defensive rebound before driving the length of the court to draw a foul. After the TV timeout, he made both free throws. The tone was set.
Allen would go on to finish the half with 15 points; the second half would be a mirror performance, giving him a career-high 30 on the back of his benching.
"The response that Grayson had from Kentucky is huge. I think it's spectacular, to be quite frank with you," Krzyzewski said. "A lot of kids would question themselves, and he never did."
To make things more impressive, Allen wasn't the beneficiary of any set plays. Coach K revealed that for much of the game, his players were running a motion offense. So when Allen received a pass near the top of the key after running off a screen, it was up to him to assess the defense and react. When the defender lagged behind, he hit his jumpers; when they pressed him, he drove to the rim. It's simple in concept, but the sophomore executed it without a hitch.
"For us, it's all about moving on," Allen said after the VCU game. "There was obviously a rough film session after the Kentucky game where we talked about the improvements that needed to be made. Once you see that you move on to the next game. You make those improvements and move on. For me, coming off the bench it was nothing different as if I was starting. It's the same aggressive, attacking mindset.
When asked specifically about what adjustments he made, Allen said he focused on "seeing lanes to drive—not forcing the issue every time and finding the open guy."
"He was driving to score, not driving to get a shot off," his coach added.
And how did Allen follow up a career-high performance at Madison Square Garden? By setting another career-high in the championship game against Georgetown on the way to MVP honors. His performance was one that even his coach had to marvel at.
"I've leaned on my great players my whole career," Kryzewski said. "It's not about coaching, it's about allowing your great players to be great and putting them in positions to do things you can't orchestrate. We kept doing a few things that would give him an opportunity to make his reads. His stat line is one of the sensational stat lines, just ask someone who's been doing this for 41 years. 32 points on 12 shots is crazy. It's just a crazy stat. I'd like to see him do that again and again and again. Maybe we should get him more shots; he'd get about 40."
But even with Allen's scoring, the most noticeable thing about him is his emotion. That's nothing new for Duke; the Coach K era has seen plenty of floor slapping, fist pumping, and hugging. But the ferocity and the frequency of Allen's fist pumps, which are closer to haymakers than anything else, seem different. Part of it likely comes down to inexperience–these are big shots at big moments for a relatively new player–but another part is his personality. He's a player who knows he can walk the walk and wants to prove it.
Coach K is careful to note the youth and inexperience of this Duke team, which has seven freshmen as compared to four upperclassmen. "One talks that because we're Duke and because I'm coaching, that's it you're supposed to be great," he said. "We're a good team, and we hope to be a really good team. But we're not this juggernaut or anything. We've got to fight for everything."
Despite that, Grayson Allen sent a message at Madison Square Garden. This Duke team might not be great, but he can be. And Duke can go as far as he takes them.