If you scan ESPN's latest rankings for the Class of 2018, you will find Greenfield, Wisconsin's Tyler Herro (Whitnall HS) ranked 25th in the nation with a 5-star label next to his name.
Once a familiar name solely among recruiting junkies in the Wisconsin area, Herro's emergence into one of the best shooting guards in the high school national ranks derives from lofty goals and subsequent dedication in the gym.
Herro is a rangy 6-4 guard with skills and athleticism that allow him to sling buckets from all three levels of the court, including above the rim. However, few if any of his peers in high school can match his scoring ability or bag of tricks from mid-range.
"I was more of just a shooter," says Herro. "I kind of evolved from a spot up shooter to being able to bring up the ball, and get to my spots in the midrange and knock down shots. It came from countless hours in the gym. It's something I take pride in now."
"When I was playing against high level players, I didn't really stand out," he adds. "I had to do something to be able to stand out. Now that I can consistently hit from the mid-range that's kind of what I'm known for."
Following an impressive sophomore campaign for Whitnall in which he averaged 24 points per game, Herro continued to light up the club circuit during the spring and summer. So, offers from a bevy of high major programs including Arizona and Indiana, along with interest from Kansas and North Carolina poured in.
But despite the opportunities to play all over the country, Herro committed to stay local and play at Wisconsin last fall. Having seen former 'Sconnies who were big time national recruits like Sam Dekker and Bronson Koenig stay home to play for the Badgers, and help guide them to unprecedented success in the program, Herro wanted to help continue that tradition.
"I don't think if Dekker and Bronson made the impact they did on Wisconsin, I don't think I would've committed as early as I did," Herro said. "I don't even think I probably would've [committed] to Wisconsin. Just the tradition they left there with two Final Fours and Sweet 16s basically every year is something I want to do and follow in their footsteps."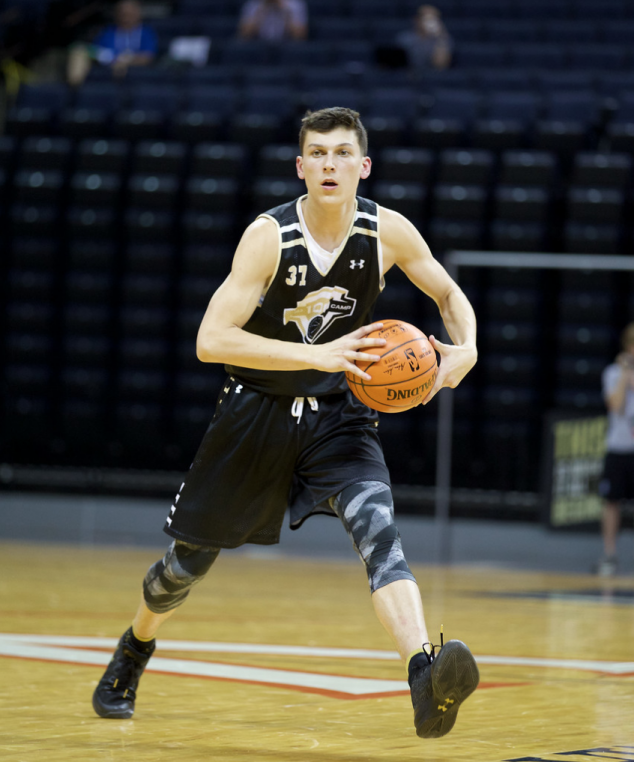 Shortly after his commitment, Herro began his junior year of high school ball with some knee pain and decided to shut his season down just a dozen games in after doctors informed him he'd need surgery on his left knee to repair a partially torn meniscus.
Though he potentially could have delayed the surgery until after the season, running with Playground Elite in Nike's EYBL this spring and summer was key for him in fulfilling another goal he has set for himself.
"I could have either waited until the end of the high school season, or did it how I did so I could be back for AAU," Herro said. "I thought that the AAU spring and summer would be more important for me to reach my goal of being a McDonald's All American."
With many members of the McDonald's All-American Game selection committee using what they see at big club tournaments throughout the spring and summer to make their decisions on how they rank those worthy to be in the game, Herro has been back on the court auditioning himself to be one of the 24 selected for the prestigious showcase.
Playground Elite had a rough go of it in the win-loss column during the EYBL, but Herro has been showing out individually. Whether it be dropping threes off the dribble as well as off the catch, utilizing his continually expanding midrange game or finishing at or above the rim on dribble-drives, Herro has been working towards becoming one of the most offensively gifted guards in the country.
He says he feels like he's back to being fully healthy, and has shaken off all the rust from his time on the shelf. With the NY2LA Sports Summer Jam this past week and then his final run on the club circuit in Vegas the following week, Herro will continue to try and burn himself into the memories of the McDonald's All-American Game selection committee.
Regardless of whether he winds up making the game or not, he says he'll be working tirelessly towards another goal he has set over the last couple years since emerging onto the national scene.
"I'm going to college so I can make it to the NBA," Herro said. "So once I get to [Wisconsin], I'm not going to be content with just playing basketball. I want to make a statement and eventually make it to the League. That's my main goal."
(Photo credits: Kelly Kline/Under Armour)