Barely 24 hours after a 34-point performance and victory over Trenton Catholic at the South Jersey, Non-Public B Final, Isaiah Briscoe is back in the gym—prepping for Saturday's state title game against St. Anthony.
A video of last night's highly anticipated battle against the Garden State's other nationally ranked guard Malachi Richardson, a Syracuse-bound sharpshooter, is playing on a MacBook on the floor of the performance stage that stretches across the baseline of Roselle Catholic's gym.
Briscoe is a third cousin of Kyrie Irving from his dad's side, and in about five hours the Cavs' All-Star will be the talk of sports following a 57-point outburst against the Spurs.
"Growing up, I was always overlooked," says the Kentucky commit while sitting on a desk in our classroom-turned-photo studio. "I had to work twice as hard as everybody else. They always used to say that I was overweight. But it is what it is. I am who I am. I was blessed with this body and I'm going to use it to my advantage."
While critics will point out he's not the quickest with the ball, he's become one of the most crafty PGs around, hence the nickname "Boogie."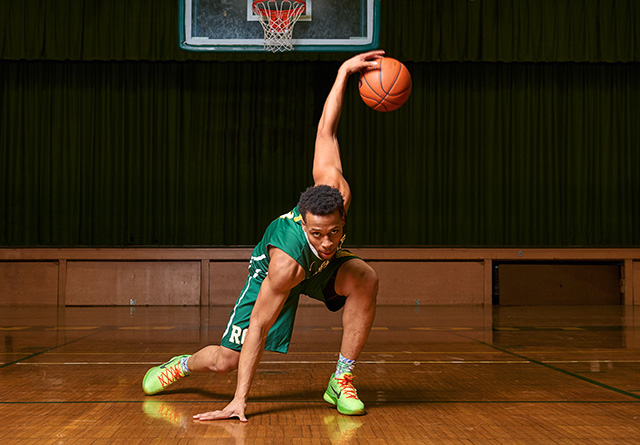 Regarded as the next great PG from NJ, the Irving comparisons have been inevitable.
"I remember watching him in the stands," Briscoe recalls of his cousin's days at St. Patrick. "Time goes by fast. I remember sixth and seventh grade just watching him at Kean [University] putting on a show. Selling out gyms. And now that's me."
Briscoe spent his first two years of high school on a star-studded St. Benedict's Prep squad, where he enjoyed a cumulative 69-5 record. He transferred to Roselle for his junior year, leading the school to the Non-Public B state title after averaging 22.1 points, 4.0 assists and 3.9 rebounds.
In an era when many top recruits' college decisions are strategically based on who's leaving and who's staying, and whether a starting spot will be awaiting them, Briscoe's approach offers a refreshing contrast. He chose Kentucky before the season even started.
Having spent his first two high school seasons in a powerhouse that featured Milwaukee Bucks guard Tyler Ennis and current VCU guards Jonathan Williams and Melvin Johnson, Briscoe is more than comfortable hooping with other standouts and competing for playing time. And although joining John Calipari (who helped mold guards like Derrick Rose, John Wall and Tyreke Evans) and Big Blue Nation seems to be an obvious plus for anyone, there are "analysts" who don't quite concur.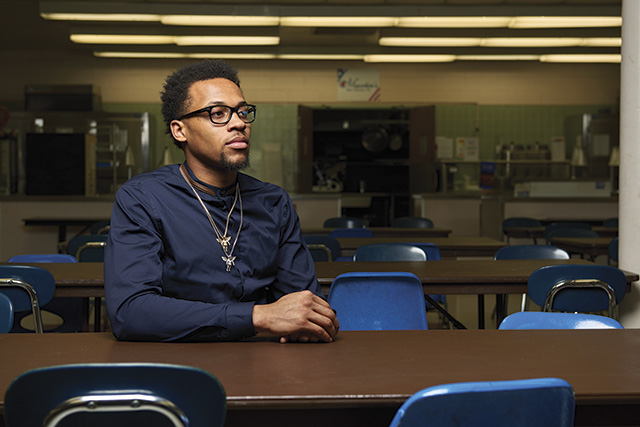 With recent questions of whether all of UK's All-American guards could be returning, a mock draft that had Briscoe as a top-10 pick in the 2016 NBA Draft last fall now has his name completely off the list as of press time. Not like he's concerned.
"I'm not worried about who's there or who's leaving," says Briscoe, who helped Roselle repeat as state champs a couple of days after we spoke. "I'm going there to do what I got to do—contribute however I can. At St. Benedict's, we had so many good players that there was no time to slack. If I wasn't playing well, I had to sit down and watch. I've always been on my toes and never taken anything for granted. [Calipari] threw me right into that mix of names [of past elite guards he's coached]. That's big shoes to fill, but I'm sure that I can."
Franklyn Calle is an Assistant Editor at SLAM. Follow him on Twitter @FrankieC7.
Images by Tom Medvedich