The double-takes began with a besting of Bruins at Pauley Pavilion on this season's opening night. UCLA had paid many tens of thousands of dollars, in one of those guarantee-game pacts, to bring Monmouth out to Los Angeles. What could possibly go wrong? Well, the Hawks took the money and went home with an 84-81 overtime win.
Then came the AdvoCare Invitational over Thanksgiving weekend, with ESPN cameras continually rolling (the event is held on the company's Wide World of Sports campus in Orlando). Wins over No. 17 Notre Dame and USC sandwiched a gritty three-point loss to Dayton, and confirmed a consensus that had slowly been building: Monmouth (yes, Monmouth) is for real.
Justin Robinson might be the second-most famous Hawks phenomenon at the moment (see: Monmouth bench celebrations), but after posting a record 77 points through three games, he was named tournament MVP despite not playing in the championship. (Monmouth took down the Trojans in the third-place game.) As USC coach Andy Enfield said afterward, "[Robinson] has it all, offensively."
To hear Robinson tell it, there was extra motivation for that USC game. Monmouth had faced the Trojans in Los Angeles the week before, and lost by 11. "We believed we should have won that first game, too," says Robinson. "In the locker room, we said that we were going to see them again, and we were going to play hard and win."
Robinson has made waves for his scoring: 20-plus points in five of six games to begin '15-16, but the 5-8 junior jitterbug feels that his greatest impact comes through his presence and energy. Like, 3 assists and 3 steals per game through those first six contests. Guys feed off that kind of approach. And then there's the work ethic, best explained by Monmouth coach King Rice.
"We got back (from the AdvoCare tournament) on Monday," says Rice, "and Justin was in the gym that night, working on the same things he's always working on. He sets the tone for the whole team."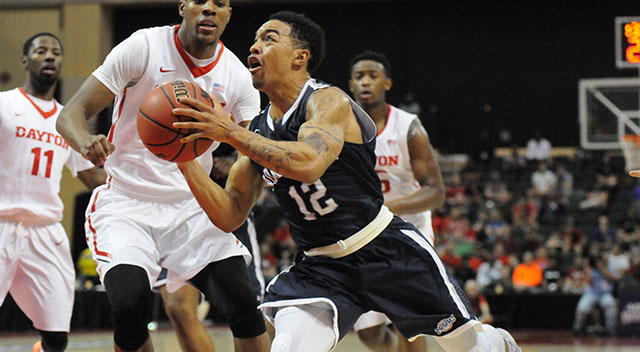 But to get a greater sense of this team's current surge, rewind 12 months-and-change to the start of '14-15. It began with a tenuous trip to Morgantown, WV, to take on Bob Huggins's Mountaineers, before a game in College Park against a Maryland team that, one season later, has turned into a trendy national title pick. SMU, in Dallas, came soon thereafter. The Hawks lost all three games, but there was a similar theme to each recap: West Virginia survived. Maryland barely hung on.
Rice, in his fifth year at the helm, has made a point of creating intensely difficult non-conference schedules. As he built the program through those first years, Monmouth was decimated by the big schools it played. Rice would hear the criticism: Why are you playing these games? As he looked at his team, unbowed, he had his answer. "Our kids enjoyed the competition," he says. "Those losses didn't affect us."
"We knew our time was coming," says Robinson. "This year, we've got it."
At this juncture last season, Robinson wasn't quite Robinson-ing to the extent seen to date in '15-16, but he was still putting in serious work in the stat column. Points, assists, steals. That production has kicked into overdrive thanks in large part to the work put in during the past summer. There was ample motivation following an 18-point loss to Iona in the Metro Atlantic Athletic Conference tournament.
Returning players made a pact: they were going to stay on campus throughout the summer. They were going to get better. Says Rice, "Iona slammed the door on us, and our kids went right back to work. This year, we've had great numbers and great chemistry. It's been fun so far."
No one worked harder than Robinson, who in addition to workouts on campus, partook in the summer league grind. In one game, he dropped 50 points. Now, he is asserting himself as one of the foremost blurs at the guard position, nation-wide.
"And he's so humble," says Rice. "This summer, he put on seven to 10 pounds, and he's dunking easily, but he just keeps working. At times, he's almost too unselfish. He's getting his points without putting up a lot of shots."
Robinson gets to share this season's story with his younger brother, Tyler, a freshman guard on this season's team.
"He's my best friend and partner in crime," says Robinson, who rattles off some of his favorite memories growing up with lil' bro in Kingston, NY. Eighth grade, dad nailing a basketball hoop to the tree by the house. Putting a trampoline under the hoop, and dunking to their hearts' content. "Jammed fingers, basketballs flying, bodies flying, just kids being kids having fun," Robinson says. "Tyler and I would get into fights where we wouldn't talk for a couple days, we were so competitive. He's only beaten me once in one-on-one, because I don't let him. He runs his mouth."
While Tyler went through his recruitment, Robinson made a conscious effort of maintaining a healthy distance. He wanted his younger brother to make his own choice. Well, excepting one potential option. "I told him if he went to Iona, I wouldn't talk to him," Robinson says.
It's yet another fun wrinkle to what's turning into a compelling narrative. And the kicker?
"We haven't even played our best basketball yet," says Rice. "Our defense was way better last year. So, we're looking for major improvements on defense. Then, I feel like we'll really be ready."
Photos courtesy of Monmouth University Athletics