This past August, during an overseas tour of Australia, there was a meeting between Yale legends past and present. Justin Sears, a 6-8 Bulldogs senior forward and the reigning Ivy League Player of the Year, had a chance to chat with Paul Maley, the last Bulldog to win that award, in 1988.
"It was great to meet him," says Sears. "I'd never been out of the county before, and I'd never really considered living overseas—but talking to him, about how he'd made the transition to Australia, how he loved it, opened my eyes. (After a lengthy pro career down under, Maley is a general manager of operations at the Australian College for Basketball.—Ed.)
"I thought, Maybe I can do this—play overseas after college. We're both kids from Yale, both solid players. It was really good to hear."
Sears became something a celebrity over the course of the tour. When he was introduced before a game against Diamond Valley, a pro team in Melbourne, he received a standing ovation. When the game was over, Sears grabbed his bag and prepared to head back to the locker room, only to be mobbed by a raucous crowd.
"They wanted pictures and autographs—like we were pros," says Sears. "It was really cool."
They could certainly appreciate quality, which is something Sears showcased in force for Yale last season. He posted 14.3 points on 51 percent shooting, grabbed 7.5 rebounds—including 3.0 on the offensive end—and added 2.4 blocks, 1.5 assists and 1.1 steals.
Quirky. Different. You'll get the gamut of cliché'd descriptors when people are asked to describe the Justin Sears effect. What is particularly awesome about this senior is the way he embraces the monikers—he knows that it is exactly his unorthodox approach that makes him so effective.
Sears played tennis, starting at age 4, and the footwork learned from chasing after so many winners, on the baseline and at the net, is reflected now on a different kind of court. When you're chasing after a winner, you learn to shuffle your feet in whatever way works. This approach can also be applied to layups.
"Sometimes, I'll make a play in practice, and coach [James Jones] will be like, 'That will never work in a game.' Then, two weeks later, I pull off the move and the defender is dumbfounded," says Sears, chuckling. "That's one thing about my game—it's always been unorthodox and different."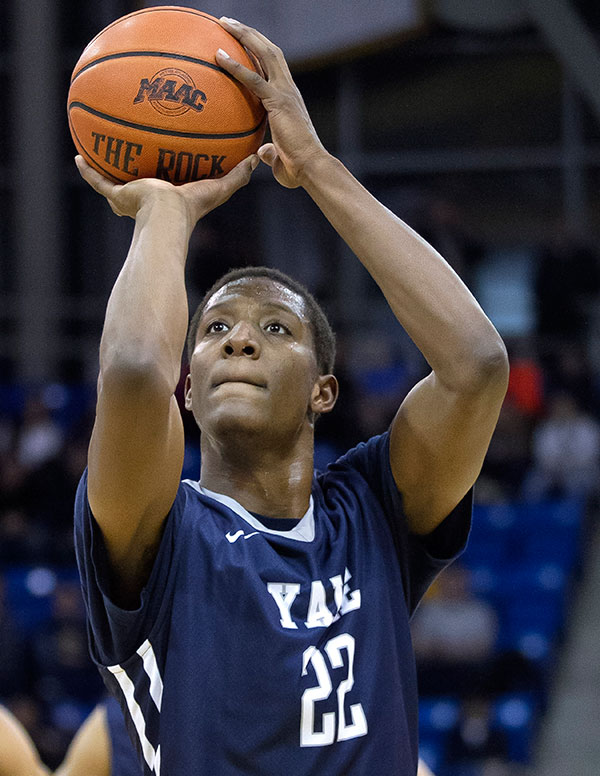 He cites Manu Ginobli and Al Jefferson as chief examples among players he studies. "They're unorthodox with their footwork," says Sears. "It's like they're thinking, 'Well, most players do it this way, so how can I do it differently?'"
This summer, Sears has gone about developing his game in a more standard manner. "A big thing was working on my handle and my shooting, extending my range to three and just making better moves in different areas of the floor," says Sears.
He senses a palpable hunger among his Yale teammates this season, strengthened by the bonding that comes with a foreign tour. "We made it all the way last year, and then we let the seniors down," says Sears, referencing the Bulldogs' loss to Harvard in a one-game Ivy League playoff. "That was tough."
On one of the final days of summer, Sears found a box of t-shirts in the locker room. He grabbed one, thinking it was gear for the season ahead. But when he looked over it, he froze. On the front was written '2014-15,' with the Yale logo and 'Ivy League Champs' beneath it. On the back, the message, We're in.
"It really hurt to see that, to see that they had the t-shirts printed and ready to go for us getting into the tournament," says Sears.
So, in vintage Justin form, he took one and hung it in his room. A constant reminder, for what he's going to work toward.
When Sears says, "We have to redeem that," it's hard not to believe him.
Photos courtesy of Yale Athletics