Kahlil Felder kept his reasoning simple, when he committed to Oakland University in September of his senior year at Pershing (MI) High. "Mid-major team, that plays high-major teams," Felder said.
On his OU player page, Felder whittles down the reasons even more succinctly: Education, Teammates, Campus.
Then, there was the coaching staff, led by Greg Kampe. "They kept everything real with me," Felder says. "They didn't say I'd come in and play 'X' amount of minutes. They told me I gotta earn what I get. They also told me they'd make me the best player I could be. It was pure honesty. So far, it's working."
Felder averaged 7.6 assists as a sophomore in 2014-15, second-best in the country. His 18.1 points were top-50. The 2.0 steals? Twenty-eighth.
Felder grew up with the OU program, and his mom loved the stability provided by Kampe, who's entering his 32nd year as head coach. It resonates, then, when Kampe says that Felder, who had offers from schools in the Atlantic 10 and Big Ten, is the highest-rated recruit he's ever signed at OU.
"He's really freaking good. We recruited him from the time he was a sophomore, and we recruited him hard," says Kampe. "We didn't recruit a point guard in the class before him—even though we needed one. We felt Kahlil had the chance to be really special, and we wanted him to see that the playing time was there."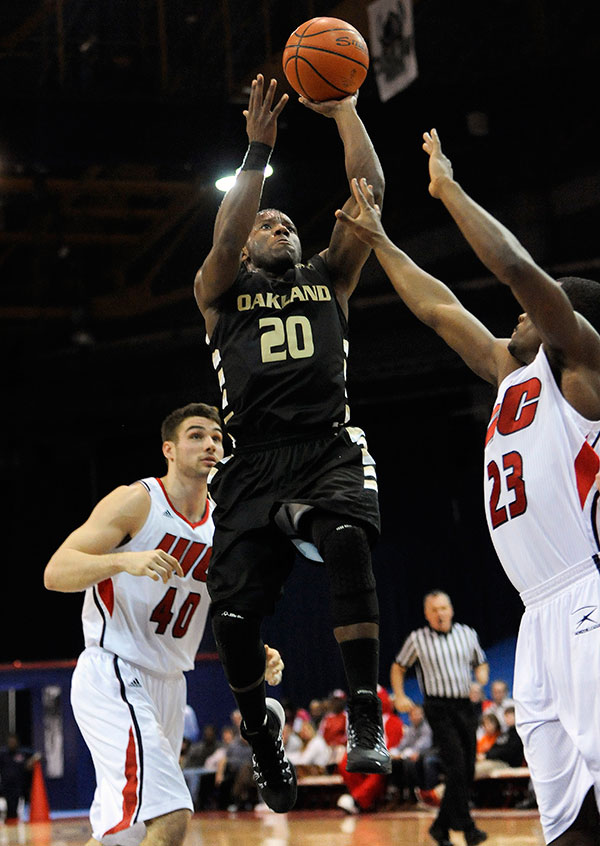 Kampe's program had become synonymous with great point guard play. In 2011-12, Reggie Hamilton led the nation in scoring (26.2 points); two seasons before that, Jonathan Jones led the nation in assists (8.1). "We felt Kahlil could lead the nation in both categories," Kampe says.
There was something about the mentality of this kid, a fearlessness when the 5-9 guard would go up against the big boys. That's what Felder did in the summer following his freshman year in college. During a Detroit Pro-Am game, he saw Draymond Green headed for a dunk on the break. So, Felder raced to catch him, and fouled him hard. Didn't want to allow momentum to swing the other way.
In an 81-79 win over Toledo last November, Felder got his high-rising act back on, blocking a game-winning shot to seal a win. "I play with two chips on my shoulders," Felder says. "With me being little, I have to do other things. If a guy is 6-5, he's immediately seen. But I have to battle on the floor, lock a defender up, do the little things."
During the Grizzlies' overseas tour in Spain this summer, Felder averaged 23 points and 8 assists. The team averaged 99 points. In the last game of the tour, OU had the ball with the game tied and 2 seconds left. Kampe set up a play where Felder came off a screen and got the ball.
"Then, the whole world goes to him," Kampe says, "but instead of forcing a jumper, he found a guy wide open for a layup. In the past, Kahlil would have tried to win it himself."
Kampe told the team afterward that that play was the best thing he'd seen on the whole trip. Game on the line, and the Grizzlies' best player works within the team concept to win it.
"Kahlil still turns it over too much—but we do play lots of possessions, and he has the ball in his hands the whole time," says Kampe. "He averaged 3.5 turnovers in Spain, but we played at 89 possessions a game."
This season, Felder will reconnect with two fellow Pershing High grads, both of whom join the Grizzlies as transfers. Sherron Dorsey-Walker and Martez Walker, who come from Iowa State and Texas, respectively, are two reasons why expectations are high for OU this season. Felder remembers his recruiting pitch to the players he calls "brothers": Come on, we need you. We can do special things here.
This season is about making the NCAA Tournament, and making a serious run. Felder wants to become more of a vocal leader. He's already got the example part of leadership down pat.
"I've fought to win my whole life," says Felder. "I hate to lose. Even in workouts, if I'm shooting against somebody, and I lose the first time, we'll shoot 50 more times 'til I win. It's that drive in me. I don't know where it comes from—probably from my dad, watching him play."
Before Felder's sophomore season, Kampe delivered a car metaphor for Felder, who was coming off a debut season in which he'd been named Horizon League Freshman of the Year. Felder had been given the keys to the car, but he couldn't go pedal to the medal just yet. As a sophomore, he could begin to let loose a bit.
Now, as a junior?
"Staying with the car idea, we've traded in the Mazda he had in his sophomore season for a Ferrari," Kampe says. "He's so fast. It's his world, man."
Photos courtesy of Jose Juarez, Oakland Athletics