Best ever.
Clearly defining these words can be as elusive as reaching a consensus involving them.
We should figure out their meaning soon, though, because the phrase will only become more ubiquitous with every win Kentucky rips off from here on. The Wildcats are four tourney wins from an unprecedented 40-0 season and sparking enough G.O.A.T debates to make your head explode.
Often lost in such storms of opinion, though, is an important distinction: "best ever" can actually mean two different things. The first definition—who wins in a head-to-head matchup—is probably the more common definition. What would happen, for instance, if an old-school great team somehow took the court against this year's Kentucky team?
Imagine firing up the DeLorean and traveling back to an era when UCLA was winning 10 of 12 national titles. Grab the late 1960s Bruins featuring Kareem Abdul-Jabbar (then Lew Alcindor) and Curtis Rowe. Since the game's rules differ so much from then to now, find a happy medium. Perhaps play one half with the three-point shot and shot clock, one without. Allow the retro players to use a modern weight training regimen, too.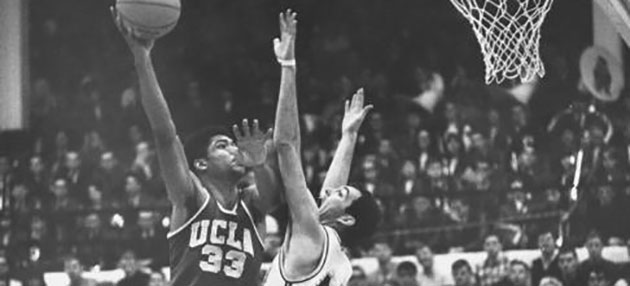 Abdul-Jabbar, who averaged 26.4 points and 15.5 rebounds per college game at UCLA, believes the best teams of his era and the mid-1950s would win such a showdown. "None of the modern teams would have been able to compete with Bill Russell's [University of San Francisco] team or the UCLA teams because they lack the cohesion you get from staying in a program for four years," he told SLAM. In today's college basketball, "we would have been just as dominant as were in the '60s. I think the fact that our players had to stay in school and could not jump to the NBA enabled them to learn the game in-depth. The one-and-done players don't have that type of complete fundamental preparation."
Abdul-Jabbar isn't alone with his sentiments. For every point old-schoolers can make in defense of their generation, though, supporters of today's system have counter arguments. Years growing up on the national AAU circuit give today's college freshmen an opportunity to develop more cohesion playing with each other than past generations. While today's youngsters have more distractions, technology like YouTube also expands their opportunities to develop their game in more efficient ways.
A final counter argument: talent simply trumps all. Kentucky's current team has around 10 future NBA players on it and a handful of first-rounders. No team from the 1950s through 1970s approaches that.
Now on to the second, more measurable definition of "best ever."
This one involves comparing how dominant teams have been relative to their own competition, in their own seasons. Here, the numbers show this year's Kentucky squad is on track to crush its all-time competition in a specific area. That would be suffocating defense, the Wildcats' forte and the prime reason a "Kentucky vs Field Prop Bet" field now exists for the 2015 NCAA Tournament. The New York Times and Sports Illustrated have recently compared the Wildcats' defense to the best of recent defenses in recent decades, but they didn't include the game's greatest teams before 1980.
Why?
Possessions per game, one of the most useful metrics for comparing teams from different decades, weren't kept when many of the oldest school titans laid waste to the countryside. And this happens to be one place where Kentucky's defense especially shines. Another useful stat—strength of schedule—is also largely missing for the 1950s-1970s teams.
So, yes, some of the sport's greatest teams existed before certain rule changes and the keeping of certain stats. That shouldn't exclude them from the debate. There's still value in comparing some traditional team stats like field-goal percentage allowed and points allowed. The average score in all Division I games fluctuates year to year, so that's also taken into account.
The Associated Press' Top 25 poll can serve as a poor man's strength of schedule metric. This college basketball ranking, which has been around since Bobby Knight was in grade school, is far from perfect. But it does provide an idea—albeit a rough one—of which teams were good during the course of past seasons, which is the same function as the SOS metric.
Best-ever type teams should defend both the other team and their all-time reputations when the lights are brightest. So the following stats represent only what each team did against foes ranked in the Top 25 at game time. For the sake of comparison, two more recent defensive powers are included: Patrick Ewing's '84 Georgetown Hoyas and the Ron Mercer and Derek Anderson-led '97 Kentucky squad, which Sports Illustrated's Luke Winn calculated to be supremely badass when it comes to SOS and points allowed per possession.
Opponents' Field Goal % (vs top-25 opponents)
1. Kentucky '15 / 33.8%

2. UCLA '69 / 36.9 %

3. Kentucky '97 / 41 %

4. UCLA '73 / 42.3%

5. Georgetown '85 / 43%

6. Indiana '76 / 43.4%
Difference From National Shooting Average (vs top-25 opponents)
1. Kentucky '15 / -9.7 %

2. UCLA '69 / -6.9 %

3. Georgetown '85 / -5.1%

4. Kentucky '97 / -3.5 %

5. Indiana '76 / -3.3 %

6. UCLA '73 / -2.5 %
Points Allowed Per Game (vs top-25 opponents)
1. Kentucky '15 / 56.8

2. UCLA '73 / 63.1

3. Indiana '76 / 64.9

4. Georgetown '85 / 66.4

5. Kentucky '97 / 67.4

6. UCLA '69 / 67.7
Difference From National Scoring Average (vs top-25 opponents)
1. UCLA '73 / -12.4

2. Indiana '76 / -10.8

3. Kentucky '15 / -10.8

4. UCLA '69 / -7.9

5. Kentucky '97 / -2.8

6. Georgetown '85 / -1.8
These numbers hint at how special UK's defense is.
In its biggest games of the season so far, whether against UCLA, North Carolina, Texas, Louisville or Arkansas, it has more than stepped up to the occasion. Against top flight competition, it has defended at more than three percentage points better than UCLA in Abdul-Jabbar's senior season.
In terms of points allowed, UCLA's 1972-73 defense may come closest to rivaling Kentucky. In a much more high scoring era, it held top-25 opponents to an average score more than 12 points beneath the national average.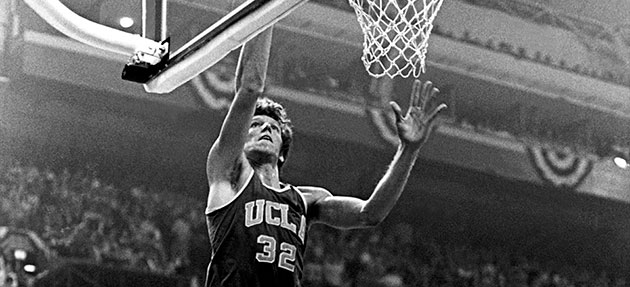 Those Bruins weren't as deep or long as Kentucky, but they did have a unique X-factor in backup center Swen Nater. The 6-11, 240-pound Dutchman's primary job was to provide elite competition for All-Everything junior Bill Walton in practice. "I think it was huge for us as a team and for Walton individually to go against him head-to-head" said Jamaal Wilkes, then a Bruin forward, later a three-time NBA All-Star. "He helped us as a team become more effective in driving to the basket and that sort of thing."
Nater never started for UCLA, yet went on to star in the ABA and play 11 years in the ABA/NBA. Longtime UCLA Yoda John Wooden never needed to play him alongside the 6-11, 210-pound Walton but in a hypothetical matchup with today's Kentucky the senior would no doubt log heavy minutes against Willie Cauley-Stein, Karl Anthony-Towns et al.
Outside of some serious Interstellar-like space-time shenanigans, nobody will ever know how much of an advantage the experience of UCLA '73's upperclassmen would provide over an underclassmen-dominated team like UK '15. We can't know for sure if UK '15's overall talent, length and athleticism is simply too much for any team, any era, to bear.
But fortunately we have the next best thing. This season Wichita State, Gonzaga and Wisconsin all have similar levels of cohesion and experience to some great old-school squads. It's likely Kentucky will have to overcome at least one of these teams en route to securing an unblemished crown and reserving a permanent spot in the best all-time teams debate.
Torpedoing such aspirations would be more than just a monumental win for any of the three underdog programs' fans. It would also validate college basketball lovers like Abdul-Jabbar who still put stock in seniority.
Data Sources: NCAA, UCLA athletic department, Indiana athletic department, bigbluehistory.net and hoyabasketball.com. For discussion of Bill Russell's team and offensive stat comparisons, visit Evin Demirel's blog.
Images via Getty
***
Kareem Abdul-Jabbar recently authored "Stealing the Game," the second installment of a series of books for young adults. And this spring Jamaal Wilkes will be release an autobiography involving recollections from his playing days with the "Showtime" Lakers. For more insight from Evin Demirel's interviews with Abdul-Jabbar and Wilkes, visit his blog and follow him on Twitter.
213