It's still surreal when Leticia Romero looks back at it all. Playing in the 2016 Olympics—and medaling for the first time in Spain's history—was never on her radar growing up in the city of Las Palmas in the Canary Islands.
"Being at the podium, getting the medal, I was shocked," says Romero of receiving the silver medal with her squad. "I didn't cry, I didn't do anything. A couple days later, I started thinking, Wow, I just went to the Olympics and got a medal. I couldn't believe it at first."
The feeling had barely sunk in when the newly minted Olympian returned to Tallahassee for her senior season at Florida State. The team got an early confidence boost in November when it came within a basket of defeating the four-time defending champions.
"Being able to come back and be that close to beating UConn, it showed us a lot," Romero says. "I think we understood then that we could do big things this year."
Romero hasn't taken her foot off the gas since. The 5-8 point guard earned 2016-17 All-ACC First Team honors with per-game averages of 12.1 points, 3.9 rebounds and 3.7 assists. She's also the only player in the country shooting 50 percent from the floor, 50 percent from beyond the arc, and 90 percent from the free throw line.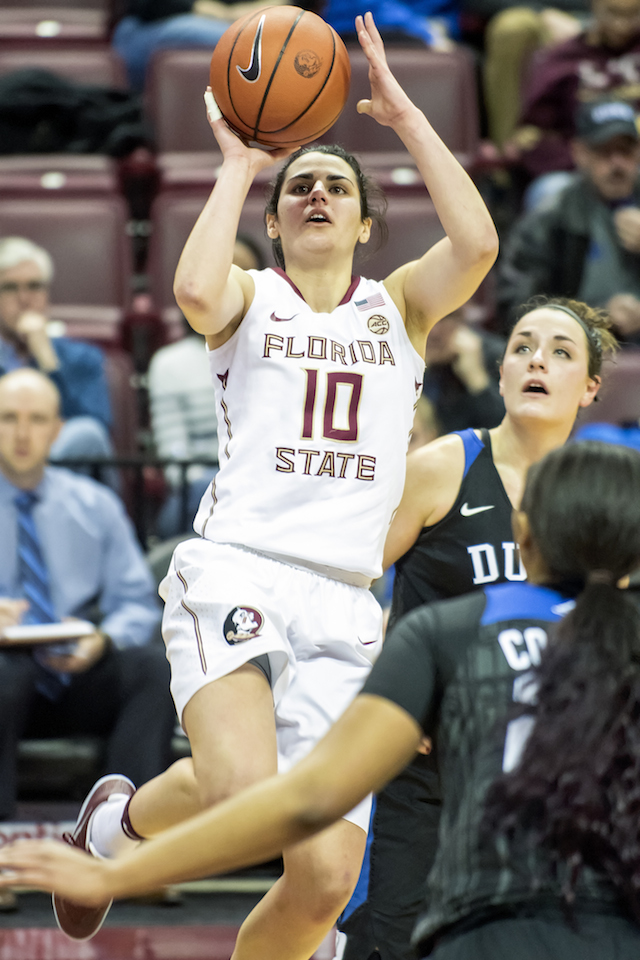 Romero's efficient all-around offensive game earned her a unanimous All-Big 12 Freshman Team selection while at K-State before transferring to FSU, where she has earned two Honorable Mention All-Americas.
But rewind a few years to when a teenage Romero was playing in Spain's women's pro league, and the thought of playing in the States never crossed her mind.
"I was like, It's amazing that I'm getting emails from universities, and they want me," she says, "but I didn't think I was going [to the NCAA]. I remember being scared of leaving and being here for four years," Romero continues. "I was really scared."
Those fears long gone, Romero is focused on achieving another first: a Final Four for FSU.
"It would mean everything," she says. "We were so close two years ago, and we've been trying to get there ever since."
The Seminoles' seven wins against the AP Top 25 this year was a school record, and FSU (25-6 overall, 13-3 in the ACC) comes into the NCAA Tournament as a dangerous No. 3 seed. Their first-round game tips off on Friday at 7:30 p.m. on ESPN2 Romero will be ready.
SEE THE FULL 2017 NCAA WOMEN'S TOURNAMENT BRACKET HERE
—
Photos: Mike Olivella