In October of 2014, 15-year-old Megan Walker visited UConn's campus for the very first time. She was in town for "UConn Basketball First Night," which is the school's annual kick-off celebration to the hoops season. A player from the basketball team was serving as her hostess that weekend, taking the HS sophomore around campus and giving her a glimpse into what life is like there as a member of the legendary women's program.
"Stewie was my host when I visited the first time," says Walker, referring to WNBA rising star and Seattle Storm forward Breanna Stewart, who was a junior at UConn during the 2014 visit. "It was kind of crazy, but you can't act like you're star-struck. She said it's going to be tough as a freshman. So she said, 'Just listen and take everything in that Coach tells you—don't deviate.'"
Little did young Megan know that just a few years later she'd be arriving to Storrs with almost identical expectations as her hostess once did. Just like Stewart did in 2012, Walker is setting foot on campus ranked as the No. 1 HS prospect in her class. Stewart claimed the Gatorade National HS Player of the Year and Naismith National HS Player of the Year awards after her senior campaign. Walker? She too claimed the same prestigious awards this spring.
Others who claimed the Naismith award as HS seniors: The Phoenix Mercury's Diana Taurasi, the Minnesota Lynx's Maya Moore and the Seattle Storm's Kaleena Mosqueda-Lewis. And then they all too went on to play at UConn later that year. That's the elite company in which Walker, a 6-1 wing, finds herself, as she gets ready to start her own journey at Connecticut.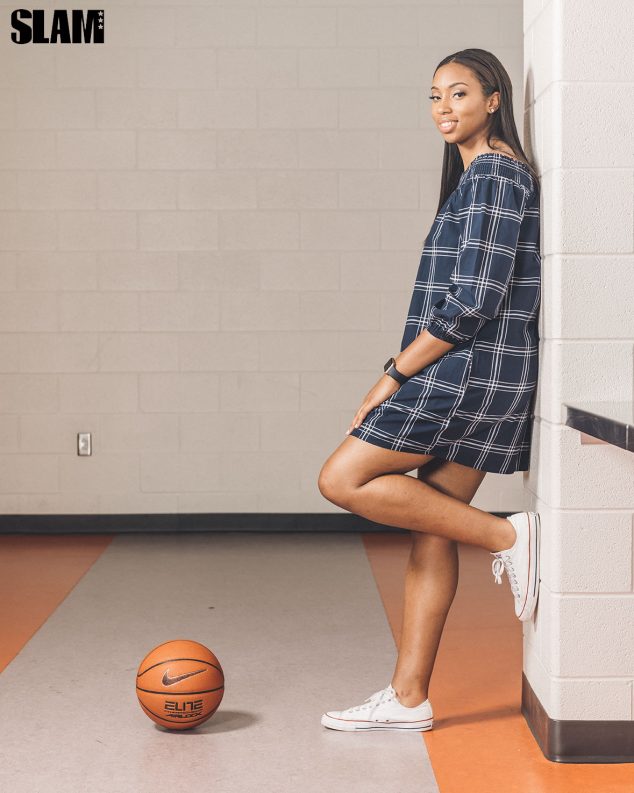 "It's just an honor to be held to the standards of those other great players," says Walker. "I feel like it just kind of sets the standard of what my career could end up being like at UConn."
She's arriving to campus fresh off a (fittingly) perfect 30-0 season and having led Monacan High School in West Chesterfield, VA, to state titles in the last three consecutive years. As a senior, she averaged 25.9 points, 7.6 rebounds and 3.2 steals.
Her final HS game will go down in the history books as a memorable one in the Richmond area. Walker scored her team's last 16 points, including a game-winning shot with 15 seconds left, to erase a double-digit fourth quarter deficit and squeeze out a 60-59 nail-biting victory. She walked away with a stat-line of 35 points, 11 rebounds, 6 blocks and 5 steals.
"I hope it left a mark and legacy behind," Walker says of the aforementioned championship game performance. "We wanted to do something that no one else had done in our school's history. The 30-0 and the three-peat was a school record. It just meant a lot to be able to accomplish those things and leave a mark."
UConn is clearly the pinnacle of women's college hoops, holding the record for most National Championships with 11 titles. The program is also responsible for the two longest winning streaks in college basketball. Just this spring the Huskies' 111-game winning streak was snapped by Mississippi State in the Final Four. The program was looking to claim its fifth consecutive national title. Despite the end of a historic run, there's reason for optimism. Walker is part of an incoming recruiting class that features four top-30 prospects.
"What we were doing, Coach said it wasn't normal," Walker says in late May after arriving to campus for summer school. "So we're here, ready to work hard and get ready for next year. We have a chance to do something special and start from scratch."
—
Franklyn Calle is an Associate Editor at SLAM. Follow him on Twitter @FrankieC7.
Portraits by Jared Soares
427