Much has changed for Eric Mika, TJ Haws and Nick Emery since the last time they played together in Chicago.
Four years ago, they torched Proviso East in the inaugural Chicago Elite Classic before running off a 26-1 record on the way to a mythical National Championship with Lone Peak (UT) High School.
Since then, they've each taken 2-year breaks from basketball to serve missions for the Church of Jesus Christ of the Latter-Day Saints overseas and gotten married as well. They have new teammates and name on the front of their jersey is now BYU. Though they established dominance in Utah with Lone Peak by winning state championships in 2011, 2012, 2013 and 2014, winning essentially every game they play is no longer a foregone conclusion.
Illinois topped BYU 75-73 December 17th at the United Center in the State Farm Chicago Legends Classic, and knocked the Cougars record down to 7-4. Despite the fact BYU has dropped almost as many games so far this season as the trio lost throughout their entire high school careers at Lone Peak, their optimism about the future remains as bright as it was when they all committed to the program nearly five years ago.
"It's definitely been different, but it's part of it," said Haws of the up-and-down start to the season. "Every team you play on is different. We've lost a few, but our mentality is the same. We're trying to get better and we know the things we made mistakes on can be fixed. I have confidence and faith in this team to keep getting better. I don't think we're anywhere close to our potential yet."
Former Lone Peak coach Quincy Lewis joined the Dave Rose's BYU staff prior to the '15-16 season, and said the approach to this season has been the same as any team that is trotting out almost an entirely new rotation from the prior season. Unlike the continuity they enjoyed at Lone Peak, BYU returned only two players who saw the court last season – and one of them (big man Kyle Davis) has been battling a knee injury so far.
"Obviously that group hadn't lost many games in a season, spring, summer or anything," said Lewis of Mika, Haws and Emery's Lone Peak squads. "But one thing I can say is that they've just kept on it, and been grinding through this learning process. You'd like to say you can snap your fingers and everyone would be where they were at, but you can't cheat the process or skip steps. For what their experience level is, they've made good progress at this point.
"I don't know if people really understand when you haven't played for two years, what that can do to your rhythm and how you compete. It just takes some time to get back in it. Sometimes it's longer for guys than it is others."
Emery, a 6-2 sophomore lefty combo guard, is the other Cougar who saw significant time for BYU last year and averaged 16.3 points per game as a freshman before earning All-West Coast Conference Freshmen Team and 2nd team All-WCC honors.
Following his mission in Germany, Emery returned home in 2015 and underwent surgery after being diagnosed with Thoracic Outlet Syndrome. He remembered what the process of returning to the court was like last year, and knows what his buddies Mika and Haws are enduring right now.
"Taking two years off is difficult," said Emery, who is scoring 15.4 points per game this season. "It's tough not only physically, but mentally as well because you feel like you're better than you are at that point. It's a process and the college basketball season is a long season. I felt like last year, the first half I was still recovering and the latter half I was playing my normal game. Every year is a new challenge, and you have to do what the coaches ask of you. This year my role kind of changed, but it's a new challenge and I love a new challenge."
Haws returned from his mission in France at the end of March, and Mika was back in Utah after two years in Italy in April. They each took a couple months to ease themselves back into the rigors of training with a Division I basketball program, and weren't even playing 5-on-5 until June and July.
"Honestly, when I got home I was in the gym a week later and I was shooting and I felt like my shot was better than it had ever been even though I barely touched a ball over there," said Mika, who was selected to the All-WCC Freshmen team in 2013-14 before going on his mission. "I think my jumping took a little bit to get back to, but the biggest thing that took the longest to get back was stamina. I could do everything I did before just as well if not better, I just could only do it for like 5-10 minutes because of the altitude and was just dead the rest of the day. We had a half hour to work out every day (on our mission) but that's nothing compared to a basketball workout with a Division I coach."
"A lot things came back quickly, but sometimes everything isn't how you want it to be," Haws said. "You just have to continue to stay confident and stay aggressive. Being a basketball player isn't just one thing – so if my shooting is off, I have to be a well-round player and do other things to make up for an off shooting night."
Haws has been averaging 12.4 points per game and shooting 37% from three-point land thus far. At 6-4, Haws shares ball-handling duties with Emery (below) much like their days in the Lone Peak backcourt. Haws won four state championships, and Utah's Mr. Basketball in 2014, and accomplished all that by being much more than a shooter.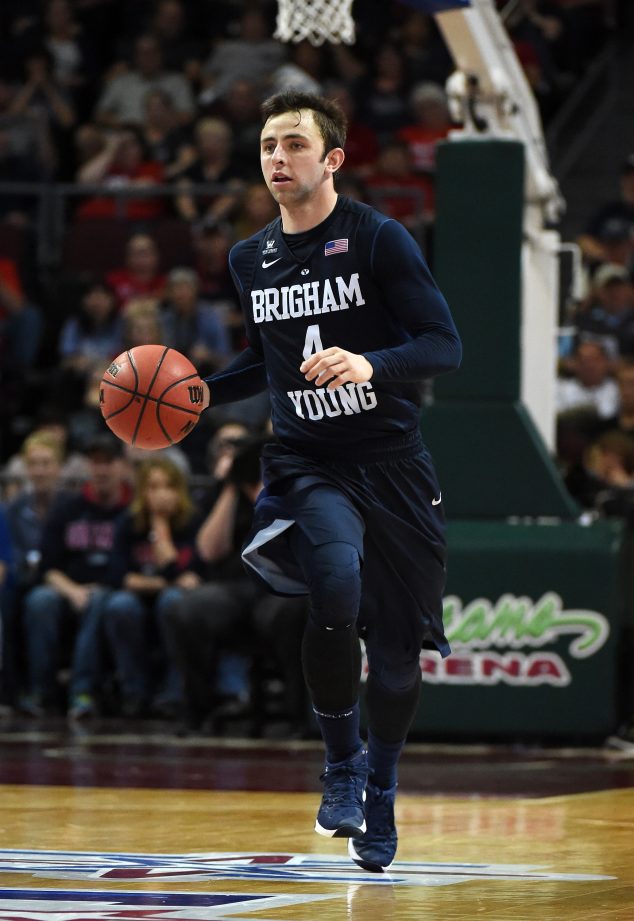 His creativity with the ball in his hands as a passer and scorer is mixtape worthy, and as he continues to feel his way through his first collegiate campaign his shooting percentages should continue to climb. If the name rings a bell it's because of his older brother, Tyler, who graduated BYU in 2015 as the program's all-time leading scorer – or his father Marty who was an All-WAC guard in 1990 during his senior year at BYU. However, TJ has a totally different game than Tyler who was the master of the midrange. Haws had a chance to play a season with his older brother but opted to serve his mission directly after high school.
"That was definitely a hard decision, because I wanted to play with my brother and I thought that would be really fun," Haws said. "But there were so many factors that played into it for coming back and playing four years straight – especially with a lot of these guys I've played with. I just thought it was an overall better decision for me, so I went with it."
Mika is currently BYU's most productive player as he's averaging 21.2 points per game and nearly nine boards per game. The 6-10 sophomore forward already looks like one of the best post players in the nation, and it's hard to imagine he's barely touched ball for two years since his freshman season.
Mika opted to go to college for a year before serving, and while those of the LDS faith grow up looking forward to serving a mission once they turn 18, he couldn't have anticipated what his circumstance would be once it was a reality.
"At first it was easy because I knew I'd do it when I was really little," Mika said. "But I had a good senior year at Lone Peak and a good freshmen year at BYU. I had some attention from the NBA and that definitely threw me for a loop, so it wasn't as easy as I thought it would be to go and leave it for two years. Just thinking about it, praying about it, and talking with the people I love most – it was best for me to go (on the mission). Looking back, I'm definitely glad I did."
With their missions now in the past, the trio is finally back together on the court again. But as their respective skills and what they bring on the court are as impressive as they were before they left, their perspectives off the court endured a profound shift over the last couple years.
—
Your alarm is set for 6:30 every morning. Thirty minutes to work out when you wake up, then a couple hours of studying, an hour of solitude, an hour with your assigned companion, some language study of the country you're serving in and then a little time to eat some lunch. Your afternoon and evening is spent either finding new people to teach the gospel to, teaching those you've found who wish to be taught, or visiting with other people from the LDS church. Your night is spent planning for the ensuing day's teachings. You're in bed by 9:30 or 10, then asleep and up to do it all over again the next morning at 6:30.
Effectively no internet or TV for two years; and very limited access to your family and friends back home.
Following a stop in Geneva, Switzerland, Haws spent most of his time in the South of France. Throughout his time on his mission, Haws underwent a personal transformation while his older brother Tyler was breaking records at BYU or one of his favorite NBA players, Steph Curry, was winning back-to-back MVP awards. Barely attuned to what was transpiring on the hoops landscape in the United States, TJ wouldn't have wanted to be anywhere else during that time.
"The thing about a mission is that you spend your time serving others – essentially that's what a mission is," Haws said. "You find that, yeah, you miss basketball and you miss staying up to speed on other things but you find true happiness in serving other people. So when you get out every day, you forget about yourself and start worrying about other people. You realize that other stuff means nothing. Serving other people and finding that joy is something I'll never forget.
"Hopefully return missionaries can figure that out in life, that when you serve other people and worry about other people that's when you find true joy. It's crazy how that works – when you forget about yourself, you find yourself."
With a faith strong enough to make a decision to put a sport in which he saw such rare success relative to his peers on hold for two years, Haws' faith grew even stronger during his mission as he continues to reflect on his experience.
"There are a lot of things that stuck with me," Haws said. "France is a very different place, and there are a lot immoral things that go on there. To see these young people in our church and how strong they were with everything that was going on around them really amazed me and was so impressive to me.
"I grew up in an area that everyone was of our faith, and I'm very innocent to a lot of things and didn't see a lot of things growing up. So to see these young kids go through what they go through every day and be as strong as they are in the church is incredible to me. I was super impressed by that and one of the things that will always stick with me."
Becoming acclimated to an entirely new culture is an experience most missionaries undertake, especially if they serve in a foreign country.
Mika (below, #12) began his mission in Rome, Italy and spent a lot of time in southern Italy in Sicily and Calabria.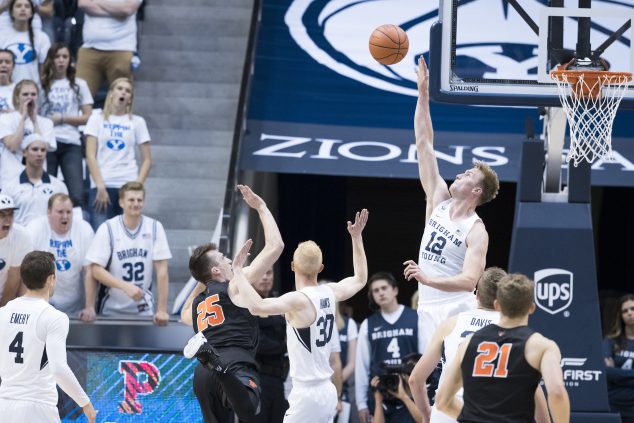 "I was in six different cities, but every city I was in was a smaller city usually on the beach," Mika said. "It was everything you usually imagine when you think of Italy – tiny alleys, cobblestone streets, people hanging out of their window. It was super different, but different in the best and coolest way. It was cool getting to know the different culture and attitude, and letting them become a part of me."
The relationships Mika formed along with his experiences throughout his travels in Italy will remain a part of him the rest of his life, and something that would not have been so had he remained at BYU following his successful freshman campaign.
"I do think about (my mission), probably every single day there is something that comes up to make me think about it," Mika said. "It's easy to see what all my friends I made are doing there because of Facebook or Instagram, and just talking about it with the guys on my team who are return Missionaries. I had a lot of experiences that I reflect on. But I think little cultural things may not stick with me because I don't have it in my blood, but the relationships I made with people will stick with me forever. With social media it's so easy to stay in touch with people which has been pretty cool."
His mission also helped re-ignite the flame within him as a competitor that allows him to be such a fierce post presence with new lofty goals.
"In high school I was satisfied with going to play in college and didn't think about after that because I was psyched to be playing at the school I loved," Mika said. "Then after my freshman year (at BYU) it kind of clicked. I figured why not me? If I work hard it's possible I could have a shot to go to the next level – whether that's the NBA or Europe and have a good life and make a good amount of money continuing to do what I love.
"On my mission that goal definitely developed because the stuff you do on a day-to-day basis is goal-oriented and missionaries talk a lot about goals and performing to the best of our abilities. So I think in the back of your mind before you go to bed or on a day off are life goals also, and things you want to do when you do get home. (Playing professionally) developed into a real goal that I want to achieve so that's what I'm working to do."
While in Frankfurt, Germany, Emery was also able to reshape his perspective on life and basketball as well.
"Ultimately, you understand that basketball is not the big picture," said Emery, who won Mr. Basketball in Utah in 2013 along with three state 'chips at Lone Peak. "There's so much more to life than basketball. But, I've also realized that I can't learn lessons outside of basketball that I have learned in basketball. Obviously on my mission I was looking forward to getting back and getting back in shape to start a new challenge. I gained a better understanding on life in general. I just feel fortunate and blessed to play basketball and play the way I do."
—
Mika, Haws and Emery all said it felt like they hadn't skipped a beat when they got back onto the court together following a 3-year layoff (Emery and Mika are a year ahead of Haws in school). Their former high school coach, and current college assistant, Quincy Lewis says all three returned more mature people, but remain the talented base of a team with great potential. One of their teammates at Lone Peak, Zach Frampton, returned this summer from a mission in Chile and is now a walk-on at BYU but currently sidelined by a wrist injury.
The familiarity is evident, and the wait for the BYU fan base that read so much about the Lone Peak hoopers during their wildly illustrious prep careers is over.
"It's been special because we've always been looking forward to playing together again," Emery said. "But it's about putting the pieces together and that's what we're trying to do right now."
"It means a lot playing for BYU," Mika said. "Playing for any big Division I school is a special experience. So being able to do it with guys that you already knew and loved before makes it that much sweeter. Obviously our team is different now with different guys around us, so coming together as a group has been awesome. But having that base is a good sense of security because you know how they play."
Basketball junkies have been reading about 'the process' in a variety of contexts over the last several years. BYU's search for an identity with a brand new roster is nothing new to coach Dave Rose, who integrates and re-integrates new guys and guys returning from 2-year missions every season.
But the playing background, talent and respective skill sets Mika, Haws and Emery all bring to the court give plenty of reason for intrigue around this squad over the next several years.
"With our coaching and the players we have, I really believe we can do big things and the guys on our team believe that as well," Haws said. "We're trying to figure that out right now, and figure out how we can be that team. If we keep grinding it's going to come around for us."
Now 9-4, and learning how to win at the collegiate level, BYU will enter WCC play in a week looking to compete with conference heavyweights Gonzaga and Saint Mary's.
For as much that has changed in the lives of Eric Mika, TJ Haws and Nick Emery on and off the court since the spring of 2013, one thing remains the exact same as it did when they were grabbing national prep hoops headlines back then with their devastating transition offensive firepower and tough defense.
"At Lone Peak, we had nothing to lose and everything to prove because no one knew who we were for a long time," Mika said. "It's the same situation we have here at BYU. So we have the attitude going into games like we have something to prove – that we can play with anyone, go to the tournament and be successful. If we can continue building on our mistakes I think we can do a really good job."
BYU 6-8 freshman forward Yoeli Childs, 6-6 sophomore wing and transfer (Elon) Elijah Bryant, 6-5 junior guard Davon Guinn, and grad transfer (Houston) senior point guard LJ Rose are all names you will see along with 6-10 junior center Corbin Kafusi who is back after finishing up on the gridiron for BYU's football team Wednesday night.
The next basketball chapter of the group from Lone Peak is just beginning at BYU, and their hope and belief is that the ending of this one can be much like their first.
—
Photo credit: Jaren Wilkey, BYU Photo