At the tender age of 4, Malachi Richardson's mother, Jacquie—a former Virginia State hooper—put a basketball in his hands for the very first time. And so it began, the start of a journey that would eventually put him on deck as the latest highly touted New Jersey product who will soon hit the next level.
With a commitment to Syracuse having been locked in since last December, the 6-5 native of Hamilton, NJ, has joined an elite group of highly recruited prospects from the Garden State that went on to the ACC. From Kyrie Irving and Dahntay Jones to Tyler Ennis (via Canada), Richardson has become that "next" guy.
If you ask Richardson, it all started for real in 2011 at West Orange (NJ) High. That's when, in the second game of the season, his Trenton Catholic Academy squad was participating in the Hoop Group Tip-off Showcase and faced national powerhouse St. Anthony from Jersey City. "I think I scored like 13 straight points," recalls Richardson. "As a freshman against St. Anthony? That was big. That's when I knew I really could do this."
After that freshman season with Trenton Catholic, where the team compiled a 25-5 record while reaching the sectional finals against Gill St. Barnard's, Richardson transferred to Roselle Catholic for his sophomore year. Once there, Richardson's stock rose another level. He became the legitimate perimeter threat that he's known as today and averaged 15.1 points, helping lead Roselle to its first state title since 1962-63 by defeating St. Anthony 48-44 in the Tournament of Champions.
Last year, he decided to return to TCA for his junior season, where he led the Iron Mikes to the Mercer County title after dropping a game-high 27 points against Ewing.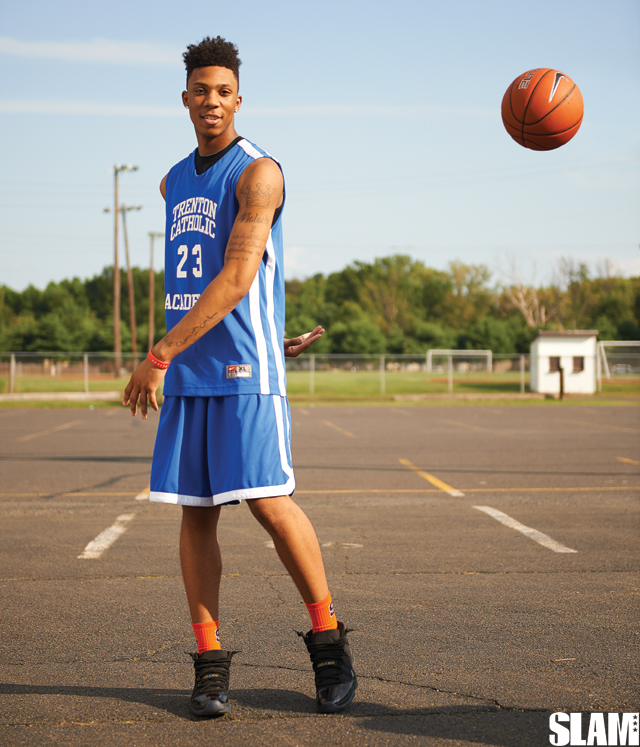 Richardson, who's been ranked as high as 11th in the nation by some scouts and is highly regarded for his shooting abilities, is now aiming to capture the TOC title for Trenton Catholic, which would make for two state titles with two different schools.
This past summer, he led his Team Final travel squad to a 14-2 record during the Nike EYBL regular season—holding the best record in a league that is widely recognized as the toughest and most competitive youth summer circuit on the planet. Richardson led the team in scoring (17.4) and rebounding (5.1). Yet there were critics who weren't satisfied with his output.
"I think he got penalized this summer for playing the right way," says Team Final 17U head coach Aaron Burt, who compares Richardson's scoring abilities to a young Ray Allen—while Team Final co-founder Robert Brown likens him to a Reggie Bullock-type. "Since Malachi didn't shoot the ball 20-something times or score 30 points a game, he kind of got scrutinized for playing the right way; we had balanced scoring."
If playing team basketball leads to a drop in the rankings or criticism, so be it. In the grand scheme of things, the mission remains the same. "Everyone will always have a negative thing to say about you, no matter what you do or how you've done it," says Richardson. "I think Jersey always produces the best guards. With me and Isaiah [Briscoe] coming out this year, we have a good thing—hopefully we can keep the torch going."
portraits by Tom Medvedich