He first fell in love with the game thanks to Sega Genesis. Or maybe it was Nintendo. Maodo Lo doesn't quite remember the exact make or model of the console, or whether his brother had fired up NBA Live or 2K. Only hearing a catchy tune in a room in his Berlin, Germany home. The siren song of hoops was calling.
"I really liked the opening anthem," Lo says of the mystery game. "I thought, basketball is cool."
He got a hoop in his room and joined a local team. He couldn't get enough of this sport, and he quickly discovered he had a knack for it. He could see himself pursuing it long-term.
At 18, Lo graduated from high school, and chose to spend a year at prep school in America. This would allow him to become eligible for college basketball. "I could have stayed in Europe and taken the pro route, but I wanted to study. I wanted to acquire knowledge," Lo says. "Basketball stops at some point, and you have to have a Plan B. That's the main reason I came to the States: to study and play basketball."
Wilbraham & Monson (Mass.) Academy is located in a quintessentially quaint swath of New England. Forest and greenery, stretching for miles. It's nearly 80 miles from Boston. For Lo, accustomed to Berlin's hustle and bustle, it was the epitome of culture shock. He struggled to adapt.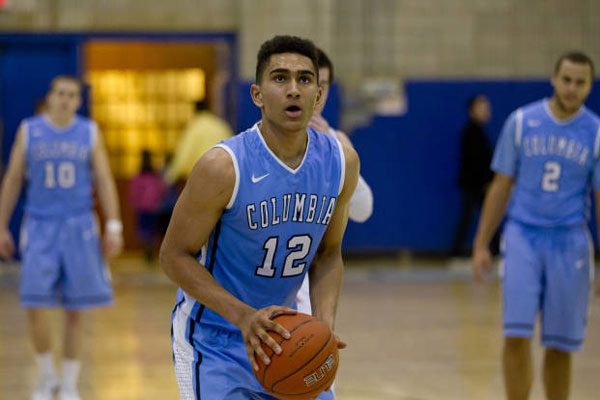 It was at this juncture, with the 2011-12 basketball season looming large, that Columbia University entered the picture as a possible destination. Kyle Smith had taken the head coaching position in Morningside Heights the season before, and set about rebuilding the once-proud program.
A friend of Smith's, who'd coached in the NBA and gone on to cover the European game, told him about Lo. Rumor was, the kid was headed to Dayton next year. Smith kept tabs anyway. When he went to watch Lo play on a Sunday morning — must've been 9 o'clock — Smith remembers thinking of the 6-3, 190-pound guard, "Hmm…this guy's good."
Lo was intrigued about Columbia, and decided to take a visit to Manhattan. He took the train to Penn Station, bucolic woods of Massachusetts slowly transforming into that iconic metal latticework of New York City. Inherent opportunity. When he stepped out of the station, he remembers thinking, Now, I'm in America. "I felt comfortable right away," says Lo. "The campus was beautiful, I loved Manhattan. There's a connotation that the Ivy League's all about academics, but the basketball here is no joke. I realized that, and immediately committed."
Lo has been a perfect fit for the Lions. Great student, great person, great leader. "We're about basketball, but we're also one of the best schools in the world," says Smith. "Maodo's a perfect example that you can be great at both."
With 21 wins in '13-14, Columbia enjoyed its most successful season in 46 years. Lo averaged 14.7 points, hit 76 threes at a 44.7% clip and kicked his impact into overdrive during the Lions' run to the College Insider tournament quarterfinals. He hit a game-winner to take down Valparaiso in the first round, and dropped 22 in a loss to Yale in the quarters.
This past summer, he received an invite to train with the German men's national team ahead of the FIBA World Championships. It was Lo's first time at the international level. He made the experience count.
One of the biggest differences he found in FIBA play was the 24-second shot clock. It forced him to quicken his decision-making. "It also allows you to read the game differently," says Lo. "I learned a lot from playing with professional players. It gives you a new perspective."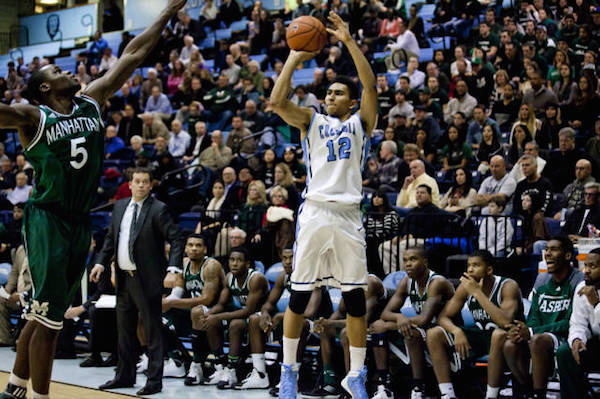 Columbia entered '14-15 with aspirations of contending for an Ivy League title and earning the automatic NCAA tournament bid that comes with it. The reasoning was sound. They returned 100% of their scoring. They had postseason experience. With the exception of Lo, and he could hardly be called idle, the entire team had stayed on campus through summer, putting in work.
Then, hardship hit. In late October, Alex Rosenberg, a senior forward whom Smith believes will go down as one of the best in program history, suffered a fracture. He won't return until '15-16. Grant Mullins has missed every game to date. After suffering from mononucleosis, Luke Petrasek has played in just eight. Three starters from '13-14, who'd provided a combined 33 points per game: poof.
"We're old school, though," says Smith. "We gotta find a way. We study guys like Belichick, how coaches press on in these kinds of situations. You've got to dig deeper. Other teams have injuries, too."
With Columbia adjusting on the fly, Lo's contributions as a junior have proved a saving grace. Through 15 games, he's posted 16.1 points, 4.7 boards, 2.2 assists and 1.9 steals while hitting 47% of his field goals (40% from three). The Lions are 9-6.
"Maodo's been thrust into our leading scorer role," says Smith. "It's a tall task, but he's got an unbelievable personality. Really even-keeled, and he's so talented. He knows he's capable of doing more. He's the rare case where you tell him, You need to score more, be more assertive. He's had to do it, and he's done it on the big stage."
There are few venues greater than Rupp Arena. Before 22,112 roaring fans on Dec. 10, Lo and the Lions went toe to toe with No. 1-ranked Kentucky. The Wildcats had trailed for just 36 minutes through their first nine games: it took them 26 minutes to grab a lead against the Lions. In the 56-46 loss, Lo finished with 16 points, seven boards and three steals.
"We call him a six-tool athlete," says Smith. "He's the focal point for us."
UConn coach Kevin Ollie certainly took notice of that performance against UK. "He's the Ace of Spades," said Ollie, ahead of the teams' Dec. 22 matchup in Bridgeport, Conn. Lo dropped 24 on the defending national champs. It was another loss, however, and part of a performance dip following that excellent showing at Rupp.
Lo helped the Lions maintain their footing through that brief slide. "He's provided a confidence and a belief," says Smith.
Even with the injuries, there is still serious talent on hand. Kyle Castlin, a freshman guard, has started 15 games alongside Lo, and ranks second on the team with 9.8 points. Columbia won its Ivy League opener over Cornell, and now begins the charge toward another postseason berth.
With Lo saddled with foul trouble in the Ivy opener, Castlin provided 12 key points. Frankoski had 10 off the bench. As is their habit, the Lions assisted on 61% of their field goals against the Big Red.
"We preach attitude and work ethic, and it resonates with certain guys who'd rather be part of a team than focused on more individual stuff," says Smith.
Says Lo, "Having that type of selfless attitude is a big part of our program. We're close to each other, and it definitely translates onto the court. It's a big part of growing as a player: consistently improving and gaining confidence. Columbia has allowed me to evolve."
When Lo began at Columbia, he had no idea what he wanted to study. After setting out upon several tracks, he settled upon sociology and business. He enjoys heading to Chelsea, just a half hour away from campus on the 1 train, grabbing food and walking around. Something's always unfolding in this city.
He'll throw on his headphones, press Play and listen to some Nas. "He's one of my favorites, big-time," says Lo. "I think I'm his biggest fan in Germany."
Dude's got New York on lock.
(Photo Credit: Columbia University Athletics)