It was just another ordinary night for Marcus Keene. A few hours prior, the junior guard dropped 40 points and led Central Michigan to a 107-97 win over Green Bay at home in early December. Then he saw himself on SportsCenter and his Twitter notifications started to go off.
"I was shocked because I didn't think it was as disrespectful as to what people are saying it was," says Keene of his now-infamous play. "But I was just playing basketball."
His team up 95-89 with 2:40 left in the game, Keene dribbled to the left side of the floor as his teammate set a high screen. His defender went under the screen, which gave Keene some extra room, and he dribbled behind his back and spun all in one motion—which, depending who you ask, seemed excessive—and pulled from NBA range. Swish. The swagger in his step as he trotted back on defense said it all.
"I had made a couple of shots right before that, so I was feeling it," Keene says, looking back. "Basically a heat check and threw in a little extra dribble in there."
The same move he's done countless times shooting around in an empty gym was suddenly all over the internet, being picked up by every major media outlet. But for those who truly know Keene, the bravado has been there long before he stepped onto the hardwood.
Marcus' mother, Tina Keene-Jones, first noticed it during his childhood.
"He told me that he wanted to play professional basketball since the age of four years old," says Keene-Jones. "Even as a small child, that's what he wanted to do and he was willing to work for it."
The toddler who told his mother he wanted to play pro ball became so infatuated with the game that when he wasn't emulating Michael Jordan's last-second shots in the driveway of their San Antonio home, he was taking his basketball with him everywhere, literally.
"He would even sleep with his basketball and wanted to take a bath with it," his mother remembers. "I wouldn't let him because of the germs."
Keene-Jones served in the United States Air Force for 23 years. After divorcing Marcus' biological father, she met Benjamin Jones, who served in the Navy in San Antonio, and the two later married. The family relocated to Hawaii when Marcus was in 8th grade. Benjamin was stationed at Pearl Harbor and Tina was at Hickam Air Force Base just three miles away.
Marcus entered high school and quickly realized the requirements for trying out for the varsity basketball team were different than back home in San Antonio. In many high schools across the US, if the player—no matter the grade—has the skillset to play at the varsity level, they can play on the team. At Moanalua HS in Honolulu, freshmen weren't allowed to play on the varsity squad—in fact, he was told he'd have to wait until his junior year to try out for varsity.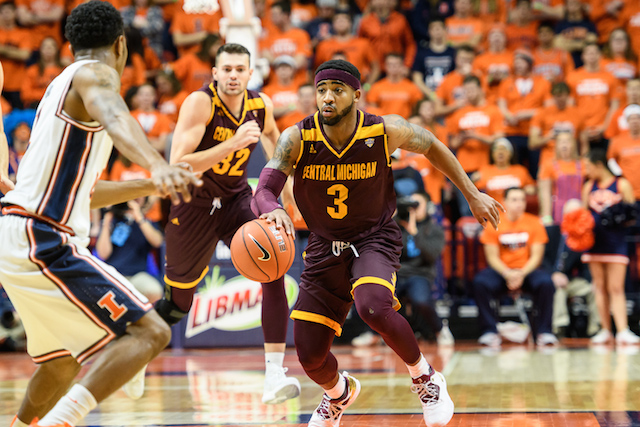 Jones visited the school to speak to the Moanalua head coach, to vouch for his stepson's varsity-level skills, even as a freshman. After much consideration, Keene was allowed a two-day tryout. He made the team. Shortly after, the 5-1 military brat was named the team's starting point guard. A year later, the Keene family moved back to San Antonio, where Marcus enrolled at nearby Warren HS.
Six years later and eight inches taller, Keene doesn't need anyone to vouch for his game. At 5-9, he leads the NCAA in scoring with 28.7 points per game, and he scored the most points through the first 16 games of a college season since 2010-11. He's got a chance to become the first player in 20 years to average 30 ppg in a season since Charles Jones (30.1) did it at Long Island in 1997.
Given Keene's height, he's often compared to All-Star Celtics PG Isaiah Thomas, a player he's studied a lot already.
"I've always watched Isaiah Thomas since he was in Sacramento averaging 20 points and 6 assists and they let him go. The typical thing is, teams want a bigger point guard. Then he goes to Phoenix, averages 18 off the bench and they say the three point guards don't work," says Keene. "Brad Stevens gave him the keys to run his team how coach Keno [Davis] gave them to me to run the team and you can see what he's capable of doing with his coaches believing in him and trusting him… That's why I'm able to produce how I'm producing."
https://youtu.be/_Y0nTfkI0o4
Davis got his first glimpse of his star point guard in 2014, when Keene dropped 24 points against Central Michigan, while then playing for Youngstown State.
"[We felt] during that game that we executed just like we needed to and yet seemed to fail," Davis recalls. "I remember talking to our staff and saying that was the kind of guy we need that can score the ball and really fit into our system of play."
Keene spent his first two college seasons at YSU, where he averaged 6.5 ppg as a freshman and 15.6 ppg as a sophomore before transferring to Central Michigan in 2015. The move was, according to Keene, beneficial for him if he wanted to pursue a basketball career at the pro level.
"At Youngstown, I was playing the 2, off the ball, and I didn't want to continue to do that for four years because I wanted to play somewhere after college," says Keene. "Here at Central Michigan, the uptempo style that coach Keno lets me call the shots on the floor is what I wanted to do."
At CMU, Keene has the green light. Type his name into YouTube and you'll see him mixing defenders on a nightly basis and getting off any shot he wants, much like another one of Davis' former players.
"I had a great scorer when I was at Providence in MarShon Brooks who was a first round draft pick and put up big numbers against big teams and could score," says Davis, who coached the Friars from 2008-2011. "Marcus, although he scores in different ways and plays a different position, he has the same ability."
As Keene continues to take the college basketball world by storm and give hope to other undersized guards across the nation, he's set two goals for this season: win the Mid-American Conference and get CMU (11-7) back to the NCAA Tournament for the first time since 2003. Maybe, if he checks those things off the list, he'll consider making a leap to the next level.
"I've thought about it and that is something that I might take into consideration," says Keene on the possibility of foregoing his senior season to enter the NBA Draft. "It's in the back of my mind, but I'm focusing on this year."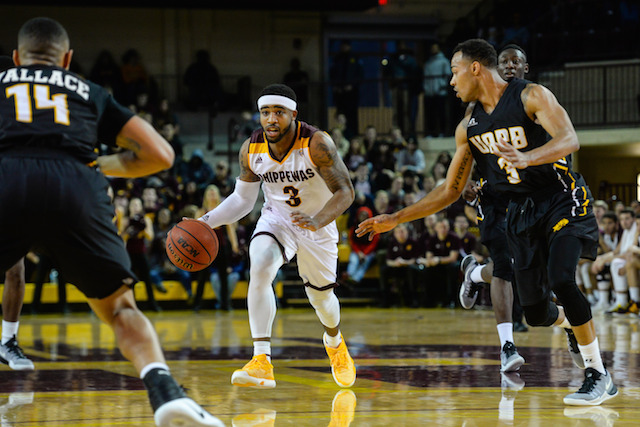 Photos courtesy of CMU Athletics