Since 2009 players from all corners of the United States, and even some parts of the world, have converged in Mequon, Wisconsin to participate in the NY2LA Sports Summer Jam during one of the NCAA certified live evaluation periods in July.
Though some of the most highly coveted prospects from the last seven years have hooped at the Summer Jam, showcasing their respective games to the head and assistant coaches from every Division I school in the NCAA, the 5-day tournament has also carved out a niche as being a launching pad for big time talents who hadn't yet had the platform to compete in that spotlight.
As the Summer Jam wrapped up Sunday high major college programs, recruiting junkies and hardcore hoop heads came away with at least two more names to remember.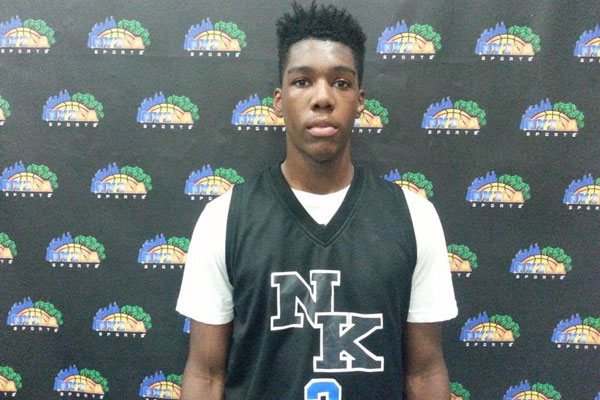 Before Toronto-native Marcus Carr (above) began his run at the Summer Jam with the Northern Kings 16-and-under squad, the 6'1 point guard held offers from Virginia Tech and Houston. By the time he was done, he undoubtedly had several high major schools expressing interest but he wouldn't know it.
"I told my coach not to let me know, so it doesn't get to my head," Carr said. "So if they've been calling, I wouldn't know. I'm just focused on trying to win this tournament."
You would be hard pressed to come up with a better point guard prospect at the Summer Jam, regardless of age, than Carr.
Carr was electric with the rock all tournament thanks to his nasty handle to complement his elite quickness and speed. He said became hooked on the game and started working on his craft from an early age after tagging along to his older brother, and current South Carolina Gamecock, Duane Notice's games.
"My brother got me into it, just going to his games and watching him," Carr said. "But I go back and watch a lot of old tapes. I watch a lot of Allen Iverson and guys like that. I try and take little bits and pieces of their games and put it in my game. They're the best at the highest level, and that's where I want to be."
The NBA has long been a predominantly isolation, two-man game offensively, and ball-screens have become a major part of plenty of powerhouse programs in the NCAA over the course of the last several years.
Carr, who was the point guard for Canada's top prep team St. Mike's, hurt opposing teams at the Summer Jam in a variety of ways in transition but was just as effective in the half-court utilizing ball screens.
"I definitely have gotten better with my decision making coming off the pick and roll," Carr said. "My coach emphasized that they do that a lot at the next level, so I worked a lot on that so I can show coaches I can be a playmaker coming off the screen – not just being a scorer or not just passing. I can do both."
College hoops fans are going to have wait a little bit to see Carr as he's currently listed in the class of 2017, but he will be attending Montverde Academy in Florida this year and could potentially reclassify to the class of 2018 – a scary thought for the rest of the prep ranks.
Since Kevin Boyle took over as the coach at Montverde, the Eagles have featured a stable of high major Division I recruits and Carr is eager to get into the fold to help maintain the team's dominance.
"The competition is going to be much higher than it was in Canada," Carr said. "I played in a couple tournaments in the U.S. because we were the number one team in Canada, but it's definitely just a completely different level. (Montverde) are national champs and proven for success. I just want to go in and learn a lot from Coach Boyle, and help the team as much as I can to get another national championship."
Starkville, Mississippi's Tyson Carter (Starkville HS) proved himself as one of the most lethal shooters at the Summer Jam running with MBA Hoops Elite, but the 6'4 combo guard's game is a lot more versatile than being 'just a shooter.'
The senior-to-be already claims offers from Mississippi State, where his pops Greg played, as well as Miami, Memphis, Iowa State and UNLV among others. But with one more live evaluation period on tap later this week, that list will surely swell as he continues to put his game on display.
From Wednesday night through Saturday, Carter wowed onlookers with his picturesque, quick and compact stroke off the catch, as well as with his devastatingly effective mid-range pull-up. But the wiry and athletic guard also got into the teeth of opposing defenses plenty to finish at the rim or kick it out to an open teammate after help came. He's picked some good role models to try and pattern his game.
"I wanted to shoot the ball like Ray Allen and Stephen Curry, and handle the ball like Kyrie Irving," Carter said. "I like watching different aspects of different guys and adding it to my game.
"When I come and play I'm striving for more and better. I try to improve every time I step on the court. You can't take any of the teams lightly out here."
He shoots it righty, but one aspect of his game that sets him apart from many of his peers is his ability to keep his defender off balance by being able to drive with his left as effectively as he does to his right.
"I finish better going left, and shoot better going to my left. I don't know why I like going left," Carter said smiling, almost confused.
Besides having to add strength in order to continue to excel at the highest level, he also admitted having something else to improve on.
"Sometimes if I get hot, and start feeling it, I feel like I can shoot it from anywhere on the court," Carter said. "But if it's a bad shot, I have to think about that sometimes."
When you've got a cannon like Carter, it's hard to blame him for heat checks.
(Photo credit: NY2LA Sports)