It has been well documented that attending high school in New York City has its unique challenges. And if you're trying to go from an unheralded ball player to one that's drawing recruitment letters — in the largest education district in the nation, if not the world — your prospects are even more challenging.
But every now and then it happens.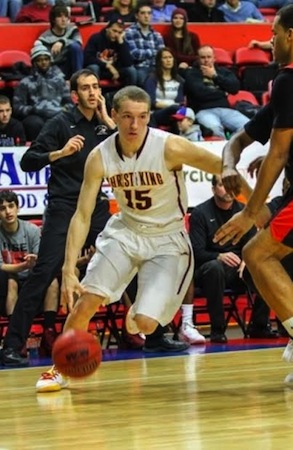 That kid who barely played his first two years of high school, who no one has really heard of and who doesn't have a single college looking at him. That kid that shows it's possible toenter your junior year of high school without a name and then come out as one of the top players in the city by the end of the city championship game. It doesn't happen often, but when it does, it's special. That's exactly what Travis Atson did this past season for one of the most historic basketball programs in NYC, Christ the King Regional High School. A torn left ACL sidelined him for his entire freshman season. The following year he played very limited minutes as a sophomore in the varsity team.
Contemplating whether he should transfer to a school where minutes would be easier to come by, the 6-5 forward ultimately decided to return and compete for the starting position. An entire summer in the gym paid dividends, as Atson would not only be starting for the Royals but also racking up head-turning stats. The late-bloomer was already putting up double-doubles in the first week of the season. Next thing you know, he's winning MVP at the Stop-DWI Holiday Classic. But it wasn't until he instantly joined Jamal Mashburn, Kenny Anderson, Lamar Odom and Ron Artest among the elite list of previous CHSAA Championship MVPs with a 21-point and 10-rebound performance that cemented his status among the city's top recruits. Averaging over 16 points per game, Atson was the team's second leading scorer and the victory gave Christ the King its fourth city title in five years.
SLAM recently sat down with Atson to discuss how his impressive past season changed his life.
SLAM: How was the adjustment of going from barely playing your first two years to becoming the starter of such a prominent program?
TA: Sitting for much of my first two years taught me what I had to do and I saw what it took to win a championship. Siting out allowed me to see and find what I needed to get done. Actually, the second game of the season I had 31 points and 15 rebound as a starter. I felt I was ready.
SLAM: What would you say has been the most challenging obstacle of your high school career so far? 
TA: I would say coming back from the injury was challenging for me, especially not quitting or giving up after the first couple of weeks when I realized it was going to be tough. Every time I thought about giving up, I realized how much I missed basketball and how much I wanted to do it again.
SLAM: You guys lost to Bishop Loughlin in the Brooklyn/Queens Diocese only to beat them in the City Championship a couple of weeks later. What changed?
TA: We were sad and mad when we lost to them the first time. We wanted to play them again. We just had a lot of motivation on our side to get there and beat them again. I think that loss helped us win. It showed us that we can be beat if we don't come prepare.
SLAM: You went on to win the MVP of that game. How did it feel going from barely playing the year prior to winning that award at the city title game?
TA: Sitting in the bench last year, I saw what had to be done. I just simply told myself that I had to do it. I learned I couldn't take not one play off in the game. I learned that I need to go after every loose ball and rebound.
SLAM: Christ the King has always been known for its long list on successful basketball alumni, on both the boys and girls side. You're possibly on the way to joining that list. How does it feel considering your rough start there?
TA: Yeah, a lot of alumni have come back to the gym and play with us. Some of them came to the camps and played full court with us. That's always very exciting. I know they're happy to see that the winning tradition is still alive even all these years after they left. Terrel Hunt, the star quarterback at Syracuse came back to see us. Speedy Claxton, Erick Barkley, Corey Edwards. A whole bunch of guys always come back.
SLAM: How did your recruiting drastically change from prior to the season to what it is now that you won MVP? 
TA: At the beginning of the year, I don't think I had any schools even interested. Not even recruiting letters. Now I already have three offers, and a lot of interest from other schools. I've received offers from Quinnipiac, St. Bonaventure and Sacred Heart. I would say around 10 other schools have shown interest.
SLAM: I'm assuming that championship game performance in itself got schools interested. 
TA: My recruiting exploded after that game. I got offers from St. Bonaventure and Sacred Heart that same week.
SLAM: How has your approach changed after going from underrated to now being closely evaluated by multiple collegiate D1 programs?
TA: It motivates me but there's also some pressure in having to live up the hype. I don't want to be the guy other players get hyped up over.  I just got out of the gym. I was practicing for about three hours. I need to work on every little thing that can be considered a weakness so that by next year hopefully I don't have any weaknesses. It feels good to now walk in the gym and people know who you are. A lot of critics too, but I love proving people wrong.
SLAM: You're a Brooklyn kid from Greenpoint. What made you decide to attend Christ The King in Queens?
TA: I always wanted to play there ever since I was a little kid going to summer camp. I always wanted to play in the big court. It was just something about that building, that court. It was just a little dream I had.
SLAM: How did being out with an injury your entire freshman season affect your game?
TA: Looking back, it actually helped me. I got a lot stronger, bigger, and faster. My mindset and basketball IQ got better.
SLAM: How was the rehabbing process like? 
TA: Rehabbing was basically six days a week. Trained everyday for about 3 hours — therapy and the weight room. I didn't play basketball for about 8 months.
SLAM: So then you come in as a sophomore and joined the varsity team but got limited minutes. How frustrating was that? 
TA: I was used to being one of the top players on my team, but when I got there it got me a lot better. I realized how much more I needed to get better and improve.
SLAM: Did you ever think about transferring since it wasn't looking too promising for you those first two years?
TA: Yeah, that was a big part in my mind. I really thought about it. But I spoke to a couple of the players on the team that went through the same thing. They told me to stay with it and it worked out well in the end.
SLAM: What did you do in the summer of 2013 that took your game up to another level? 
TA: Everyday of the summer I was in the gym. Every opportunity I got. I would have games a couple of days a week. If I had a game, I'd go to the gym in the morning and get up some shots. Then I'd go to the weight room. After that, I'd go eat. Then I'd maybe go back to the gym later that evening. I'd go to gyms all over. At school, there's also a YMCA by my house and there's also a community center nearby.