There's a lot to be said of first impressions. And for Michael Porter Jr., who relocated from Columbia, MO, to Seattle last summer, the first few days in Emerald City were very telling.
"The first couple of weeks, I was able to get in the gym with [Seattle natives] Jamal Crawford, Isaiah Thomas, Nate Robinson, Spencer Hawes and Dejounte Murray," recalls the 6-10 wing. "Obviously I had a lot more friends back home but coming out here has been a great opportunity for me—being around these high-level guys. I noticed they all come back to Seattle. It definitely feels like a big family."
His relocation to Seattle and addition to this basketball-rich family has technically been decades in the making. His father, Michael Sr., hooped at the University of New Orleans and later with Washington Huskies head coach Lorenzo Romar in the 1980s, when the two were teammates for Athletes In Action, the sports arm of Cru (then called Campus Crusade for Christ) a non-profit, non-denominational ministry organization. Romar, who had played in the NBA for five seasons previously, eventually coached for AIA before joining the UCLA coaching staff in 1992.
At AIA, the two developed a bond so strong that Romar would eventually become Jr's godfather. And so when the younger Michael emerged into one of the top recruits in the Class of 2017, the Huskies were naturally expected to have a good shot at bringing him to Seattle.
Except Michael ended up getting there early. Both Michaels.
Porter Sr., who'd been serving as an assistant coach for the women's basketball program at Missouri since 2013, and as the team's Director of Basketball of Operations for three years prior to that, accepted an assistant coaching position on Romar's bench last May. It meant Jr. and the rest of the family would be relocating. At that point, it was only a matter of time before the younger Michael got on board with the Huskies, too.
"Honestly, it was an easy decision for me to pick Washington," says Porter Jr., who verbally committed to the program two months later. "It was already a top-3 just because I felt I could trust Coach Romar, who has a track record of developing his guards. But then when we moved out here, it became a no-brainer. My dad was going to be on staff and so that's two people right there that I could trust."
Even beyond father and son, basketball runs deep in the Porter family. Michael's younger brother Jontay is a 6-10 junior who already had committed to the Huskies in August of 2015 and will be arriving on campus in 2018. Michael's two oldest sisters, Bri and Cierra, both play at Mizzou, which made it to the second round of the NCAA Tournament last season. Their mother, Lisa, played ball at Iowa and is the sister of Missouri women's basketball head coach Robin Pingeton.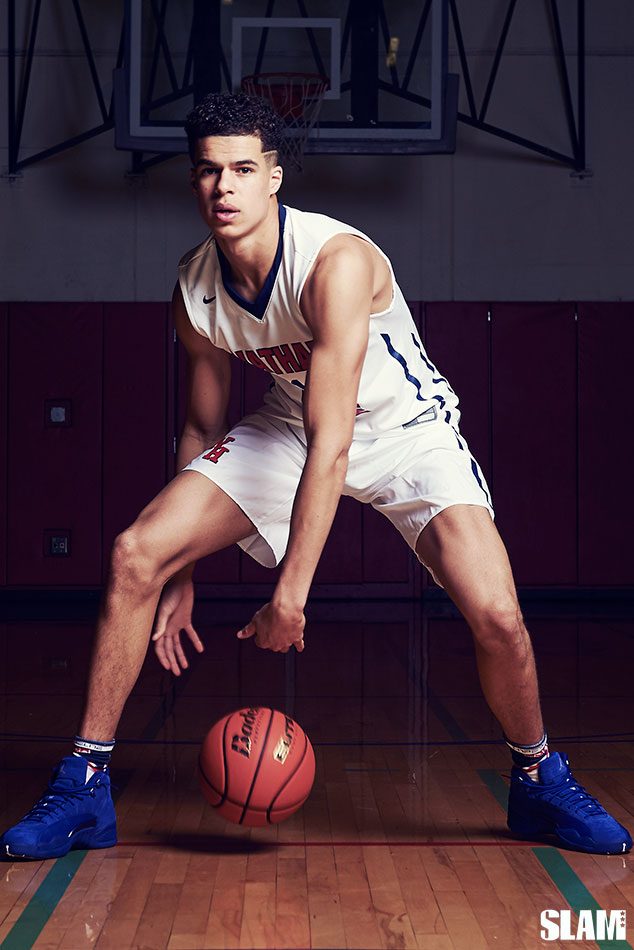 As if the roster of Seattle natives he worked out with upon his arrival in the summer wasn't strong enough, Porter Jr. is now also being coached by another local legend. Former UW standout and three-time NBA All-Star Brandon Roy became the head coach of Nathan Hale HS (where Porter Jr. plays, though he's being homeschooled) last June.
"The thing I've been most impressed with is Michael's not like a normal high school senior," says Roy. "I wish I was as good as this guy is when I was a senior in high school. The things I learned as a rookie and second-year player in the NBA, he's already doing it now."
Save for three years at Father Tolton HS in Columbia prior to his move to the Pacific Northwest, Porter has been homeschooled his whole life. Widely touted as a top-3 prospect in the Class of 2017, he's highly heralded for his versatility, scoring prowess and overall smooth game.
"I want to be the best player in high school basketball," says Porter Jr. "I want for it to be no question by the end of this season."
—
Franklyn Calle is an Assistant Editor at SLAM. Follow him on Twitter @FrankieC7.
Portraits by Daniel Baum