The cream of the crop in high school basketball once again congregated in North Augusta, South Carolina for the annual Nike EYBL Peach Jam, the Swoosh's youth circuit championship showcase. After four regular season weekend sessions in April and May, 24 of the 40 EYBL teams (the top five teams in all four divisions and then four at-large bids) advanced to the prestigious event. Not only were prep basketball's top prospects in the building, so were the top collegiate coaches/programs in America. From John Calipari and Mike Krzyzewski to Bill Self, every major program was in the building looking to demonstrate their presence and interest to the blue chip recruits while also keeping an eye out for any diamond in the roughs.
In the end, MOKAN Elite, a Kansas City based program featuring a dynamic duo of top-25 national prospects looked unstoppable throughout the weekend, going a perfect 8-0 before claiming the 17U championship. The duo, made up of forward Michael Porter Jr. and point guard Trae Young, had the crowd buzzing with their play, including their effectiveness from behind the perimeter.
Overall, with Nike's circuit hosting 9 of the top 10 prospects in the rising senior Class of 2017, the showcase featured lots of high quality talent as well as action. Below are some of the top performers from the weekend.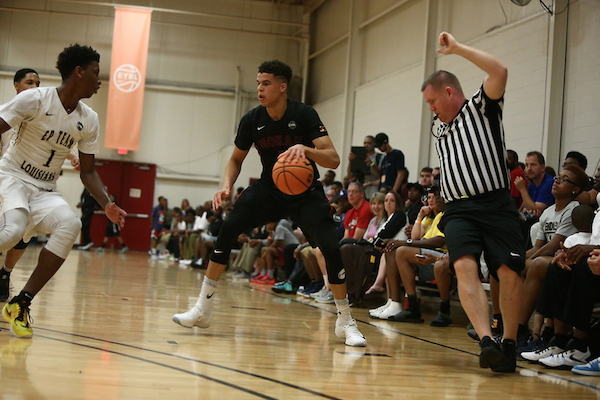 Michael Porter Jr., 6-10, SF, Nathan Hale (WA), Class of 2017: They say that what separates the good ballers from the great ones is that the great ones step up when the stakes get higher. And if we learned anything this past weekend about the Class of 2017, it's that Porter Jr. is among the great ones in this group. His performance throughout the weekend have many considering him for the top spot in the 2017 class. In his seven games at Peach Jam, the 6-9 wing scored 24 or more points in all but one. But it's really what he did in his last three games (quarterfinals, semis, & championship) that cemented his place this weekend. He posted 31 points and 14 rebounds in the quarterfinals, followed by 25 and 14 in the semis and then 33 points and 6 rebounds in the title game against PSA Cardinals — where he went five for six from behind the perimeter and 12 for 16 overall from the field to help lead his MOKAN Elite squad to the 17U crown.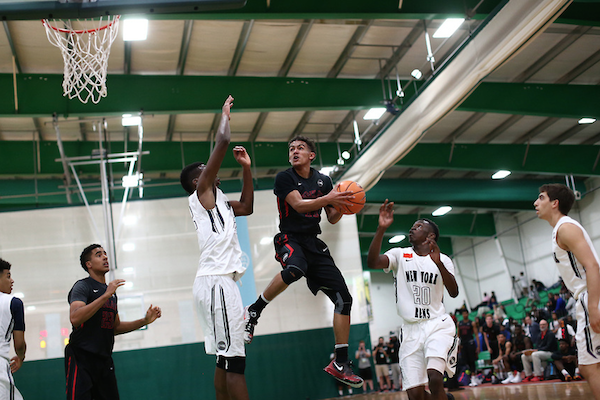 Trae Young, 6-2, PG, Norman North (KS), Class of 2017: While Porter made a case for top overall prospect in the 2017 class, his AAU teammate Trae Young made his case for top point guard of the group. The rising senior showcased his deadly scoring prowess as well as the ability to find the open man. He averaged 27.6 points during the five pool play games before following it up by averaging 26.0 points during the three bracket play games (quarters, semis, finals) en route to claiming the Peach Jam crown. His memorable performances included dropping 32 and 35 points on the last day of pool play and then dropping 28 points in the quarterfinals and then another 28 points in the championship game, where he sunk six 3-pointers. But he isn't just a natural scorer. Young, who loves to push the ball and keep the defense on their toes, reached 9 or more assists in four of his eight games. Many were left wondering if a package deal to college with Porter could be in the cards and potentially bring the lucky school similar results as it did to MOKAN.
Brian Bowen, 6-7, SF, La Lumiere (IN), Class of 2017: Fresh off a championship game appearance in the DICK'S Nationals tourney, Bowen has continued his impressive play during the spring and summer, where he helped lead the Chicago-based Meanstreets program to the Peach Jam quarterfinals this past weekend. During pool play, the 6-7 wing posted a performance of 36 points and 10 rebounds, which he followed with a 26-point and 10-rebound outing the next day. Out of his six games in South Carolina, Bowen scored 19 or more points in all but one of those outings. The gifted scorer has emerged as one the top overall prospects in the senior class.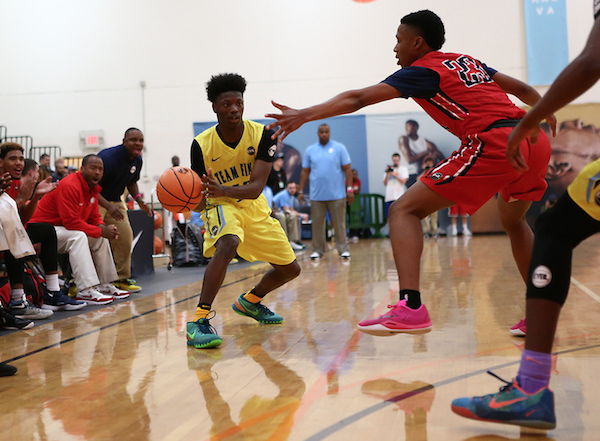 Lonnie Walker, 6-5, SG, Reading (PA), Class of 2017: His best outing with Team Final came on Thursday when he dropped 26 points in a morning game (where he shot 4 for 8 from 3-point land against a very talented Each 1 Teach 1 squad) and then again another 26 points that evening. An exceptional shooter whose team unfortunately didn't make it out of pool play, Walker demonstrated why he's regarded as among the elite scorers in the Class of 2017.
DeAndre Ayton, 7-0, PF, Hillcrest Academy (AZ), Class of 2017: The big man out of the Bahamas scored 17 or more points in all seven of his games at Peach Jam, helping lead his Cal Supreme squad to the showcase's semifinals, where they were defeated by the eventual champs MOKAN Elite. Furthermore, he had a double-double in all but one of his seven outings, including a 23-point and 18-rebound performance vs the Phoenix Family, which features his former Hillcrest teammate Marvin Bagley (15 pts). The seven-footer, who has been ranked as the top player in the Class of 2017 the last couple of years made his case on why it should continue to remain that way.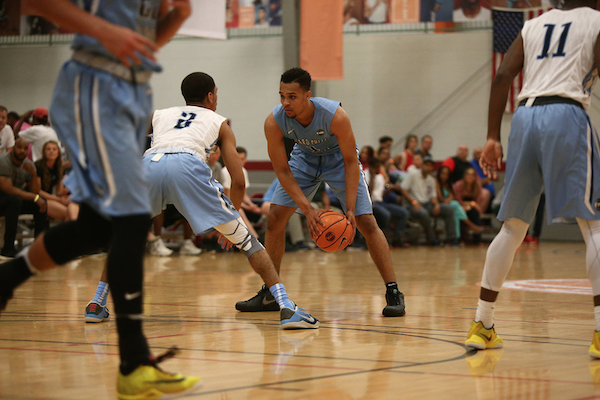 Gary Trent Jr., 6-5, SG, Apple Valley (MN), Class of 2017: Finishing second in scoring behind Young with 24.8 points per game at Peach Jam, Trent Jr. demonstrated why he's regarded as one of the top wings in the nation. His scoring clinic included a 38-point outing against the eventual champs MOKAN Elite. He finished with 22 or more points in all but one of his five games in North Augusta, including a couple of 30+ point outings.
Hamidou Diallo, 6-5, SG, Putnam Science (CT), Class of 2017: One of the most explosive prospects in the senior class, Diallo's high-flying athleticism makes him a highlight-reel waiting to happen every time he steps on the floor. The guard out of Queens, NY, exploded for 27 points and 13 rebounds against BABC on Friday. A year ago, Diallo was barely ranked in the top-80, yet today is recognized as a top-10 national prospect.
Mitchell Robinson, 6-11, C, Chalmette High (LA), Class of 2017: The big man out of New Orleans demonstrated his dominance in the lane and particularly showcased his force against the Phoenix Family and Marvin Bagley, when he posted a stat line of 19 points and 13 rebounds. A double-double machine who averaged 15.5 points and 11.6 rebounds during the EYBL regular season, Robinson, who recently committed to Western Kentucky, is also a blocking machine who averaged 4.6 blocks in his five Peach Jam games, including seven rejections against Albany City Rocks.
Chaundee Brown, 6-5, SG, The First Academy (FL), Class of 2017: One of the most consistent prospects in the tourney, Robinson scored 20 or more points in all five of his outings, finishing among the top 5 scorers in the showcase during pool play. One would think his stock will be on the rise after last week's performances.
Jordan Goodwin, 6-5, SG, Althoff (IL), Class of 2017: Despite being a guard mostly positioned out on the perimeter, Goodwin managed to finish with a double-double in all but one of his five games last week as he continuously crashed the boards, ultimately finishing with an average of 21.8 points and 11.0 rebounds for the showcase — good enough for top-6 in both categories.
Photos Credit: Jon Lopez/Nike