by Nate Derosena
Last Saturday, all roads led to the Barclays Center in Brooklyn, NY as the best of the best participated in the Nike Tournament of Champions. Headed by the motto "Conquer All Courts", the tournament allowed young players from throughout the city to showcase their skills in the Elite Youth Basketball League (EYBL) championship game. The men's division also had a chance to show their skills, as the two top teams from the Terminal23 league faced off in the Unlimited Championship Game. Nike had an outdoor court set up in the front of the Barclays Center, and the talent in attendance did not disappoint. Here are some of the players who stood out: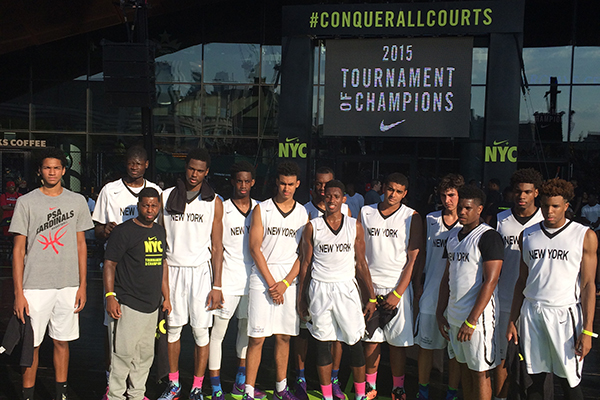 EYBL East (coached by Derek Bobbitt)
Lamar Stevens, 6-6, SF The Haveford School (PA) 2016
Stevens was arguably the most physical player on his team Saturday afternoon, as his drives to the basketball were powerful, and he moved through traffic in the paint as though it were magic. Although his team was on the losing side, Stevens played hard until the very end, even showcasing his dunking skills with a powerful windmill on a fast break early in the fourth quarter. He was also a key part of his team's 10-4 run early in the fourth, as he helped bring his team to within nine, after starting the quarter being down by 15. Although he is considered to be an undersized 4 man, Stevens helps to spread the floor with his midrange jump shooting ability, as well as very good passing skills. He will be graduating from The Haveford School in spring 2016, and although he has not committed to any schools yet, he has already received offers from Indiana University and Villanova.
Chris Lykes, 5-7, PG Gonzaga College High School (Washington, D.C.) 2017
Although he was the shortest player on the court on Saturday afternoon, he may have been the player with the most heart. He did not let any size disadvantage get in the way of him attacking the basket and trying to help his team to victory. Lykes used his speed and quickness to his advantage over his defenders to attack the rim and score, and was able to change his speed and direction at any time with no problem. His ball handling skills were superb, as he took great care of the ball throughout most of the game. He will not be graduating high school until 2017, but has already received offers from George Mason, George Washington, the University of Miami (FL) and Richmond.
Nick Richards, 6-11, C The Patrick School (NJ) 2017
Given the nickname "Big Nick", Richards made his presence known in the paint and on the boards. His dominant play made it hard for the other team to get anything easy in the paint. He ran the floor extremely well, and made any defender look small with quick short turn shots and power drop steps through any type of contact. The only downside to having a guy like Richards on your team is his free throw shooting, which he has plenty of time to improve on. Richards has received offers from a few schools, including Creighton, Kansas, North Carolina State, Pittsburgh, Stanford, Syracuse and UCLA.
EYBL New York (coached by Terrance "Munch" Williams
Mohamed Bamba, 6-11, C Westtown School (PA) 2017
Bamba was by far the most dominant rebounder of the game on Saturday, using his 6-foot-11 frame and his 7-foot-8 wingspan to his advantage en route to helping his team to the 108-101 victory. Also, despite his tall stature, he moved gracefully across the court demonstrating great footwork both in transition and in the post. Bamba's excellent big man play has earned him offers to Arizona, the University of Connecticut, Florida State, Indiana, University of Kentucky, Missouri, St. John's and Syracuse.
Taurean Thompson, 6-9, C St. Anthony High School (NJ) 2016
Though he was not the most dominant big man on his team on Saturday afternoon, Thompson definitely made sure his presence was known. He seemed to send every one of his opponents' shot attempts back to where they came from with his excellent shot blocking ability, and was right alongside his teammate Mohamed Bamba in cleaning up the boards. He has great athleticism and is able to play up and around the rim well.
191