Hundreds of club basketball teams converged at the NY2LA Sports Summer Jam in suburban Milwaukee last week. Many of squads featured big time prospects at the 15U, 16U and 17U levels.
With over 1,500 coaches in the bleachers during the NCAA live evaluation period throughout the tournament, and just about every high major program represented by a head or assistant coach, high school players had a chance to prove themselves against other high level prospects from across the United States, Canada and Australia.
Burlington, Ontario native Simi Shittu plays his prep ball at Vermont Academy and was one of the highest rated prospects in attendance at the Summer Jam running with CIA Bounce. Shittu has been on the radar since earning MVP honors at a freshmen All-American camp and has been improving ever since.
A 6-9 face-up four, with the skill and athleticism to potentially play on the wing, all the national recruiting analysts rank Shittu among the top 10 prospects in the Class of 2018 but that hasn't made him complacent.
"I'm always motivated, I feel like I'm still an underdog in my class," Shittu says. "I play hard and with a chip on my shoulder, and try to prove I'm the best."
Shittu said he and his trainer back in Canada tinkered with the mechanics on his shooting form a little less than a month ago in hopes of developing the consistency of becoming a threat from the perimeter. He also said he's been working on his handle to make him even more dynamic.
At the Summer Jam, Shittu's big time finishing ability above the rim was on display along with his presence defensively. One of the more impressive aspects of Shittu's game is his passing ability and he was able to deliver plenty of passes for easy layups out of double teams or when the defense collapsed on his drives into the lane. He feels that has been his most valuable assets as a player up to this point in his career.
"Just making plays catching the ball in the high post, or coming off screens, is where I think I can be successful," Shittu says. "My coach (at Vermont Academy) plays me at every position."
Shittu showed out at the NBPA Top 100 Camp in June, and though his offer list is lengthy he says he is still hoping to get an offer from UNC, Duke, Kansas and Kentucky. As he works to sharpen his skill set, he said his hope of getting official offers from the aforementioned blue bloods will give him an even wider scope of opportunities to play at the next level.
"I'm open to anything right now," Shittu (below) says. "A lot of schools have been talking to me. After this summer, I'll sit down with my parents and discuss the future, and probably cut the list."
His versatility on both ends has the potential to be game-changing the day he sets foot on whichever campus he chooses, so it's no wonder all of his suitors are eagerly awaiting his decision.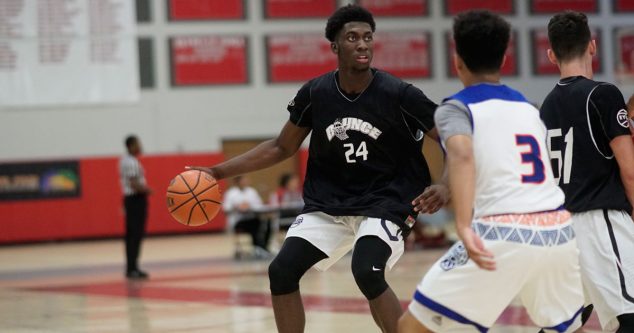 DREAM VISION DOMINATES
California-based Dream Vision has long been one of the top club programs across the country, and one of the best competing in the Adidas Gauntlet. At the Summer Jam, Dream Vision didn't leave any doubt that they were the best program in attendance as their 16U and 17U squads both captured championships in their respective loaded divisions. The 15U team fell to the Wisconsin Playground Warriors in the championship.
The 17U squad's title run was led by recent USC pledge J'Raan Brooks (6-8, PF, Garfield HS), Class of 2020 five-star guard and ASU commit Kyree Walker (6-6, SG, Moreau Catholic HS), Matt Mitchell (6-6, SG/SF, Roosevelt HS), Class of 2019 floor general Pierre Crockrell (6-0, PG, Prolific Prep) and Bryce Penn-Johnson (7-0, C, Coronado HS).
All five players are clearly high major talents, but Penn-Johnson showed glimpses of why he could have the highest upside of any center in the Class of 2018. The lefty is long, bouncy and a fluid athlete but still developing offensively. He showed off a smooth baby hook over his right shoulder plenty of times throughout the Summer Jam, but was also inconsistent at times scoring when he caught the ball in the paint. If he develops consistency with a few post moves, he could end up being a scary prospect.
Walker is a highlight waiting to happen almost any time he touches the ball. He scored from all three levels on the court during the Summer Jam, and plays with an attitude in which he doesn't back down from anyone. Consistency with his perimeter shooting along with some decision making on the offensive end are two areas of growth for him, but when you remember he's a member of the Class of 2020 there isn't much else to do besides shake your head in amazement.
Dream Vision's 16U team was led to the 'chip by Class of 2019 prospects Max Agbonkpolo (6-8, SG/SF, Santa Margarita HS), Julien Franklin (6-6, SG, Villa Park HS), Jake Kyman (6-7, SG/SF, Santa Margarita HS) and Alimamy Koroma (6-8, PF, Napa Christian). Each of those players already has mid to high major offers, and each figure to see their recruitments continue to pick up momentum over the next two years.
However, two members of Dream Vision's 16U team who were integral to their success at the Summer Jam and could become high major recruits are Sava Dukic (6-2, PG, San Gabriel) and Jonathan Salazar (6-6, SF/PF, Trinity HS (Las Vegas).
Dukic claimed some interest from schools in the Big Sky conference, but was one of the steadiest point guards at the Summer Jam regardless of class. His vision, passing ability and general leadership on the court is prototypical for what a coach seeks in a point guard. But he also showed the ability to knock down shots from the perimeter, and utilized a slick handle to drive through the defense in a half court setting and finish around the cup or drop off a dime. With a willingness to guard on the defensive end and quick feet, Dukic has the total package and is primed to see his recruitment pick up major steam.
Simply put, there wasn't a player that we saw at the Summer Jam that played with the ferocity or relentless motor that Salazar displayed. Depending on who's evaluating, he may be categorized as an undersized power forward or center. He did knock down some shots from the perimeter and has plenty of room to improve upon his handle, but the bottom line is Salazar is just a hooper. He has a football player's build, but plenty of bounce and finished above the rim violently many times throughout the tourney.
One name to remember from the Summer Jam is Dream Vision 15U's Pape Cisse (6-8, SF/PF, Fairmont). Listed as a member of the Class of 2021, Cisse oozed potential of a big time prospect. With so much time for him to develop physically and from a skill standpoint, it is nearly impossible to project what he will look like as a player in a few years. But it is safe to assume he will be highly sought after by plenty of high major programs.
OTHER BIG TIME PERFORMERS
(listed alphabetically)
Harlond Beverly – Class of 2019 – 6-4, PG
Already fielding tons of mid-major Division I interest, and with a handful of offers already, Beverly is on the cusp of garnering scholarship offers from high major programs after his performance at the Summer Jam. Beverly (Southfield Christian; Farmington Hills, MI) was the engine that drove REACH Legends to a runner up finish in the loaded 16U Platinum Division. His size and athleticism is scary for a point guard, but his great handle and crossover combined with his ability to make plays going to both his right and left is what makes him such a handful to guard. He's got a funky release on his shot, but he drained more than enough three-pointers when given the chance to show he needs to be guarded closely beyond the arc.
DJ Carton – Class of 2019 – 6-2, PG
Perhaps no guard in the Midwest has enjoyed a breakout spring and summer like Carton has running with Quad City Elite. The athletic lefty from Bettendorf HS (Davenport, IA) has an excellent feel for a point guard and plenty of room to continue expanding his range to become even more dangerous on the offensive end of the floor. He also was great defensively at the Summer Jam, showed a willingness to rebound that is rare for his position and proved himself as a high major talent against other highly ranked prospects. Already sporting high major offers from Wisconsin and Marquette entering the Summer Jam, Carton picked up offers from Creighton, Iowa and Minnesota during the Summer Jam this week.
Tyler Herro – Class of 2018 – 6-4, SG
The Wisconsin-bound guard was one of the most potent scorers at the Summer Jam, and guided Playground Elite EYBL to the championship game before falling to Dreamvision. Herro (Whitnall HS; Greenfield, WI) is just about back to full strength following surgery to repair a partially torn meniscus last winter, and showed the ability to get a good shot off the dribble against any defender who tried to put the clamps on him. He's got as well-rounded of an offensive arsenal as you will find in the prep ranks, and has been making his case as a McDonald's All-American candidate in July.
Khalil Whitney – Class of 2019 – 6-7, SG/SF
If Whitney shoots the rock from three-point land like he did during the Mac Irvin Fire's three games at the Summer Jam, he figures to see his list of high major offers explode. With great looking form, a quick release and nice rotation on the ball, Whitney has all the tools to be a sniper from distance. The Roselle Catholic (NJ) product recently picked up an offer from Georgia Tech after his performance at the Summer Jam and already has offers from the Illini, Kansas and Syracuse among others. His athleticism allows him to be an effective slasher off the ball and if he can prove to be a versatile defender on the perimeter he should have his pick of the litter by the time he's ready to make his college choice.
(Photo credit: Leon Threat/@ThreatHoops www.ThreatHoops.com)