Born in London but raised in Jefferson City, MO, OG Anunoby had brief dalliances with baseball and football (his older brother Chigbo played defensive tackle for a handful of NFL teams). But, Anunoby says, he just "didn't have as much fun" as he did playing basketball.
OG (a conveniently awesome nickname for his first name, Ogugua) threw down his first dunk at age 13, and he developed into a force in high school before suffering a wrist injury that took him off the D-I college radar. Story goes, Indiana head coach Tom Crean was in Atlanta to scout a couple of Anunoby's AAU teammates the summer before his senior year. Almost immediately Crean was intrigued by OG's raw athleticism and began the full-court press recruiting. The rest is, like OG on the court, a blur.
In the span of a few months, Anunoby went from an anonymous recruit to one of the hottest names in NBA Draft circles. He exploded onto the national college basketball scene during March Madness, one mind-boggling highlight after another. On one end of the floor, he threw down a 360-dunk against IU's first-round opponent Chattanooga. On the other, he locked up Jamal Murray in a second-round upset over Kentucky, blocking more than one of the future top-10 pick's perimeter shots.
The requests for selfies skyrocketed on campus, OG says, and while freshman-year averages of 4.9 ppg and 2.6 rpg for a team that won the Big Ten title don't exactly jump off the page, that's what makes him such a tantalizing prospect: OG hasn't even begun to tap into his considerable potential.
In his even younger years, OG wanted to be like another player who rocked the No. 3: Allen Iverson. Beyond AI's obvious skills, Anunoby says, "I thought his braids were cool, and the headband." Funny, since the potential first-round pick in 2017 now models his game after another player with cornrows.
"Kawhi Leonard. He's probably my favorite in the world right now. I mean, I like LeBron," the 19-year-old explains, "but the player I try to be like is Kawhi."
Considering OG's role as a beast on D and Frankenstein-ish measurables—he's 6-8 with a 7-6 wingspan—Kawhi is a reasonable comp, at least aesthetically. Factor in his quiet, man-of-few-words demeanor… On his hopes for the Hoosiers in 2016-17: "To win a Big Ten championship and then a National Championship." And on what makes him special: "Versatility, being able to do a lot of things…" and it's near perfect.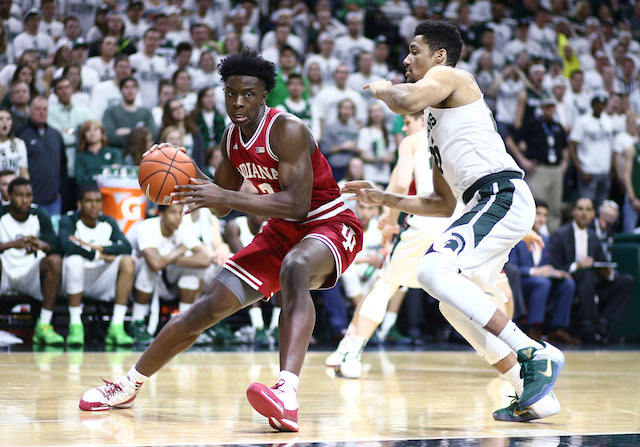 —
Abe Schwadron is a Senior Editor at SLAM. Follow him on Twitter @abe_squad.
Photos via Getty Images