Lute Olson built the University of Arizona into a powerhouse basketball program by carefully crafting his teams and assembling high-character, hard-working winners and teams players to compete at the highest level.
He scheduled the toughest non-conference opponents possible to strengthen his teams for when it mattered most, the NCAA Tournament.
He pushed his players and shaped his guys into not only great basketball players, but great men.
This is the story of the 1997 national champion Arizona Wildcats, straight from the players on that team.
RELATED:
Young Kings: The story of the fly-as-hell 1997 Arizona Wildcats
***
On choosing the University of Arizona…
Mike Bibby: I wasn't really thinking about college, but then when it came time to make a decision, Arizona was "Point Guard University." You had Lute Olson, a Hall of Fame coach, and I wanted to play close to home and Arizona felt like the best place for me. Lute had put guys in the pros and my main goal was to get to be a pro and that was my best route to go.
Jason Terry: For me, being from the Northwest, having a great relationship with Michael Dickerson who was also on that team had and being a fan of Damon Stoudamire who was at the University of Arizona, I knew I had the opportunity to become a professional athlete. At the time, Arizona was known and still is known for producing great point guards, so following in those guy's footsteps is something I wanted to do.
AJ Bramlett: I was from Albuquerque, NM, and my last two schools were either UNM or Arizona. When I chose Arizona and I chose it just because it's Arizona. If Coach Olson comes to your house and offers you a scholarship, I mean, I wasn't gonna turn that down. Arizona is Arizona. That speaks for itself.
Josh Pastner: I wrote a letter to every single Division I, Division II, Division III, NAIA Division I and NAIA Division II schools, over 1,000 personal handwritten letters telling them I wanted to have a chance to come on the program. I wanted to go on to be able to go somewhere at a high level and just be there and just be a sponge. Really the only school to respond back to me really was Lute Olson and Arizona and he saw my letter and saw that I could work guys out on the floor and I could watch film with the guys. He thought it was a great idea. He knew I wanted to coach. That was my mission, to do all I could in my role to help anyway I could.
Miles Simon: Arizona already had my high school teammate Reggie Geary. He was two years older than me at Arizona. My final four schools were Florida, Oklahoma State, Syracuse and Arizona. I took a trip to Florida, came back home, decided it was too far away, told my high school coach, "Hey, I want to commit to Arizona." I committed to Arizona sight unseen. I just knew I wanted to go there and wanted to play for Lute. If you look at our group, there were a lot of wins in high school and that was probably a big part of Lute's recruiting strategy.
***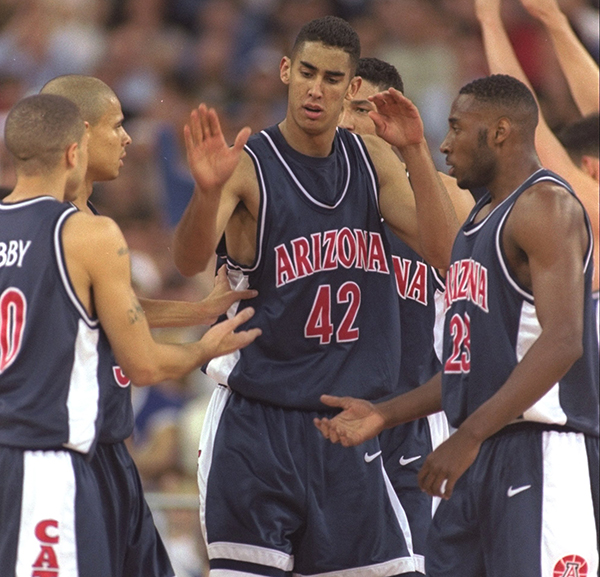 Beating UNC in the season opener with leader Miles Simon suspended…
Terry: Miles was our emotional and spiritual leader at the time and he went through his adversity, they called upon me to be the starter for about half the season, but winning that first game was big because it was a nationally televised game, it was our first game, and it was almost like a coming out party for us. To play against a program like North Carolina, who was a storied university. Great heritage, great history and they also had a great team, with Antawn Jamison, Vince Carter, Ed Cota, Shammond Williams. All those guys were blue chippers so to speak. To go in and play as well as we did, and to win the game, it gave us tremendous confidence early on, especially without Miles.
Bramlett: That gave us a ton of confidence. That was a big time game, our first game of the season. For us coming out with a win, we knew we could compete against those teams. It turns out we played North Carolina again to end their season.
Miles: They were probably in the top-three with that squad and we beat them with virtually a team hadn't played a lot of college basketball. I'm not gonna say it was a blessing I was suspended, but it might've helped the team because it gave Jason Terry really time to come into his own.
Bibby: No one expected us to do what we did and we took care of business in the first game and that catapulted us.
***
Miles returns from suspension…
Miles: We go into league play and I come back and we struggle. I came off the bench the first couple games. Jason Terry went to Lute Olson and told him, "Hey, I should come off the bench and Miles should be the starter." What kind of player would say that to their coach, thinking about the betterment of the team rather than himself? That kinda changed the whole course in the Pac-10.
Terry: My game was versatile. I knew I could start, but to come off the bench and have a major role, and to be able to perform in that role, I welcomed it. I welcomed the challenge. It was something I'd be willing to do for the sake of the team. So, I told him yes.
***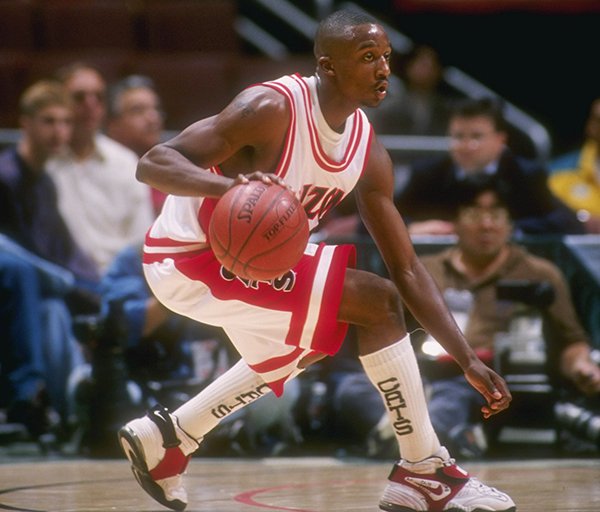 Is it the shoes?
Bibby: I remember the Nike guy came to our school and said, "I got this shoe that hasn't come out yet and wanted to know if you guys wanted to wear it. It's not your team color, but if you want to wear it, you guys can wear it." I said, "I don't care what color the shoe is I wanna wear it." If no one has it, that was a big thing back then. If no one has the shoe and you have it, you're big time. So my main thing was just to have a shoe that no one had.
Terry: Mike Bibby brought that swag to our team because when he came in, you know, you get the standard issue, team shoe, whatever that is from Nike and right away he was like, "Aw nah, I ain't wearing these." And he went immediately to the store by campus and he bought him a pair of, I think his first pair of shoes were Jordans actually. Mike Bibby was the spearhead of the shoe movement.
Miles: It was almost like a competition within our guys. Especially me, Bibby, Jason Terry to a degree of who was gonna come with the best shoes for that game. My whole college career I was trying to wear the best, most unique sneaker I could. [The Foamposites] didn't match our uniforms because they were Orlando Magic colors. A side note to that…my one year I played in the NBA I played for the Magic, and Penny was my teammate and we talked about that. Penny just said, "Man, it was huge that you guys wore my shoe that Nike was debuting for me before I wore it and won the National Title." It was like a huge preview of the shoe. He thought it was awesome.
Bramlett: We definitely had the fire kicks. They laced us, man.
Pastner: Oh man, we had the best. That's a credit to Eric Lautenbach at Nike. Bibby debuted the Foamposite before Penny. He had Penny's shoe before Penny had it. That was because of Eric Lautenbach from Nike. He hooked us up. He was really close with Coach Olson.
***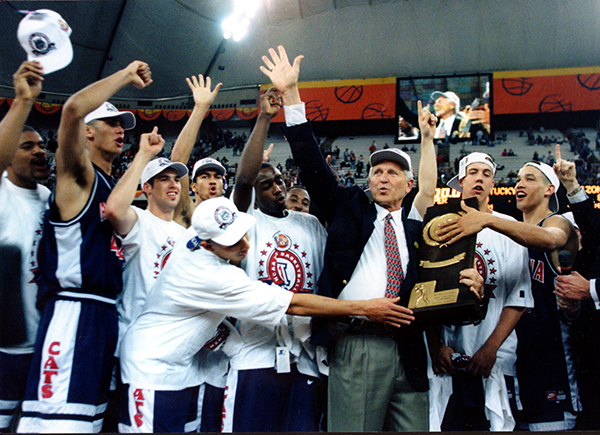 Coach Olson…
Terry: He's gonna go down in the history as one of the greatest coaches to ever coach the game and if you were a guard, you loved his system because we had all the freedom in the world. He was a player's coach and he was also a father figure who would give you life lessons a long the way. He held you accountable and I think that's why I'm the father and person I am today is because of these life lessons that he taught me in my time at Arizona.
Bibby: Lute had put guys in the pros and my main goal was to get to be a pro and that was my best route to go. I just thought I was blessed and that I got put in a good situation. I went to Arizona to play. I wanted to start and Lute gave me that opportunity. He's a great coach. He's a Hall of Famer, a legend.
Bramlett: Everyone's relationship with Coach O is different. We all related to him on a different level. That was one of the strengths that he had. You'll find different stories from different guys but I think the underlying theme of all of those stories is excellence and execution.
Miles: He is an all-time great. He made us a lot better. He pushed us to be great everyday in practice. He pushed us to compete. He's the one that brought the whole group together to fulfill his vision. He left an imprint no matter what, just on helping raise young men, but to have that as his stamp on his career is awesome.
Pastner: I love Coach Olson. He gave me a shot and believed in me. He means so much to Arizona and the guys he coached. Man, he's the best.
***
https://youtu.be/M7jA1dCV5Hc
What a Run…
Miles: My dad used to take me to Finals Fours, so it was always something that was important to me and I looked at that as the pinnacle. To be able to play in it and score 30 points and beat Kentucky, it's almost like unimaginable, because it was such an amazing run, so fun to do it with great people. My coaches, my teammates and some of the best college basketball fans. Our team is the only one that's won a National Title for the University of Arizona, one of the most prestigious basketball programs over the past 30-some odd years.
Bibby: I'm glad I was a part of it. The dream growing up is to win championships. My first year was special for me. It was a dream for me. Just going to Arizona, being a hometown kid and just fulfilling my dreams.
Bramlett: That's the sweetest thing about our championship, honestly. Nobody can say anything. Nobody can say we had an easy path. Nobody can say this team, the best team lost. We beat the best team of the ear, record-wise in the Sweet 16. Then to go up against North Carolina, then Kentucky, it was just satisfying man. Just to know that was the type of the run we had, as underdogs.
Terry: It just puts us right there in a special category, man. To be able to call yourself a Champion and now I've won at every single level, high school, college and pro, it makes me speechless, but it gives me a sense of pride. It puts us in elite company.
Pastner: I consider this one of the greatest runs of all time. We're the only team ever to beat three number 1-seeds in the history of the NCAA tournament. The number 1 seeds were the best of the best. Kansas, North Carolina, Kentucky, the best of the best. I just love that team. Love those guys. What a run. What a run. What a run.
***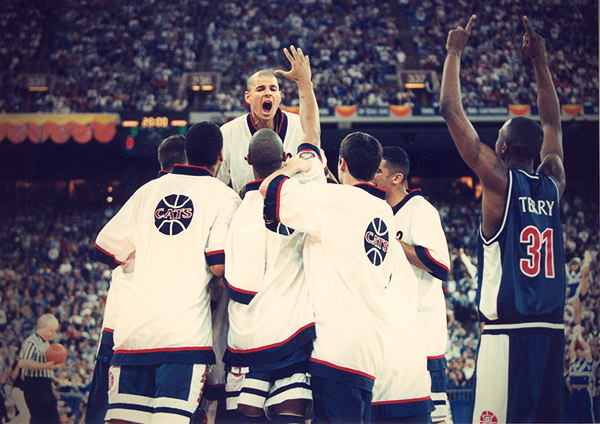 Brotherhood…
Bramlett: We were always confident in each other. We felt 100 percent in any situation, down, up, anything we believed in each other and we fought for each other and even at the time it doesn't really sink in, but the more and more the years pass by, the more and more special it seems.
Terry: We were fearless. One guy called us the Cardiac Cats after that run we had. All of our games we were trailing in the second half but we were able to withstand that and come away with victories when our backs were against the wall. We were together as a group. We did everything together. That played a huge part in the role of our chemistry. We could care less who was the leading scorer, it was all about the end result and that was winning.
Bibby: Chemistry was the biggest thing. Everybody got along. There were no rifs between anybody and everybody's main goal on the team was to win. That overruled everything. I still talk to some of the guys. Down the line you see guys and you have memories and you always have friends for life.
Miles: The chemistry was almost instant. As the year went on we all became closer. We had each other's back and we all got along really well. On the court, we were tough, resilient. That had a lot to do with our overall chemistry on and off the court. We had a special bond back then and still do to this day.
Pastner: Yeah, I mean I love those guys. Those are my best friends. All those guys are some of my best friends. That whole team man. Those are my best friends. I would do anything for those guys. When I see those guys I just want to hug em and give em big bear hugs. Those guys, I just love em. They're brothers.
Photos courtesy of: Arizona Athletics, Allsport, Getty