This past September, Pato saw the Pope. "Pato" is the long-time nickname of Patricio Garino, a 6-6, 210-pound senior forward on George Washington who, like Pope Francis, happens to hail from Argentina. When the Pontiff stopped in the District of Columbia, during his North American tour, Garino was on hand to welcome him. He says that at one point, he came within 100 feet of him. Garino calls it one of his life's great highlights, to date.
Oh, and that nickname? "We're always shortening names," Garino says of his countrymen. "So, Patricio has always been 'Pato.' In Spanish, actually, it also means 'duck.'"
Through the first month of this college basketball season, opposing defenses may not have quacked, but they've certainly quailed at the sight of Garino, who has been hitting 56 percent of his threes through 11 games. He has been instrumental in George Washington's 10-1 start, which includes an emphatic home win over No. 6 Virginia. This week, the Colonials cracked the top-25 (they're ranked in both polls) for the first time in nine years.
It's been quite the calendar year for Garino, who featured for Argentina during the summer, first at the Pan American Games and then the FIBA Americas, where the Albiceleste roared to a second-place finish and qualified for next summer's Olympic Games, in Rio de Janeiro. Garino was no bit-part player at the FIBAs, either. On a team that included the likes of Luis Scola and Andrés Nocioni, he became a starter and averaged 25.6 minutes, 7.7 points, 2.5 rebounds and 1.5 assists—the latest evidence of his all-encompassing impact.
Dreams, realized alongside his heroes. Garino vividly remembers being perched upon his bed in the summer of '04, watching along on TV as Scola and Nocioni paired with the likes of Ginobli and Delfino to help lead Argentina to the Gold Medal at the Olympic Games in Athens. Garino wears No. 13 in homage to Nocioni, whom he calls his idol.
When Garino is asked now what it's like, getting his own chance to play at the senior level for the country of his birth, he pauses for a moment over the phone. Difficult to put into words, this feeling that encompasses not just passion, but all those years of commitment. So, 'unbelievable' might be a good place to begin.
"No matter the tournament, to put that jersey on, and represent so many people, I take a great amount of pride in that," says Garino. "My dream my whole life has been to play for my country."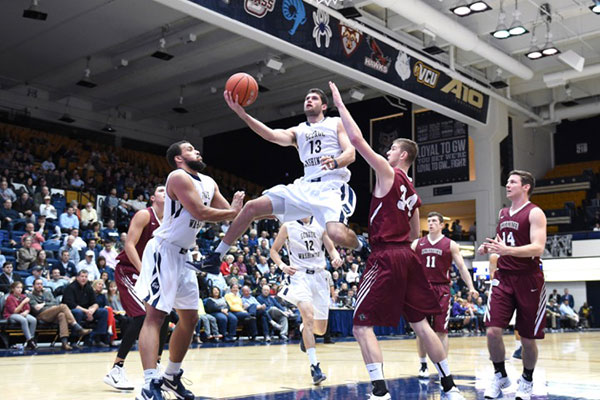 Growing up in Mar del Plata, four hours outside Buenos Aires, on the banks of the Atlantic Ocean, Garino followed his friends into football (soccer), the country's national sport. "I was always the tallest guy on the team, and not very coordinated, so I was usually the goalkeeper," Garino says. "But I always asked to play on the field, so they let me do that. But after two games, I broke another guy's leg. So, I realized that soccer wasn't for me."
Garino began hooping with a local neighborhood club, and he quickly showed an aptitude that made him a constant feature on youth national teams. At the U17 FIBA World Championships, in 2010, he led Argentina in points, rebounds and assists. He began receiving offers from professional clubs at home and in Europe, but his parents were adamant that he put his education first, and obtain a collegiate degree.
That narrative began to take shape when Garino participated in a training camp for Basketball Without Borders. There, he met Kevin Sutton, an instructor at the camp who was then the head coach at Montverde Academy in Florida. The following year, Sutton was one of the coaches for Team USA at the U17 World Championships, where he helped devise a game plan for an Argentina team that included Garino. Facing the likes of future pros in Andre Drummond, Bradley Beal and Michael Kidd-Gilchrist, Garino finished with 14 points, 6 boards, 3 assists, 3 blocks and 2 steals.
Garino decided to spend his junior and senior years at Montverde. When it came time to pick a college, he had a healthy number of schools looking his way, including George Washington. The Colonials had enjoyed success in the mid-aughts (Pops Mensah-Bonsu!), but had fallen upon hard times. Their new coach, Mike Lonergan, was having trouble recruiting top players in and around the nation's capital, so he followed the blueprint of Karl Hobbs and Mike Jarvis, his predecessors at GW, who'd crafted winners by recruiting internationally.
He soon learned of this Garino kid, and came away impressed after watching him in workouts. Kevin Boyle, who became Montverde's head coach for Garino's senior season, after Sutton took an assistant coaching position at Georgetown, told Lonergan that Garino played great defense, he was a great student, and he possessed an insatiable work ethic. Perfect fit for GW.
Garino felt the same way when he visited the nation's capital. Many colleges are located within a city; George Washington was just a few blocks away from the White House. And when the hustle and bustle and noise in Foggy Bottom threatened to overwhelm him, Garino could head over to the National Mall, where he was calmed by the expanse, gravel paths and green.
As a freshman at GW, Garino started all 30 games and averaged 2.3 steals, quickly asserting his status as what Lonergan calls "the best defender I've coached since DJ Strawberry at Maryland." (Lonergan was a Terps assistant for the '04-05 season.) "We played so many great wings that season," says Lonergan, "and Garino shut them down."
It all seemed to build toward this past summer, which has informed his sterling play to start '15-16.
"That international experience was unforgettable," says Garino. "You learn so many things from playing against professional players every day. It was more aggressive, faster, and more technical. I could feel my mind expanding, and my game, too. Not only was I playing with guys like Scola and Nocioni, they took the responsibility of teaching the younger players like myself. These guys are national heroes for many of us! So, it was unbelievable to play on a day by day basis with teammates who play professionally."
Garino remembers coming back to GW practice and being told, Slow Down! He was still attacking each possession like he was fighting for that roster spot, or charing toward a championship. The game was just too slow for him. "I'm a perfectionist," Garino says. "So, I'm always conscious that I can improve every single aspect of my game. Like this summer: I saw I'd have to improve my three-point shot to play professionally."
He's been part of a cultural upheaval at GW, one that has rounded into a perennial player on the post-season stage. As a sophomore, Garino tasted the NCAA Tournament, and he wants to get back. There's still work to be done—Lonergan hails the impact of his starting lineup, but notes that the lack of a post presence off the bench is a tad worrisome—but the coach can see the experience gained by Garino this past summer carrying over.
"Oh, definitely," Lonergan says. "He's always been our lead defender, and starting for Argentina at the FIBA Americas, he saw the work ethic of those guys, getting after it with them. There's still growth to do—and he'll put in that work. He's a terrific kid."
It's been a case of finding his niche. When Garino first arrived at GW, people saw the first letter of the last name, the size and the skill set and the nationality, and unblinkingly took to hailing him as the next Ginobli. No pressure. Now, Garino finds himself at the forefront of the next generation of ballers produced by his country, the ones that will take the mantle from the likes of Ginobli. They have the utmost respect for that golden generation. They realize that now, it's time to make a mark of their own.
Photos courtesy of George Washington Athletics