by Waddell Howard Jr
There are many legendary athletes who are heralded in the Hall of Fame of their respective sports. And then there are legends that will never have their name engraved on any plaque, statue, or see their jersey numbers up in the rafters. Some legends walked the line of perfection into their destiny. Others went through a tumultuous road to meet theirs, and many took a wrong turn on their destiny's path. One of the greatest point guards never to grace the hardwood floors of an NBA arena was from the city of Harrisonburg, Virginia.
Norwood "Pee Wee" Barber Jr. is probably one of the most heralded athletes in the history of Virginia. When moving through the city of Harrisonburg and asking about basketball, the first name you'll often hear is "Pee Wee." This is very intriguing, considering that former UVA superstar and Houston Rockets Center Ralph Sampson comes from the same city. Barber is a legend amongst commoners and sports elite alike. His name arises in barbershop conversations, cookouts, and YMCA pick-up game chatter. As a matter of fact, it's not uncommon to hear teenagers that are in the zone during a pick-up game to yell "Barber's back" after icing a couple of jump shots in sequence.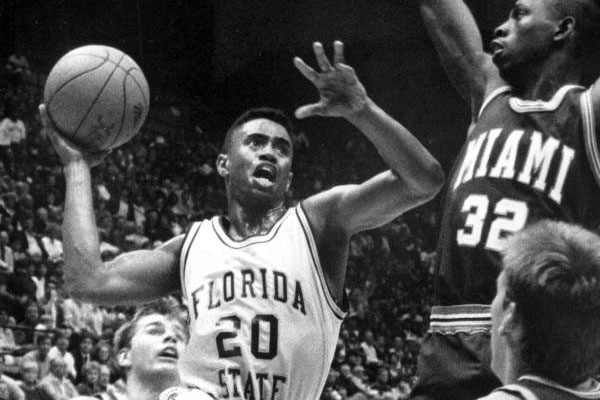 You Knew Pee Wee?
Recently while at a barbershop in Harrisonburg, an unknown man that came into the barbershop began to strike up a conversation with my brother. The conversation was about a former Harrisonburg standout that happened to work with the company that was doing the audio set up for my brother's upcoming wedding. The man proudly said, "Yeah he's good, but Pee Wee, Pee Wee was the best ball player out of Harrisonburg." After hearing this, the conversation began to spark my interest. So I turned to him and said, You knew Pee Wee? The tall, thin middle-aged man with a slick bald head turned to me with a very serious and stern look on his face and said, "Did I know him? Man, I taught Peewee!" He was silent for a brief moment, looked down at the floor and then looked back up at me and said, "Yeah I taught him, but he didn't listen."
We hear "tall tales" and the grand exaggerated war stories all the time where I am from. But there was a distinct sincerity from the man speaking. He began recanting the details of Pee Wee's life as a child. "I remember the first time I saw him, clear as day, he was playing in the street right over here in the projects and he went to catch the football and a car was coming and it just missed him but he hit the side walk. I thought he was dead!" He told of the smoothness in how Pee Wee maneuvered around the bigger players on the playground and how athletic he was, which made up for his slight stature. As the man kept recanting details about Pee Wee, I knew then that he was legit. Either that or he was a really good story teller!
Barber's legend was made real to me that very day. Here is a man that was far removed from seeing Barber play his last basketball game, but yet he was so impacted by him that he could enter into a 15-20 minute spiel on just how great he was. I, for a moment, became fascinated with the stories I was hearing about this 5-11 guard who could shoot from anywhere, cross-over anybody that was guarding him, could catch alley oops with ease, and had a basketball IQ that was unparalleled. But what I would find out later from his brother is that Pee Wee was a star for all seasons. Barber never took a break. In the fall he was an all-state defensive back and quarterback for the football team, and after basketball was finished, he mesmerized those watching him pitch and play as an infielder for the baseball team in the spring—Barber holds a .336 career batting average for his time at Harrisonburg High School. He was simply amazing. Barber fit the mold of the rare natural God-given athlete blessed with the unique gift to excel at multiple sports at a high level. After having a storied high school career in three different sports, Barber would continue his greatness at the collegiate level.
Victories
After two years at Ferrum Junior College, now Ferrum College, Barber burst onto the then Metro Conference (Florida State now competes in the ACC) basketball scene and took it by force. While playing for Florida State, Barber cemented his place in school and college basketball history. In his two years there, Barber averaged 16.6 and 19.2 ppg respectively, including a 40-point game against The University of Miami on Feb. 26, 1987. During the 1986-1987 season, Barber led the Seminoles in points, assist, and steals. Barber ranks eleventh all-time in school history for career scoring average with 17.9 ppg and is part of Florida State's 1,000-point club with the likes of former pros such as Sam Cassell, Mitchell Wiggins (father of 2014 -2015 Rookie of the Year Andrew Wiggins), Bob Sura, and Dave Cowens. In 1986, the three-pointer was brought to college basketball. Barber embraced that rule to the utmost, shooting 44.7 percent from beyond the arc in his career.
Barber's astounding achievements in just two years is statistical evidence that he was indeed a special talent. The great Jim Valvano (former NC State head coach) was quoted as saying: "Pee Wee Barber ate our lunch" after Pewee turned in a stellar performance that led to a 76-67 Florida State victory over Valvano's Wolfpack. Barber went head to head with greats such as Vernon Maxwell, Kenny Smith, Dell Curry, and Robert Horry. There were flashes of greatness. Greatness, such as the game winning running jump shot just shy of half court that Barber iced with seconds to go, with then Metro Conference Player of the Year and future NBA veteran Dell Curry guarding him all the way down the court. There was the 26-point outing against superstar guards Vernon Maxwell (future NBA Champion with the Houston Rockets and 13-year NBA veteran) and Andrew Moten of Florida, each taking turns at guarding him. There was the 35-point shooting clinic that he put on against Memphis State in the Metro Conference Tournament. Barber was an electric player that elevated his team at crucial moments and carried the team with finesse and a distinct basketball savvy. The then coach of Florida State Joe Williams is quoted saying that "teams are going to have to stop him (Barber) to keep us from doing well."
Each night out fans marveled at this 5-11 specimen that shined amongst the brightest of stars, most towering above him in stature. Barber's success at the collegiate level was even more stunning based on the position that he played at the time. A scoring point guard was likely to be overshadowed in the era that Barber played in because at that time big men were the focal points of many offenses. College coaches wanted a dominating center that could post up and score and block shots, many point guards were just seen as the facilitators to the operation at large. Barber's quickness, tenacity and shooting accuracy could not be denied, which resulted in him becoming the focal point of this particular offense.
After having such a successful career and shredding defenses all over the country, it was clear that Barber was ready for the pros. And as the man that I was conversing with in the barbershop tells it, he was not only ready for the pros but would have "balled out in the pros" and "had never seen anybody quite like Pee Wee before. He could do it all, there was nobody that he couldn't get around and if you gave him too much space he'd net it in your eye—he was simply awesome."
As he spoke and reiterated some of the points that he had made earlier in the conversation I anxiously interrupted asking the question: Barber got drafted, right? I knew he went to the Portland Trailblazers, but what happened after that? He looked down at me and said, "Yeah, Pee Wee got drafted, went to camp with the Blazers. I talked to his dad [and he] said he had made it to the final cut. Not too long after that his dad called and told me that Pee Wee was coming back home."
I was stunned and almost in disbelief that a career as promising as Pee Wee's ended so abruptly. A USA TODAY report posted on 12/22/05 said that "Barber was drafted by the Portland Trailblazers in the 1987 Draft, but an injury prevented him from making the team." Barber had broken his foot prior to the draft and rehabbed just in time to be able to make Portland's camp, which consequently had an effect on his overall ability to showcase his full talents.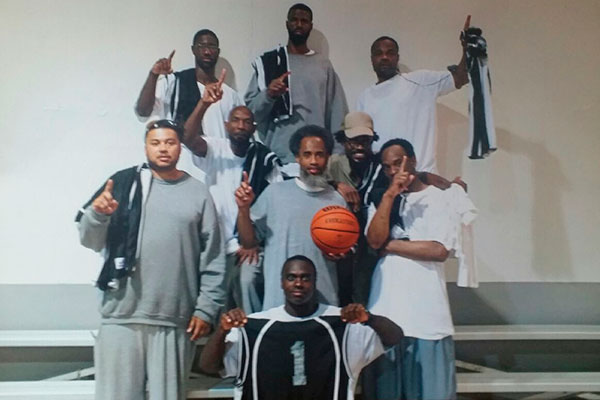 Misfortune
Barber's NBA career literally ended before it ever began. What happened next is an unspeakable chain of events that comes to a dramatic and unsettling end. Upon his exit from the NBA and basketball, his life took a different turn. After a stint in the CBA, Barber's career ended and his life's path went on a dramatic twist. Having been convicted two prior times for drug distribution, Barber was sentenced to serve a mandatory life sentence based on cases stemming from 2002 and 2004 federal investigations. The mandatory life sentence seems stifling for a former athlete so revered that people two and three decades younger than him still hold in high regard even to the very day.
A polarizing figure, Barber stands as a hero to many people in Harrisonburg, but also seen as a menace to society by legal officials. Because of his mistakes later in life, his athletic achievements have been overshadowed. Barber, despite being all-state in two sports, lettering in three, being the second leading scorer in Harrisonburg High School history, ranking second all-time in school history for points in a season with 736, and holding the record for a 98-yard kick return that qualifies for the longest in school history, is still not in his high school's Hall of Fame to date.
An outsider examining Barber's situation may ask: what does Barber's present status have to do with his past? Barber's accolades have been washed away in the minds of many because of the parting images of Barber receiving a life sentence. However, the facts and statistical evidence on Barber stand as the "elephant in the room" when attempting to deny his impact on the city and the school alike. His achievements are simply too great to be denied. There are two parts to Barber's story. The latter part (trouble with the law) has been magnified more so than the former (Barber's contributions to Harrisonburg and his collegiate success). In all fairness, we must examine both equally in dealing with his legacy.
Justice, Injustice, and Restoration
Barber's situation to this day still sparks much debate and many different schools of thought. Those schools of thoughts are sheathed with varied pools of opinion. Some say that Barber is an outlaw who got the punishment he deserved. Others say that he was unjustly incriminated on his last conviction and because he is a well-known figure in the community the judicial system at large made an example out of him as a result of the growing narcotics problem in that area. Others say that Barber was in fact wrong, but he is a man convicted of a non-violent offense serving a life sentence and would rather see their tax dollars used to keep more violent and dangerous offenders at bay rather than Barber. Barber's situation does not escape the realms of personal responsibility. It was seemingly his decisions that landed him on life's bench. However, there is much debate as to what would become of Barber if he were to be released.
With Barber's legend intact and a following of admirers, old and young alike, there are many who wonder if he could serve his time in a different fashion. Maybe he could possibly be used as an experienced figure in our inner cities to tell youths what not to do, or rather what to do to be successful. Maybe Pee Wee could be a substance abuse counselor; maybe he could be a basketball coach and help that kid struggling with not only his jump shot but life's pressing issues as well. Whatever the scenario might be, the thought of Pee Wee being more than just a star ball player turned rogue is more than a figment of the imaginations of the admirers of Barber.
Greatest of Them All
With his back to the door and pushing his way out of the barbershop very smooth and subtle, the tall slick headed man smiled and said, "Pee Wee, God that boy could play!" It was almost mystical. This guy that I had never seen play a day in my life, was permanently embedded into my cord of memory. Seeing the man in the barbershop light up after leaving was like a badge of pride for him, a badge that read, "I knew Pee Wee Barber." The Shenandoah Valley will always be known for producing products like Ralph Sampson, Dell Curry, Kevin Madden, and Cory Alexander, but perhaps one of the greatest of them all will forever live in noticeable silence. Pee Wee Barber: a man that produced victories but yielded by misfortune.
(Photo credit: Floridamemory.com) 
4,282