He woke up in a hospital room on December 5, 2013, unsure if he'd play basketball again. He stepped onto a podium on March 10, 2015, to receive a Most Outstanding Player award. He climbed a latter to cut down a piece of net, after helping Northeastern to its first NCAA Tournament appearance in 24 years.
Quincy Ford underwent back surgery 21 months ago, the final step in a painful journey that had begun in the summer after his sophomore season for the Huskies. As he'd unfurled his 6-8 frame from bed one morning, Ford had reached for his toes. To his horror, he realized that he couldn't bend far enough to touch them.
Less than 16 months later after the surgery, he was the star in Baltimore, MD, site of the Colonial Athletic Association tournament. It was Ford's 22 points, on 8-10 shooting, that propelled Northeastern to a win over William & Mary in the championship. Ford averaged 22 points during the three-game tournament, and earned that MOP distinction.
Such a long, long way from when no one could figure out what was wrong with his back. "It scared the heck out of me," Ford says now of those first pain-racked days.
He'd tried to strengthen his back muscles to combat the constriction. He'd do rehab and work on his core. Epidurals, acupuncture, anything and everything.
He played the first two games of his junior season, a shell of his all-impactful self, before he realized that this was not going to get better.
Ford had visited with a doctor several times, that summer of '13, and he'd been told that he should consider surgery only as a last resort. Now, he decided it was time to go under the knife.
On December 3, 2013, after Northeastern lost at home to Harvard, NU sports information director Matt McDonald informed media present that Ford would be out for the remainder of the season. He was having surgery on his back.
"I didn't know the percentages of back surgery, or how likely I was going to be able to come back and play basketball," says Ford. "I was so young, so that gave me optimism I'd be able to recover. But I was worried that when I came back, I'd have lost a step, or I wouldn't jump as high, or I'd have less lateral movement."
Surgery was successful, and with just weeks remaining in the academic semester, Ford went back home to St. Petersburg, FL, to be around family. He was restricted to resting. The scar from surgery had to heal. When he'd get restless, Mom would remind him: Be patient. Take advantage of this redshirt year to make a full recovery.
When he returned to Northeastern in January, rehab began. Manual treatment, massages, icing and heat—all this, before he could begin physical activity. It took him about a month to walk without assistance—or pain.
By early June 2014, Ford was cleared to resume official workouts. Finally, basketball. Now began the real challenge: getting his game back. "I started in July, and slowly got myself into pickup, and contact. In May and June, I was just trying to get my game back. I began to feel great, like I was growing stronger."
Then came the first game of '14-15, against Boston University. Ford remembers air-balling his first shot attempt. "It was just so different, trying to get into the flow of the game, from practice," Ford says. "I was upset about it at halftime, but my teammates told me to just calm down."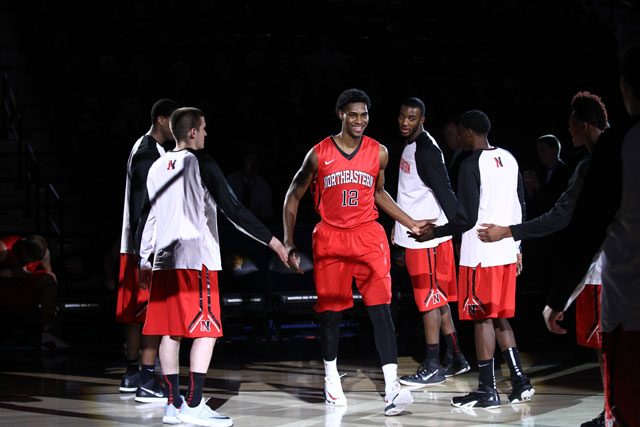 Ford had big expectations, but his mom's advice rang true. He had to be patient, and let his body catch up. "And my play got better throughout the season," Ford says. Certainly did: Ford finished the season as his all-purpose self. Third on NU in points (10.4) and rebounds (5.4), second in assists (3.2), blocks (1.1) and steals (1.0).
The Huskies earned a Round of 64 matchup with 3-seeded Notre Dame, and came within a whisker of shocking the Irish, who finished up in the Elite Eight. The momentum has carried over to the offseason. Though senior leader and double-double machine Scott Eatherton has graduated, four starters are back, including a core that has played together for at least two seasons.
That means relentless work this summer: anticipation can be such an adrenaline kick. Ford details 6 a.m. wake ups and workouts. Then, back to the gym to get extra shots up on the gun. He still does rehab, seeking to strengthen his back muscles. That was one of the first things Ford and the NU training staff concentrated upon, post-surgery.
Now, his core strengthening is more nuanced, the workouts more core-engaged, to increase his flexibility and alleviate stress from his back. "There's a lot of stretching involved," Ford says. "It's really helped. I'm feeling a lot better."
He has come a long way. There's the natural progression of a player in college: as a freshman, Ford was a role player. He came in and rebounded, played good defense, shot if he was wide open.
"Now, my role has increased to where I can do a little of everything," he says. Sometimes, that means channeling the offensive ethos of Mo Speights, another St. Petersburg native.
He poured in Mo' Buckets at the conference tournament last season. He'll take on the role of leader for NU this season—particularly for his younger brother, Sajon, a 6-11 Huskies freshman forward.
Couldn't ask for a better role model.
Photos courtesy of Northeastern Athletics