Less than two full days since his 78-point Friday at the Cy Hoops Invitational (32 points, 10 rebounds in the day game; 46 points and 14 rebounds in the nightcap) in Houston, De'Aaron Fox is lounging in his room playing Call of Duty with a couple of friends online while breaking down the Kentucky Wildcats offense on a Sunday afternoon in mid-December.
"I love the dribble-drive offense," says Fox, who finds himself averaging 35 points, 12 rebounds and 6 assists, while already surpassing 40 points in four of his first 11 games, as of press time. "You just put guys in the right spot and they just have to shoot it from there. It's a lot of drive and kick-out threes. Coach [John] Calipari just makes it easier for his guards to play together."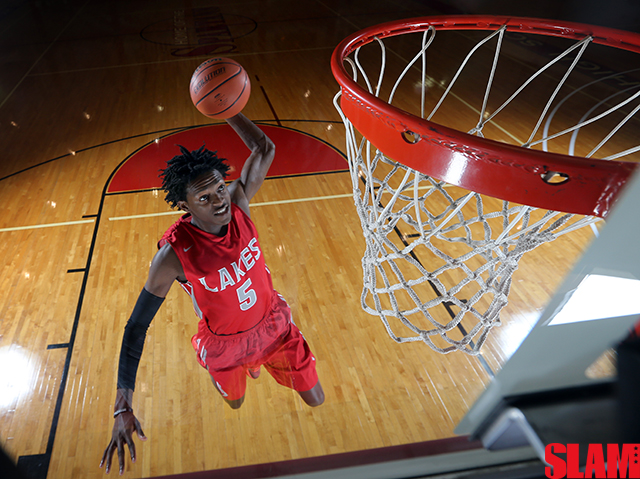 Widely regarded as the top point guard in the Class of 2016, Fox is expected to be a centerpiece of that offense in the fall when he arrives in Lexington, while reminding many of another great former guard who played under Coach Cal. "Everyone calls me John Wall 2.0—and I like the comparison," says the Katy, TX, native. "Who wouldn't enjoy being compared to a former No. 1 pick? But right now, I think I shoot much better than he did, at least for high school."
And while being heralded as the second coming of Wall might provide lofty expectations, Fox has shown flashes that back up the statements.
Just like the Wizards' All-Star, who congratulated Fox on Twitter after committing to the Wildcats in November, the 6-3 senior at Cypress Lakes can hit the accelerator with lightning speed in the open court. He can finish strong in traffic and his athleticism allows him to get up and fly above the rim when need be. His agility and craftiness can split the defense, and he can pull up as well.
While playing last summer with Houston Hoops in the Nike EYBL (Elite Youth Basketball League), recognized as the top youth travel circuit, he also led the league in assists and steals.
Big Blue Nation is expected to welcome in another star-studded freshmen class. Joining Fox in the backcourt will be Arkansas-bred shooting guard Malik Monk, another top-10 national prospect and one of his close friends. Additionally, power forward and high-flyer Edrice "Bam" Adebayo, another top-10 recruit, has signed, along with top-30 bigs Wenyen Gabriel and Sacha Killeya-Jones.
While there's still plenty of time before the spotlight shines on them, the group has already begun the teamwork process. Killeya-Jones and Gabriel made their pledges to the program first and thus were in communication, but when Fox came to a decision, a group chat was born.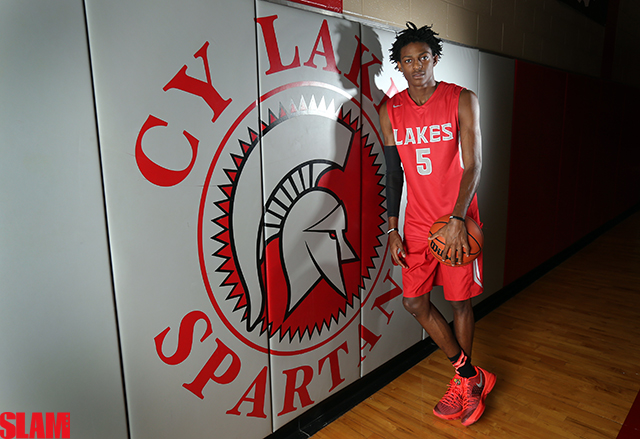 "I told them I was going to Kentucky before I ended up committing so we started the group chat a little early," he says. "The day before Bam committed, he told Wenyen and so Wenyen added him to the group chat before he committed. And then Malik committed a couple of days later and then I brought him into the group chat. At this point, we're all just bonding and getting to know each other better—build team chemistry. We talk almost every day. We just want to show up to Lexington and try to win a championship at the end of the day."
In the meantime, Fox plans to continue learning to deal with the extra attention that is given to him—not by fans but by opposing defenders. Especially since it may not go away at the next level.
"Every year of high school I've been double-teamed or triple-teamed—that's probably the biggest obstacle I've had to overcome," he admits. "Just learning how to adapt like the best players in the world do. At this point, I'm just trying to have fun, get big numbers and win."
—
Franklyn Calle is an Assistant Editor at SLAM. Follow him on Twitter @FrankieC7.
Portraits by Layne Murdoch