Howard Garfinkel will be missed, a man who cast a giant shadow on the sport of basketball and touched tens of thousands of lives in the process.
Mention Five-Star Basketball Camps and chances are, the response has something to do with the man everyone knew as 'Garf.' He was legendary—someone who people in the sport knew and respected. As one of the founders of Five-Star along with my father, Will Klein, Garf exuded such a strong influence on the sport.
He wasn't just the king, he was the king-maker as well. And the kingmaker passed away last weekend at 86 years old.
There was a stretch where Garf was the self-proclaimed emperor of basketball. His word was all it took to make a player or coach. His word very often did just that. Garf provided a platform where hard work could get you noticed and no one was a better advocate for the passionate hard-worker than Garfinkel.
Garf pressured Bruce O'Neil to offer a recently graduated UMass player named Rick Pitino the graduate assistant job at Hawaii. This was after Garf convinced Pitino not to pursue a pro playing career in Italy.
He put that same full-court press on Rutgers head coach, Tom Young to interview East Rutherford High School head coach Dick Vitale for his assistant job. He saw something special in Vitale and he wasn't wrong.
He elevated a player from Washington, NC, and dubbed him the Human Highlight Film, launching Dominique Wilkins to what would be a Hall of Fame career.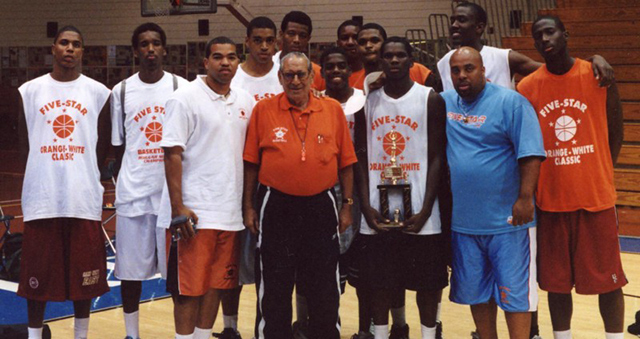 Then of course it was his word that launched an unknown Michael Jordan, who at that time held two college scholarship offers prior to attending Five-Star Camp, into a whole other realm. After watching Jordan play just one day at Five-Star, Garf called Street & Smith who were publishing their All-American lists. Jordan was not in their top 100 and Garf told them to stop the presses, he had just seen the best player in the country.
Of course they listened and obeyed. Such was the life and influence of Garf.
When the sneaker companies converged on the sport and Garf advanced in age, basketball moved on and his influence waned. It was as if everyone else got the memo except for him, that he was no longer "that" guy. Garf would make call after call to coaches to recommend players and prospective assistants and often was ignored. It hurt him that he no longer had the pull to help people the way he had done for so many years.
The game he loved was one in which the game was the show. But times changed, and the game became a side act to entertainment. Nothing was more infuriating to him than loud music at a timeout of a basketball game. Those in the stands with him were no longer the purists, they had their eyes buried in their cell phones. His eyes couldn't pull away from the action, while to them, the sport was about providing content for social media and memes.
He remembered an industry that brought everyone together for its growth, that everyone shared ideas and strategies to improve, but the business of basketball became fiercely competitive and coaches were in a silo fighting for their survival, often stepping on people on their way up the ladder. He remembered them as people, but they had turned into brands.
His love affair with the game did not waiver.
In his waning moments and at his passing — basketball remembered 'Garf.'
The sport he loved came back to him one last time to pay homage. Hopefully the sport listens to what he would have said, a final message about a game that he shaped for over a half-century.
If you knew 'Garf,' you knew that he'd smile at all this attention for about a moment and then he'd shout back, "What are you doing to fix MY game?"