A month after leading Team Canada to victory at the FIBA U19 World Cup, the country's first basketball gold medal in international competition, 17-year-old R.J. Barrett—short for Rowan Jr.—is with family and friends on a Friday night at Goldring Centre for High Performance Sport on the campus of the University of Toronto-St. George. He's there to take in the last night of OVO Bounce, a week-long pro-am basketball showcase organized by Drake and Jordan Brand.
Wearing a black tee that says "Canadian Built," and a pair of Air Jordan 13s from the recent Defining Moments Pack (the metallic gold accents on the midsole, perhaps a perfect nod to his recent gold medal win), Barrett is relaxing in his courtside seat. He's aware of the increased spotlight on him since last month's FIBA gold-winning tourney in Egypt, highlighted by his 38 points, 13 rebounds and five assists performance in a 99-87 upset win over Team USA in the semifinals—a game in which Team Canada entered as 20-point underdogs.
Throughout the night, family and friends, and even strangers, drop by to pay their respects to R.J.. For someone who has accomplished everything possible at the tender age of 17 and is now at the top of every basketball conversation in Canada, there is one thing R.J. has yet to do: beat his dad Rowan Barrett one-on-one. Asked about the one thing lacking on his resume, R.J. grins and stammers, before dad Rowan, standing next to him, chimes in. "It's a very simple question. With a very simple answer," Rowan says, with a grin wider than his son's.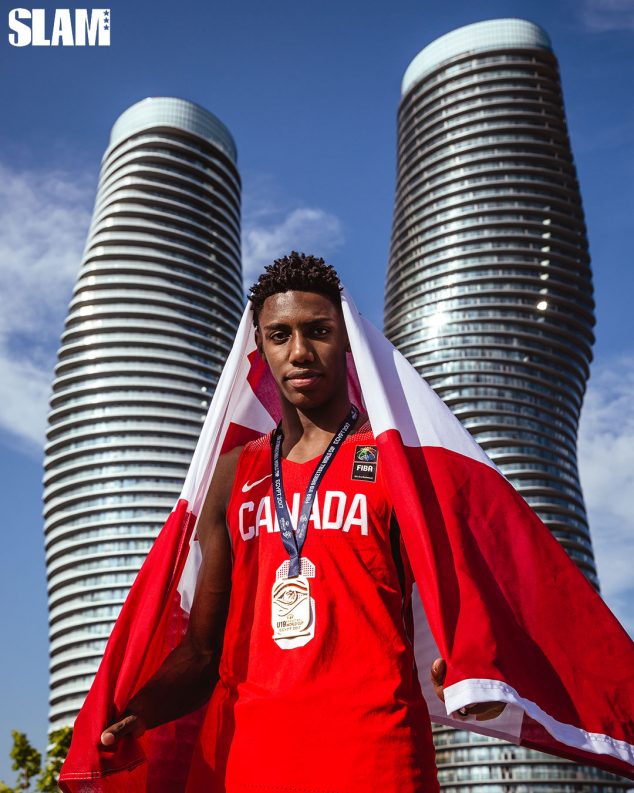 The Barrett household has always been a competitive one. R.J's mom, Kesha, was a track and field star at St. John's University. Rowan played basketball at the same school and had an extended pro career overseas, and represented Team Canada at the 2000 Summer Olympics in Sydney, Australia. So, one-on-one matches were not uncommon between R.J. and Rowan. "He just gave me fadeaways, pump fakes, a whole bunch of stuff," R.J. says. "I couldn't guard him when he was younger."
Rowan knew his son could never beat him, but nonetheless there were lessons to be learned in those lopsided matchups. "I was teaching him to never quit," Rowan says. "He was never gonna win. It was more about understanding what his effort level would be consistently, no matter what the result was, because that's the one thing he can control."
While playing overseas in Spain, Argentina, Venezuela, Greece, Israel, Italy and France, the family traveled with Rowan, and that's where R.J. fell in love with the game. As a kid growing up, he had other interests, including soccer and track and field. Rowan didn't necessarily want to push his son towards basketball. It had to be his own choice. Rowan had his own reasons too. "It's such a long road," Rowan says. "I know how long a road it is."
To figure out whether R.J. really wanted to play basketball, Rowan tapped into his son's competitive nature. If it wasn't posting him up for baskets, Rowan would put his son in games against competition he wasn't necessarily ready for. As a 12-year-old, R.J. went up against players that were three to four years older than him. There was one particular game when R.J. came home and cried. "It's probably the worst he's ever played," Rowan says. "He saw the gap between himself and [the older guys]."
"I didn't play well. I needed to work a lot harder," R.J. says. "It was a reality check." From that day on, he decided to dedicate his focus to basketball. Today, R.J. is projected as a top-3 pick in the 2019 NBA Draft. He's currently attending Montverde Academy in Florida, and recently announced his decision to reclassify to enter the draft a year earlier than expected. Outside of basketball, R.J. says making the honor roll at Montverde is his proudest accomplishment. Rowan has always emphasized the importance of education, and wouldn't allow his son to play if he didn't make certain grades. "Thankfully, he never went below that standard," Rowan says.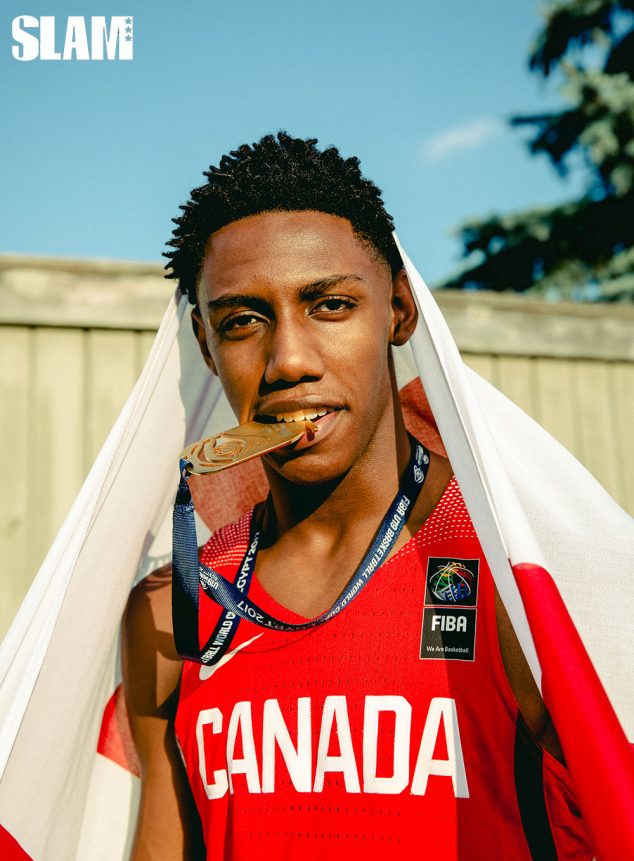 On the court, R.J. has an offensive game reminiscent of James Harden when on the perimeter and of Dwyane Wade when finishing at the rim. Roy Rana, head coach of Team Canada's U-19 squad, saw R.J.'s coming-of-age performance up close. R.J. averaged 21.6 points, 8.3 rebounds, 4.6 assists and 1.7 steals in the tournament last month. After his dominant performance against Team USA, R.J. followed it up with 18 points and 12 rebounds in a championship win over Team Italy. He was named the tournament's Most Valuable Player.
"The way he puts together games, it's unique for a guy who still has incredible room for growth," Rana told the media at Toronto's Crown League in July. "What we haven't had is someone take us to the finish line, and R.J. was able to do that. That's what really separates him."
There's probably nobody who knows just how difficult the finish line is more than Rowan, who signed with the Toronto Raptors and Philadelphia 76ers at one point but never ended up appearing in an NBA regular season game. At the 2000 Summer Olympics, Team Canada appeared on their way to a potential podium finish, but ended up finishing 7th. The men's basketball team hasn't been back to the Olympics since.
After a career of near-successes, to see his son lead Team Canada to the gold medal at the U19 World Cup was special to Rowan for many reasons. As a former national team member, Rowan received congratulatory messages from former teammates. As a father, Rowan was brimming with pride. "You're going to be super excited when your boy plays that way, and just grabs the bulls by the horns, especially against Team USA. That was the game everyone was waiting for in the tournament," Rowan says.
There's a third role that Rowan plays, and that is the Executive Vice President and Assistant General Manager of Team Canada. If Team Canada qualifies for the 2020 Summer Olympics in Tokyo, R.J. will likely be involved. "It's been a dream to play at the Olympics since I was a kid," R.J. admits. A podium finish there would bring things full circle. The 2000 Olympics was also the year R.J. was born. The star of that team, Steve Nash, who's now Team Canada's general manager, is R.J's godfather, and has offered plenty of advice. "He's talked to me about the [NBA] life and how it is; to not take it for granted," R.J. says. "He told me to just keep working hard and that being the underdog is the funnest part."
R.J. has also heard the whispers from people who already believe he will be the best player to ever come out of Canada. "You have to just keep working hard and make that happen," R.J. says. "It's going to be really hard."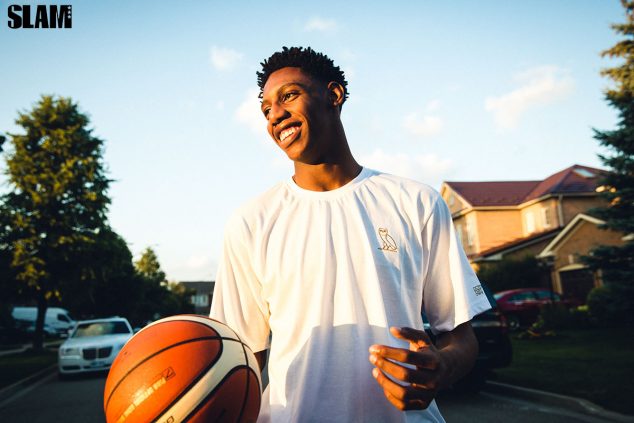 Rowan believes his son is up for the challenge, but even he won't allow himself to think about seeing his son take the court in an NBA uniform.
Rowan prefers to stay in the moment, and it's an approach that R.J. subscribes to as well. Both father and son admit to wanting to focus on improving everything on the floor this coming year, from ball handling, to his jump shot, to being a better passer, and to strengthen his body so that he can be a stronger force on the defensive end. "We know what the goal is," Rowan said. "We're just looking at every single day that needs to happen."
Rowan has a lesson for his son that he's preached forever: to always die hard on the court. "That was always the term for him," Rowan explained. "Did you die hard? If I scored three times in a row, did you double up your effort and go harder? It was always the thing with him, to die hard. That was something that stuck with him. I think he dies hard on the court."
The path to the NBA is clear now although there are many more challenges ahead for R.J. And about that one-on-one game—Rowan considers that a rite of passage for him. "We haven't played since we were younger," R.J. said. "I don't think it's a competition now, but we'll wait and see."
Rowan has a bad back right now and wants to get healthy first. Proposed to have a game up to 11, Rowan would prefer it just go up to seven. The only thing he can guarantee is that it will be a physical game. "He's coming," Rowan said. "But I die hard."
—
Alex Wong is a writer living in Toronto. Follow him on Twitter @steven_lebron.
Photos by Charlie Lindsay
Video by Justin Bailey