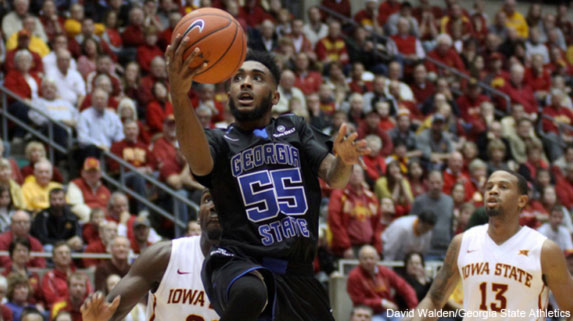 The stage could not have been set any better for redemption, for a true Cinderella song. The number one seed Georgia State Panthers and junior transfer Ryan Harrow came into the Sun Belt Conference tournament final on a roll having only lost one conference game all season (17-1). Harrow was just one victory away from his first NCAA Tournament game, despite playing for his third Division I program in four years. Harrow's journey to that point has been even more complicated than his migrant college career.
A five-star prospect out of Walton High School in Marietta, GA, and the state's 5A Mr. Basketball, Harrow was a consensus top-50 recruit and had his choice of scholarship offers before settling on NC State in 2010. Despite flu-like symptoms leading to his missing a few games, Harrow's experience in Raleigh was solid. He finished the his freshman season having started 10 of the last 15 games. His averages of 9.3 points and 3.3 assists per game were good enough to garner a transfer to Kentucky.
Following their 2012 NCAA championship victory over Kansas, the Wildcats and Coach John Calipari were looking to reload after freshman future lottery picks Anthony Davis and Michael Kidd-Gilchrist and first-round pick Marquis Teague moved onto the NBA. Along with incoming freshman All-American guard Archie Goodwin, Harrow started 23 games for the Wildcats, scoring in double figures in 18 of those games. Kentucky was in a transition, however, and finished 21-12. At any other university, that record would have been fantastic. At Kentucky, it was a clear and present disappointment.
Harrow and his young teammates went 12-6 during the Southeastern Conference regular season, but lost to Vanderbilt in the quarterfinals of the conference tournament en route to the NIT and another disappointing loss on the road to Robert Morris. The season was a wash, and Harrow's per-game averages of 9.9 points, 2.8 assists and 2.8 rebounds were a slight improvement from his freshman year.
Nobody back home in Marietta was more proud of his most recent accomplishment than his father Mark Harrow. The two were as close as any father and son could be from 400-plus miles away. While at Kentucky, the father could watch almost all of the son's games on television, but following a stroke, that wouldn't be quite enough for Harrow. He would transfer again—much to the disappointment of the Kentucky faithful following the school's worst post-season result in four years under Calipari. Harrow was coming home to be closer to his father and the rest of his family.
The NCAA was unusually compassionate and allowed an immediate transfer waiver to Georgia State University in downtown Atlanta, a 20-minute drive from the Harrow's home. With two years of eligibility remaining Harrow was going to have a chance to play in front of his dad again.
Flash-forward to that March afternoon in 2014 in New Orleans with his new team at Georgia State, down by a point to Louisiana-Lafayette—a team they beat twice during the regular season—with only mere seconds remaining in the Sun Belt Conference tournament. The entire game seemed to be a coming out party, as did his entire first season as a Panther, for Harrow. Mad dashes to the hoop, pull-up jump shots off the dribble, mixed with acrobatic drives to the hoop for a career high 17.8 points per game—almost double his previous high at Kentucky—en route to a game-high 37 points. The players and coaches trusted that Harrow would continue to come through in the clutch. The shot missed and Harrow fell to the floor as if punched in the gut as his father and family watched in the stands along with Georgia State fans that made the trip south.
"It hurt to lose like that [last year] and were focused on getting back to that point and further than we did last year," Harrow told SLAM after a recent afternoon practice.
The Panthers have begun their season with a 115-55 home win over Tennessee Temple but their upcoming schedule consists of a rash of road games against NCAA Tournament-caliber opponents. Harrow had 25 points in the season-opener and knows there's more to his role as a senior than just scoring.
"As a senior I have much more responsibility, but I'm not feeling any pressure," says the 6-1 scoring point guard. "I think if we do what the coaches ask of us then we'll be successful."
He won't be alone. Junior shooting guard RJ Hunter poured in 24 points of his own in the opener, while recent Louisville transfer Kevin Ware—he of the infamous collegiate basketball broken leg—added 12 points and 5 assists. The trio make up the city of Atlanta's most feared three-guard rotation. "I'm glad that [we're] being recognized as the best team in the city," says Harrow.
Pro scouts have been at Georgia State games and look to be at many more this coming season as the Panthers look to "get back to that point" and advance the commuter school to its first March Madness in over a decade and second all time. Says Harrow: "That's all we've been focused on since that game (in New Orleans)."
A certain fan can't wait to get 'til Harrow and his mates get started on that journey of redemption. "My dad is happy that it's basketball season," says Harrow. "He's even going to girls' games."