portraits by Diwang Valdez
It's Friday night, December 20, 2013, and a 15-year-old star basketball player and several of his teammates are hanging out at a South Carolina Applebee's. Everything is cool, until SportsCenter's Top 10 comes on. At that point, things get kind of awkward.
On this night, about 640 miles south of Applebee's, LeBron James banged home one of the best dunks of the season. In fact, moments after LBJ elevated over Sacramento Kings rookie guard Ben McLemore for an emphatic right-handed dunk in South Beach, people on Twitter took to calling it the dunk of the year.
The thing was, earlier on this very same eve, the star sophomore in the booth at Applebee's had also demonstrated that he too could defy gravity with his otherworldly athleticism. In a sequence that mirrored James, the 6-2 point guard, playing in the Chick-fil-A Classic holiday tourney, dribbled into the paint. An awaiting defender mistakenly thought he could disrupt the play by standing in front of the basket looking to draw a charge—just like McLemore did. To be fair, that probably would have been enough to break up the drive to the hole in most cases, but not with this kind of God-given explosiveness coming at you. Just like James did, this kid simply rose above and over his defender, in both cases with knees at the same level as the defender's head, for a rim-rattling right-handed jam. It wouldn't take long for this dunk to also make its way around the Web, ultimately reaching the control room at ESPN's headquarters in Bristol.
So there he was, sitting in Applebee's after his 26-point outing when the Top 10 plays came on. And then it happened: His dunk, and not LeBron's, had been voted the No. 1 play of the day.
"My first reaction, honestly, I just looked around hoping that nobody else noticed I was in there," says Seventh Woods, who is roundly considered one of the best guards in the country in the high school Class of 2016 (and considered by SLAM the most fun to watch). "It came on TV and everybody was just kind of looking at me. It sent a buzz through me knowing that I beat one of my idols for the top play. I was just sitting there looking at the comparisons, the split screen of my dunk and his dunk."
***
Driving down Galway Lane in the Southeastern section of Columbia, SC, past an array of well-kept colonial-style houses, you eventually hit a dead end, where a black iron fence with brick masonry columns sits across horizontally. On the right is an entrance gate with a security booth on its left. Past that is 107 acres of land, the same size as Disney's Magic Kingdom, which serve as the Hammond School campus, where Woods has attended and starred since the eighth grade.
On a warm Saturday afternoon in April before his Carolina Wolves AAU season starts in earnest, Woods arrives at the Hammond gymnasium for his very first magazine photo shoot. His mother, Monica, and father, Louis, accompany him, while older brothers, Louis Jr and Eric, join in a short while later.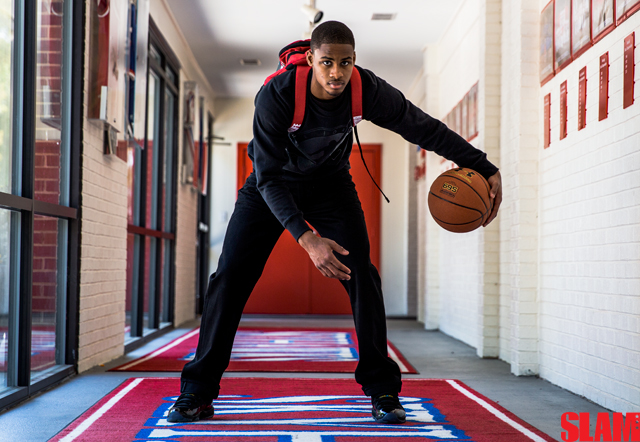 It's not your typical place for such a highly heralded prospect. It's far from a basketball powerhouse, in fact. Hammond's football program is regarded for its perpetual reign on the gridiron—it won six consecutive South Carolina Independent School Association (SCISA) titles from '06 to '11 and is in the midst of eight straight state title game appearances. Its basketball program, though? The Skyhawks are still working on an elusive first title. And merely two years into high school, Woods can already be safely anointed the greatest player to ever put on a Hammond jersey.
Sports were never a factor when Seventh's parents decided to enroll him at Hammond, and that's not to say the Woods' didn't know Seventh was gifted. Since Seventh was 7, when he was already playing two years up at the VV Reid local rec league on Saturdays, people had referred to their son as a prodigy. That only intensified after he traveled with the Carolina Ravens' U17 AAU squad as a 12-year-old to the Big Shots tourney in Myrtle Beach.
"Hammond is a great academic school and that's the only reason we came here," says Monica. "We weren't recruited for basketball. Seventh loves basketball so much that we knew that would take care of itself." Adds Louis, "We didn't even know anything about the basketball program here. We didn't know who the coaching staff was. We never even checked. We just wanted a good academic environment for him."
In an era when talented prep prospects and their parents canvas the country for the quickest path to exposure, notoriety and ultimately NBA cash, Seventh's route is a refreshing contrast. That doesn't mean the major basketball prep schools known for playing a national schedule and other star-studded "basketball factories" haven't tried. Midway through our shoot, Louis' Samsung vibrates. "Look, here goes a prep school coach right now," he says, laughing while he holds the phone up with his right hand. Monica shakes her head. "We probably get more calls from other high schools than we do from colleges."
It didn't take long for Seventh to turn Hammond into a real contender. As a freshman, he averaged 19.3 points, 4.3 assists and 2.7 steals per game, leading the Skyhawks to a 22-5 record and the SCISA Class 4A championship game. His best performance came two days after Christmas, with a stat line of 47 points and 10 assists in a 21-point blowout victory.
During last year's offseason, as a 14-year-old, Seventh was the youngest player to make the U16 USA Basketball team that won the gold medal at the 2013 FIBA Americas.
Then, as a sophomore this past season, he improved his averages to 20 points and 4 steals, ultimately winning Gatorade State Player of the Year. In a real showcase just a week after his Dunk of the Night, when he proved that he was more than just an exceptional athlete, Seventh exploded for a season-high 42 points, hitting 7 three-pointers in the fourth quarter alone.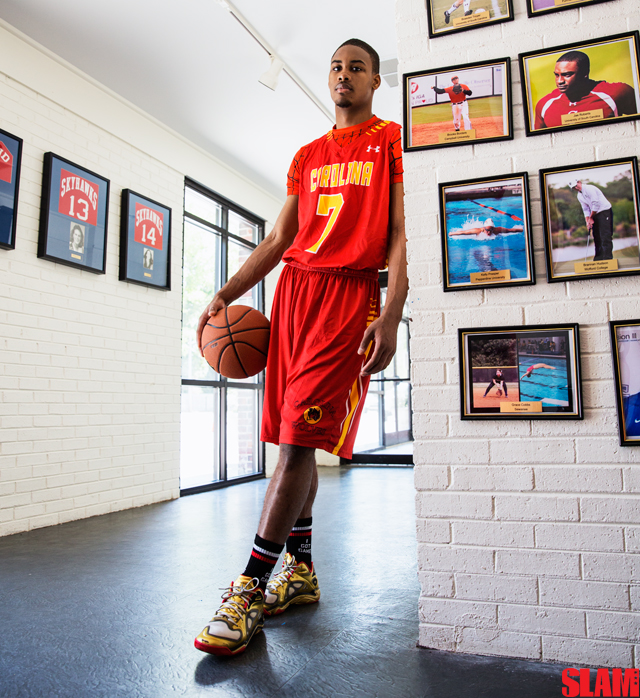 While his hops draw most of the attention—and for good reason: he suffered a concussion after banging his head on the backboard while going up for a block at the Pitt Jam Fest in April of 2013—the peculiar name "Seventh" draws almost as many double takes. The instinctive joke is that he must be the seventh child. He's actually the sixth, with his name derived from the Book of Genesis 2: 2-3:
"And on the seventh day God ended his work which he had made; and he rested on the seventh day from all his work which he had made. And God blessed the seventh day, and sanctified it: because that in it he had rested from all his work which God created and made."
Louis proposed the idea to Monica two weeks before Seventh was born. Louis initially wanted to name him Seventh Day Woods, but Monica wasn't having it. "I was like, 'Seventh Day? Where did you get this from?'" she recalls. "Then he told me the meaning behind it and I was just like, Can we please add something to it? And so his middle name became Dayvonte."
"I was looking for something that I could use to thank God for the blessings and show my appreciation," Louis explains. "Some people would name their kids after a grandparent to show appreciation. I figured this would be our way of honoring God."
What's more, Louis and Monica were each the seventh child in their respective families. And in what looks to have been a gift delivered from heaven, two weeks later, Seventh was born on a seventh: August 7, 1998.
That Friday night, back in December, wasn't actually the first time that Seventh and James drew comparisons. That happened right after Seventh's freshman season, when a YouTube video of him from April '13 went viral. The video, edited and posted by Hoopmixtape, referred to Seventh as "the best 14-year-old in the country." A highlight reel of his entire freshman season, the two-and-a-half minute clip showed Seventh blowing by defenders and flying to the rim for all types of acrobatic dunks. Whether it was a jam or a block, the majority of the comments all focused in on one particular point: This kind of explosiveness, hangtime and elevation had not been witnessed at the high school level since King James himself back in 2003.
An array of media outlets began labeling him "the next LeBron James." A little over a year later, the video has drawn over 11 million views, making it the most watched mixtape of any high school prospect in the YouTube era.
"It's hard because I know that everybody expects what they've seen in the every time they come see me play," says Woods. "I tell myself to just go out there and try to do the best I can do. A lot of people compare me to and say I'm the next LeBron, and I'm grateful to be compared to LeBron, but he got what I want and that's to play in the NBA. Me, I still have a lot of work to get there."
The truth is, the only way Woods stacks up to LeBron James is in terms of teenage attention and maybe dunking ability. As a player, with Woods starring as a lead guard who can set up teammates but is more inclined to score in bunches, Allen Iverson is actually the better comparison.
Whether he's the next anyone or just the first Seventh Woods, the YouTube-generated fame he achieved led TV shows such as Jimmy Kimmel Live and The Ellen Degeneres Show to reach out in hopes of getting the latest internet sensation on their set. But Seventh graciously declined, passing on an opportunity that most kids his age would jump at in a heartbeat, because of a mixture of humility and shyness that has led to him wanting to keep a low profile. Here's one of the biggest prospects in all of prep school, and he doesn't even have a Facebook account or Twitter handle.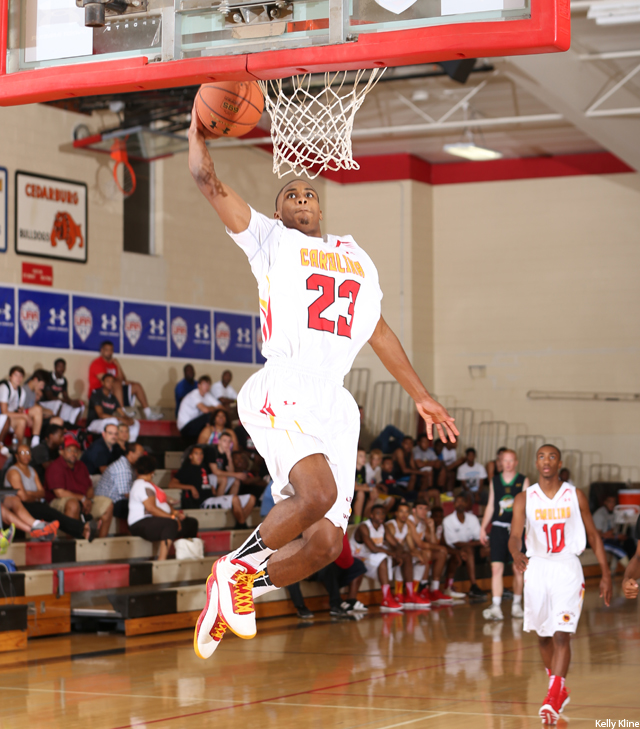 That initial video even led to a bunch of fan mail arriving at Hammond. "You'd open the mail and there would be pictures that are 8×10, asking Seventh to sign it," says Monica. "One even came to the house. They always send a stamped envelope to send it back. We've had a couple of suspicious ones with the same story about it being for a school project. They come from different places like Arizona and other places but with the same story, so we don't even get involved."
Says Seventh: "I never thought it'd get to this point. I don't even know what to expect anymore. But I do know that the best is yet to come, so I tell myself there's still a lot of work to do.
"I haven't won a state championship, so that's what I'm aiming at now," he continues. "I already got my 1,000 points and now I'm hoping to get at least 3,000 in. With two years left, I'm trying to leave with two rings, and that National Player of the Year."
239