When they are asked what makes them such an effective backcourt, James Woodard and Shaquille Harrison offer similar answers, put most succinctly by the one named after The Big Aristotle. "We're basically the same player—just in two different bodies," says Shaquille Harrison.
That cohesiveness has helped them develop into a devastating backcourt duo for Tulsa. Both are on pace to put dents into some lists in the program record book. Most recently, they helped the Golden Hurricane to a 23-11 record in 2014-15, which included a run of 10 straight wins to open American Athletic Conference play. It was Tulsa's first year in that league, after joining from Conference USA.
With the lion's share of production returning, headlined by these two star seniors, expectations are even higher for '15-16. And it was with an eye on an NCAA Tournament berth that Tulsa head coach Frank Haith met with Woodard and Harrison to discuss ways they could improve for their final campaign.
It was most striking with Harrison. This past spring, Haith approached him about changing his jump shot—no small feat for a player about to enter his final year of college. But Haith wasn't thinking mere tinkering. He had a major overhaul in mind.
Says Haith, "Our conversation with Shaq was, 'Do you want to do this? We'll do it only if you want to, because I think it'll really help you.' When you do that this late in a player's career, it's hard. They've done so many reps a certain way, but Shaq being Shaq, he bought in. He was totally open to getting better."
Haith knew that if he could provide another offensive element to Harrison, already one of the country's best all-around guards (see: heavy helpings of boards, assists and steals), Tulsa, which finished second to SMU in the AAC standings last season, might just nab a title.
So, back to basics. Haith had noticed that as Harrison loaded his shot, he would often bring the ball right in front of his face, sometimes even brushing his nose, before releasing. They worked on fluid motion finished by a high release point.
"We started off one-handed, like, I'm sitting on a little stool chair, hitting one-foot shots, and I did that for about a month, straight," says Harrison. "The farthest I moved out to was barely at the free-throw line. It could get real boring, but the repetition with my new mechanics really helped me."
Good thing that in Woodard, Harrison had a best friend and roommate who was almost always in the gym with him, lending moral support.
"Man," Woodard says, when asked about Harrison's regimen, "Shaq put in so much work. He was in the gym every day, and pretty much every night, making at least 200 shots. It's been paying off in practice now, too. He's knocking down open shots, and also hitting shots off the bounce. It just opens up more ways for him to be effective for us."
Woodard had his own set of specifications from Heath. "The coaches wanted me to be more aggressive, getting to the free-throw line more," says Woodard, who hit 88 threes and 89 free throws last season. "They wanted to see me take on a greater leadership role within the offense."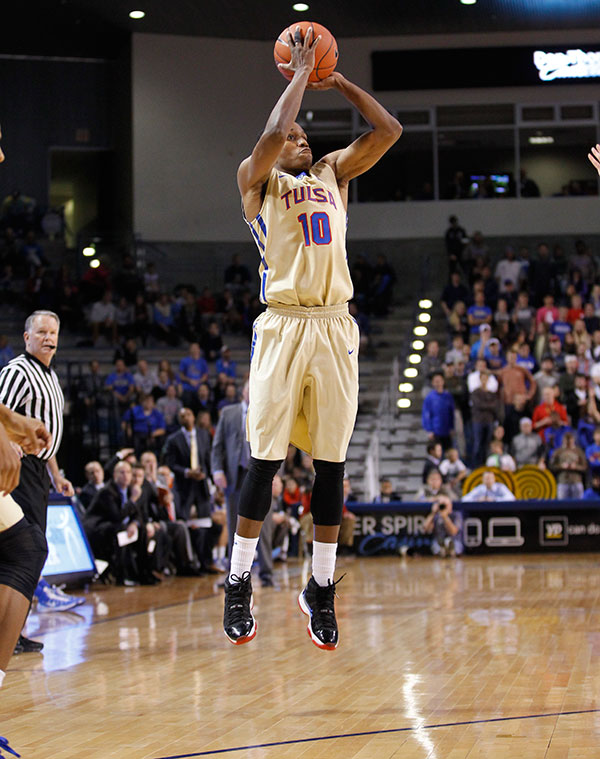 He also kept burnishing his own jumper. Woodard was introduced to a drill that requires 250 made shots, done with a timer. "A really elite time is 20 minutes," says Woodard, "and I pretty much crushed that goal. I'm down to about 16 minutes now. Each time I go in there, I'm trying to beat that time."
"With James's skill, he can shoot the ball, or attack and get to the line," Haith says of Woodard. "Shaq is a defender, a rebounder, a set-up guy, in terms of assists. He's not a true point guard, but he's gotten so good at that part of the game. He's better at seeing those things. Talk to any coaches, and they respect both these guys."
The improvements will make the 6-3 Woodard and the 6-4 Harrison that much more dangerous, heading into a season in which they are two of Tulsa's five returning starters.
"I feel like we feed off of each other," says Harrison. "James is a knock-down shooter, who can also get to the basket. I can get to the basket, and knock down shots too."
"We've got a fire when we play with each other," says Woodard. "We push each other every day, and that's the main thing for us: our drive, and our love for the game. We just love to compete."
"Juice feels like my actual brother," says Harrison. "On the court or off it, it's just Woodard and Harrison, Harrison and Woodard."
Harrison references Woodard's nickname, which he's had since his sophomore year in high school, when he rocked a hi-top fade. "Just like the movie Juice with Tupac," says Woodard. "At first, it was just my teammates calling me that, but then my classmates and teachers caught on, and when I got to Tulsa, it was pretty much the same thing."
"If I could characterize those two guys, it's that they're mentally and physically tough," says Haith. "That gives you a chance. Look at Steph Curry at Davidson, or so many of the great guards in college basketball these past few seasons. If you develop your game, you can compete at a high level. With their work ethic, determination and passion, they've put themselves in that kind of position."
Perhaps more important than the conversations concerning skill, Haith spoke with Woodard and Harrison about leadership. "A big message was about bringing their teammates along," says Haith. "That's what true leaders do. James is a quiet guy, and we want him to be more vocal. Shaq's a fiery dude, but we worked with him on how to get his point across, to communicate effectively. With both these guys, you have to harness their gifts."
Asked for his approach to leadership, Woodard gives the perfect preview for what could be a memorable season. "It's keeping everybody accountable," he says. "This is our final year. Can't take no days off."
Photos courtesy of Tulsa Athletics