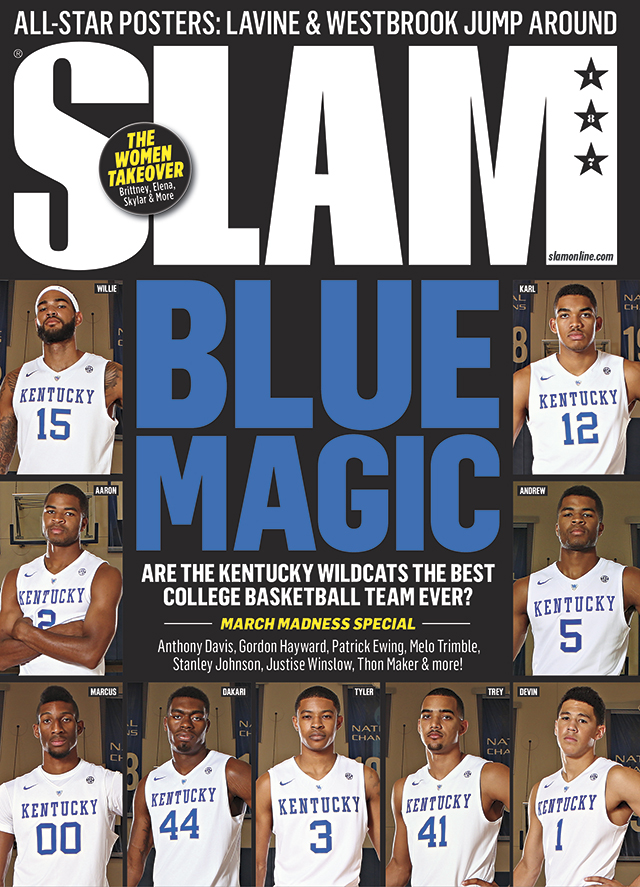 Here we go again. Coach John Calipari and Kentucky have another batch of future NBA stars. Another chance for a chip. And another SLAM cover. Honestly, we didn't plan this year's like we did the classic 2010 joint you see here (or outside Cal's office!). For one thing, that team had John Wall and DeMarcus Cousins on it, both all but guaranteed to be future NBA All-Stars. For another, we started the process early enough to shoot all the guys in the same room at the same time, and get our man Atiba Jefferson to Lexington to do so. Lastly, the buzz around UK that year started earlier and had more intensity—at least in January.
This season's Wildcats are a smidge different. I don't see a Cousins or Wall this year (Karl-Anthony Towns sure looks like a future All-Star, though). The wonderment this year is depth. Until Alex Poythress got hurt, UK was running out 10 high school All-Americans every game. It was unprecedented, but maybe not as sexy as previous rosters (besides Wall/Cousins' crew, the Ant Davis/MKG/Terrence Jones group that we watched win in New Orleans in 2012 was sick, too). And the consensus opinion is that college hoops is down in general this year, with so many young players in the League and control-freak coaches turning too many games into 50-point slugfests. SLAM 187 was always going to be our "March Madness" issue, but at first we were thinking AD on the cover and Kentucky and some other college stuff inside.
What happened? Well, AD got hurt, Kentucky helped us with some great photos of their top nine players, and most of all, the Cats just kept winning. As of this writing, they are 31-0, and unlike other undefeated-late-in-the-season-teams where the coach may have "wanted" a loss to teach his team a lesson, I think Cal is all in on going undefeated. Do that (*knocks on wood* *preemptively curses the SLAM jinx*), and this year's Kentucky cover will stand as a classic.
This is also the time of year when women's hoops gets some shine, with the Women's Tourney tipping off and the WNBA season coming soon. To mark the occasion, we've got a nice 10-page package in this issue with a special, 32-page Women of Nike Basketball edition hitting select events next month. Check for it!
Ben Osborne is the Editor-in-Chief of SLAM. Follow him on Twitter @bosborne17.