Harlem's Mohamed Bamba is a top-5 prospect in the Class of 2017, and though he'll likely sign with a traditional power, he hasn't ruled out Harvard. We'll be following Bamba on the journey through his senior year of high school as he dominates on-court and narrows his college decision. 
What's up #SLAMfam!
I traveled a lot this summer.
In July, it started with Nike Peach Jam in South Carolina. It was my last event in the AAU circuit and probably one of my best ones as far as getting out there and playing well. It felt good being back since I missed the third and fourth EYBL sessions prior to Peach Jam—out with an ankle injury. We made it to the championship game and played the semis and finals on national television, being broadcasted on ESPN. But if I could go back and change anything, I would guard Trae Young and Michael Porter just a little bit harder!
When I saw that my AAU career had ended, I had mixed emotions. Some people feel sad and some are happy that it's over. I felt ecstatic. I couldn't be any happier. AAU is fun but we're also playing a bunch of games in a window-span of a day basically and so it takes a toll on your body. AAU taught me to take care of my body and I learned that when it's time to shut it down, you got to shut it down. Now I'm happy to move on and experience new things.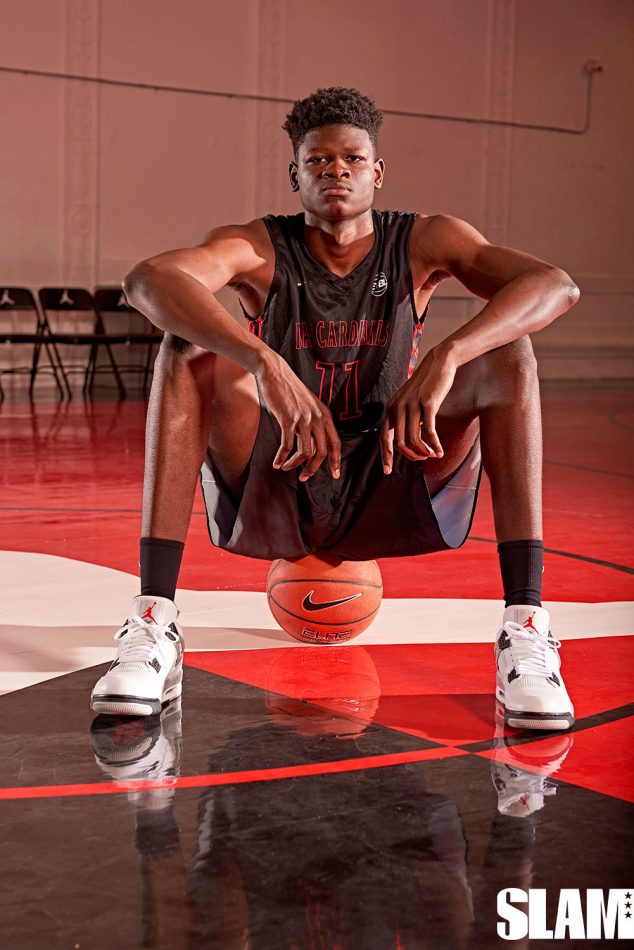 I literally flew back to New York the same night of the Peach Jam championship game. I tried to see my girl that night, who came over from Australia, but I couldn't since I only had like a 4-hour window in New York before I left to Houston for USA U18 FIBA World Championship team training camp.
And keep in mind at training camp the practices were with Young and Porter, who we lost to in the Peach Jam championship game, so you know I was stink-eying them the whole time. We were in Houston for about a week of practice before we went over to Chile for the FIBA games. Our three coaches were Shaka Smart, Kevin Ollie and Mark Turgeon, who are three of my favorite college coaches, just relationship-wise.
Chile was a great experience. We were in a small city called Valdivia. I learned a lot about myself and from being around different people. I played in front of the wildest crowd I'm probably going to ever play in front of. After one of my games, the whole crowd began chanting my name. I don't even know why. They were going crazy. The fans there were very engaging.
So funny side-story: after they were chanting my name, I kind of got gassed a little bit and so I gave away my sneakers to fans.
Inside the sneakers were my specialized soles, which I didn't notice I left them until I got back to the hotel. I went through heaven and earth to get those back. I was able to get a hold of one of the kids through Instagram and so I was able to get that one back a couple of hours later since he was in the same small town. The kid DM'ed me and was like, 'Hey, thanks, I'm a huge supporter of yours!' And I was like, Thank you. However, do you have my sole?!
He came to the hotel, and I was putting together a bag with a bunch of gear to give to him in gratitude for bringing back my sole. When I opened the door, like 30 people rolled into my room. The kid brought his whole community back.
But the other shoe was with a grown man, who I literally saw fight a kid for it, which was pretty funny. So this guy happened to be on the bus with Max Lorca, who's from Chile and plays with my AAU team. So Max sends me a Snapchat of the sneaker. I called and texted him a million times but he was asleep the whole time. When he finally woke up, the guy was off the bus already. So I think FIBA put something out on Twitter and I was able to get my sole back like two weeks later when they mailed it to New York.
I then came back straight to LA for Nike Skills Academy. I talked with Rasheed Wallace a whole lot at the camp and he gave me powerful insights on just the game because he's been through it all.
And then I finally came back home after traveling for like 3 weeks. It was very tiring, however it was something I knew I'm going to have to deal with repeatedly throughout my career.
To finish off the summer, I went to the Bahamas with the Nike EYBL Select Team in August. But before we went to the Bahamas, Nike actually got us a visit to the White House. No, we didn't meet Obama, but just from a historical standpoint, it was still a great experience. We didn't spend too much time there because we had to catch our flight but we saw enough—we went to the basketball courts, the front lawn, and I think one of the treasury rooms.
Overall, summer was fun!
—
Related:
The World Is His: Introducing 2016 SLAM Diarist Mohamed Bamba