In music, one-hit wonders are usually the punch line to a joke or part of Saturday afternoon programing on VH1 Classic. Names such as Kriss-Kross, Lisa Loeb and Vanilla Ice are forever carved into our collective cultural archive. But if you strip away the snarky commentary, one-hit wonders can sonically transport us back to a time and place, somehow defining a moment we didn't even realize was a moment.
College athletics have had a number of one-hit wonders, made up of teams and individuals who shone bright for a moment leaving us with great images and briefly wonderful memories. Think of FSU's 5-7 speedster Otto Petty breaking UNC's press for 40 minutes to get his team into the 1972 Final Four past Dean Smith's heavily favored UNC Tar Heels with George Karl and Bob McAdoo. Think of Jimmy Valvano taking his NC State team from nowhere to running everywhere on the court looking for someone to hug in 1983's most unlikely of championship victories.
Akin to all Division I athletics, there is eloquence to these physical acts, but what makes a one-hit wonder unique is the minimal expectation ascribed to them. These unsung heroes rise to the moment, thrilling through their overachievements. In recent years, no one illustrates this more than University of Michigan's Michael "Spike" Albrecht.
Similar to Iron Butterfly, Spike Albrecht's one-hit lasted nearly 12 minutes. Beginning from the 15:34 mark of the first half during the 2013 NCAA finals game against Louisville when he drained his first three-pointer until 17 points later (with the clock at 3:51) and him scooping a one-handed layup off the glass to draw his bench, the 74,000 in attendance at the Georgia Dome and the 23.4 million watching on TV into a delightful "Groove Is In The Heart" frenzy.
At this point in the season, he was averaging just 1.8 points per game and his high was only 7. Draining four consecutive threes, Spike was virtually perfect save for a missed foul shot and a blocked post up. His final bucket—a hesitation floater—gave Michigan a 33-21 lead. The 12-point edge inevitably got chipped away by the deeper, better Cardinals.
In fact, Spike didn't make another basket, only taking two more attempts in the second half, as the Wolverines' year ended as the second-best team in the nation. But even in defeat, what happened that night was enough to have made even Rudy Rutenberger proud. At the time, it was the most watched men's college basketball finals game in 19 years and Spike's story seemed like an extended director's cut of Hoosiers.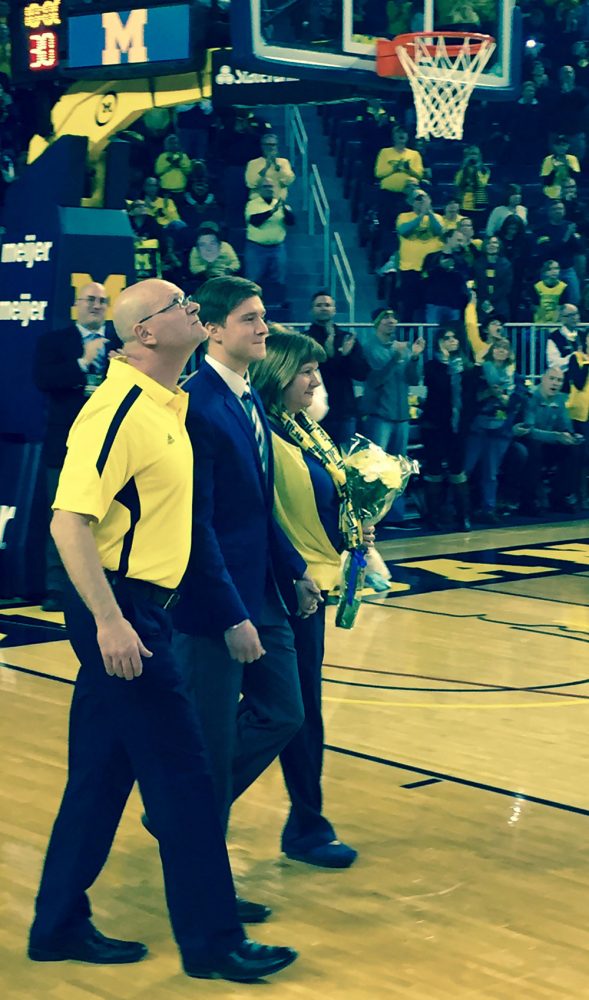 Spike grew up in Crown Point, IN, a tiny hub in the state's lake country. His father Chuck played high school basketball in Gary, IN, and college nearby at Purdue Clemente. Chuck Albrecht is now an insurance salesman and Tammy, his wife and Spike's mother, is a middle school teacher's aid. They have lived in the same home since marriage and raised their three boys and daughter in this small Lake County, IN, city.
The Albrecht boys all played for Crown Point High School but the youngest and smallest, Spike, particularly enjoyed and excelled at basketball. Each time he walked into a gym, oppositional optic assessments led to him being told that he lacked the talent, size, strength and speed to compete at an elite level. Having the personal confidence and gravitas necessary for proving people wrong in the best of ways, Spike never allowed himself to play the diminutive role that others had written for him.
"I think I showed people that you can't ever let someone tell you what you can or can't do," Albrecht says.
Being a one-hit wonder is not a choice nor does it suggest that you stop contributing. (The Cranberries are still on tour.) Two seasons after Spike's amazing spike, Albrecht averaged 32 minutes, 7.5 points and 3.9 assists. But for Spike, nothing ever quite equaled that finals game from a year before.
A progressing genetic hip issue affected his junior year, stole his final season and essentially ended his basketball-playing career this past December. Though rightfully disappointed, Spike characteristically seems more grateful than saddened.
He reflects, "It would have been nice to go out on my own terms, but I really just consider myself blessed for the experience. Parents and kids from literally all over the world come up to me and tell me what I have meant to them. Last month, someone called my name, I turned around and it was Derek Jeter."
Michael 'Spike' Albrecht gave fans of the game his one hit, but what he leaves with for himself is even more impressive: a university degree in General Arts & Sciences, the Travis Conlan Sportsmanship Awards, a National Association of Basketball Coaches (NABC) Allstate Good Works Team Award and a permanent place in Michigan hearts and college basketball history.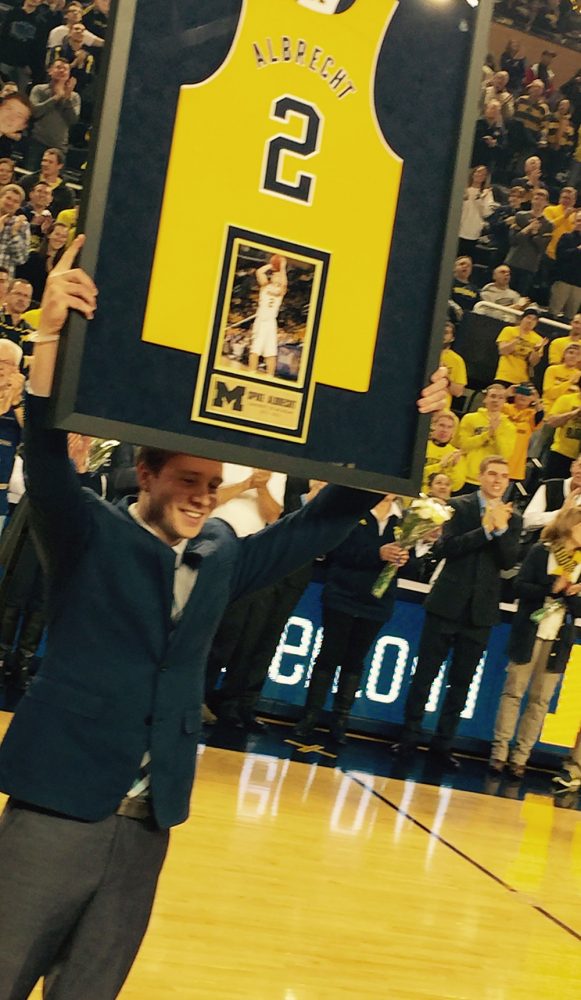 Spending time with Spike just prior to senior night, his hair is darker than when he was a nubile maize freshman. He still looks younger than most college kids yet resonates wisdom of a man who has lived many lives.
This 24-year-old senior co-captain is just beginning to realize his purpose and is not only ready for the world post-college, but also prepared.
He tells me, "I am interested in a career that involves positive communication and connection with people—maybe broadcasting or some type of sales." He has already done internships in both of these competitive fields and whatever path he chooses, his profession will be graced with his energetic work ethic, enormous heart and generous spirit.
Later that night, Michigan comes up short in an exciting battle against Iowa as they next prepare for the Big Ten tournament and a potential NCAA birth. This evening however, like that night inside the Georgia Dome back in April of 2013, if only for brief moment, all eyes are watching Spike Albrecht while his name is called to step mid-court one final time in Crisler Arena as a Michigan Wolverine.
The cheers for this scrappy kid with a physique to equal his name was by far the loudest collective sound of the night; Spike Albrecht, an interloper in the college sports grand stage was again amplifying his ephemeral tune. A song that to many, still lingers.
Photos by Amanda Francis