Agunwa Okolie must have figured he had a clear path to a dunk.
The 6-8, 205-pound Harvard junior was rising to the rim during a January 30 game at Princeton, when suddenly, in a flash of Jordan Xs, Okolie's way became blocked. The Js belonged to Steven Cook, a 6-5, 185-pound Princeton sophomore from the Chicago area who was intent upon denying Okolie a bucket.
Cook met Okolie at the apex of his leap and stuffed him resoundingly.
"The biggest thing about Steve is his athleticism. He can jump out of the gym." —TJ Bray, Princeton guard, 2010-14.
On a subsequent Princeton offensive possession, Cook used his dribble to navigate around Okolie before darting toward the basket for a left-handed layup. Cook's next step would be with his left foot. Okolie was closing fast. Had Cook used the formula taught to every kid at skills camp—leap off your right foot, finish with your left hand—an extra step would have been necessary, giving Okolie enough time to recover and block his shot.
So, Cook read the situation and immediately rose instead off his left foot. Okolie was left lead-footed, able only to watch Cook notch two points. It the kind of scoring savvy The Pistol would've enjoyed.
"I don't know if this came across in your phone conversation, but Steven is off-the-charts smart. He's just a rare talent, and an incredible kid." —Mitch Henderson, Princeton head coach
It is this exact ability of Cook's, to meld antics of the above-the-rim, will-this-be-on-SportsCenter-later register with some serious old-school sleight of hand (and foot) that makes him one of college basketball's most intriguing talents.
"Steven is everything you want a player to be," says Henderson, the Princeton coach. "He has the ability to score, and when he plays, he brings life to the gym. At his best, he's just fun to watch, and very unique."
Henderson, a Princeton grad ('98), who was a member of the last Tigers team to win an NCAA Tournament game (he led that '97-98 team, which finished 27-2, in assists), just finished his fourth season as head coach of his alma mater. Two of them have included Steven Cook. Like Bray, one of the best guards in Ivy League history, Henderson frequently refers not just to Cook's talent, but to his precocious knowledge of the game.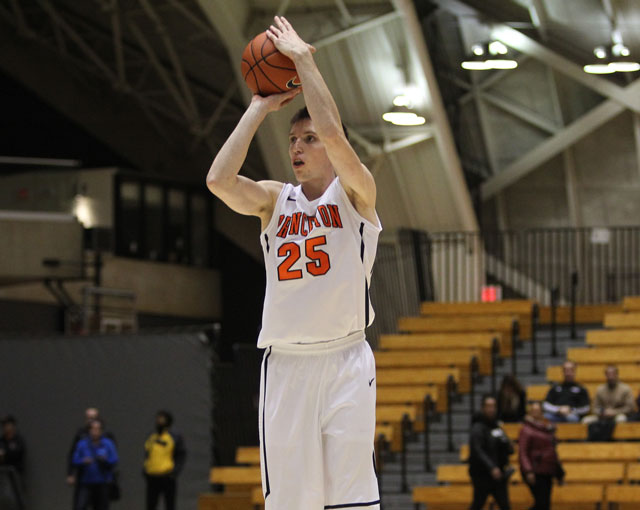 At New Trier (IL) High, Cook ran the Princeton offense—a byproduct of his coaches attending practices at nearby Northwestern, then coached by Bill Carmody, formerly of Princeton. Once Cook got to Princeton, however, he quickly realized how much more he would have to learn. Navigating the offense successfully entails a knowledge of teammates' tendencies, as well as an ability to read situations on the fly.
Cook's bounce helped him weather the transition to the collegiate game. So did his shooting ability. "If you can make shots and play defense, then you can make a big difference for the team," Bray says.
Case(s) in point: in Cook's now-completed sophomore season, he more than tripled his scoring average from his freshman campaign. He hit 39 percent of his threes, and his 45 steals were the second-best conference tally. Cook earned Second-Team Ivy League honors, joining Princeton teammate Spencer Weisz as the only two Ivy sophomores to be named to the all-conference team.
Princeton had started '14-15 slowly, dropping four of their first five, including a difficult three-game set at the Wooden Legacy Tournament over Thanksgiving Day weekend. Cook pointed specifically to a loss to San Diego, when Toreros sharpshooter Johnny Dee finished with a game-high 29 points.
Was this a sign of a very young team, finding its feet? Neither Henderson nor Cook use that argument. "At that point, we hadn't come together," says Cook.
"I didn't talk at all this season about the team being young," says Henderson. "That was a deliberate choice. There were two Final Four teams playing with a lot of freshmen. Now, that's not to compare ourselves to Kentucky or Duke, but you can be really good when you're really young. We play the guys that understand what it takes to win."
Fast-forward three months later, and Princeton once again endured a hot-shooting performance, this time from Columbia junior guard Maodo Lo. Despite Lo's 37 points, bolstered by a staggering 11 three-pointers, the Tigers willed themselves to an 85-83 win. It was one of the most entertaining games in college basketball last season.
It was also a manifestation of a feeling that was spreading among the team. By the end of the season, the Princeton youngsters had droves of experience, and they felt like vets. "We ended up in third place in the league," says Cook. (The Tigers finished 16-14, 9-5 Ivy.) "I don't think a lot of people predicted that."
Next season, Princeton returns its top four scorers. The last time such a strong cast came back, the Tigers went dancing the subsequent campaign ('10-11). Henderson remarks upon the high level of commitment he's seen from the group. The momentum from the end of the season is carrying over into spring workouts.
"That's what this program has been about—a culture, passed down from generation to generation," says Cook. "It's all about putting in work. Doing whatever it takes to win Ivy League championships. This offseason, that's going to be our focus, and our goal."
So Cook will keep rocking those Js, which are a way of honoring a hero—even if he was too young to see Jordan play at the United Center. "He was such a hero," says Cook. "Wearing those shoes—it was a way I could represent my area."
Photos courtesy of Beverly Schaefer