Consistent with his naturally affable and upbeat personality, Terrance Ferguson wanted to use his growing platform as one of the top recruits in America to motivate his social media followers through their own journeys.
But then one day another student-athlete reached out to share a motivational movement with him. Impressed by the content and messaging, the 6-6 shooting guard has been wearing a wristband that reads "Low Life" ever since.
"I used to post quotes from Twitter and things like that just to inspire people," recalls Ferguson, a great follow @the2kferguson. "I just want to inspire others and so I just wanted to start off with positive messages every day. And then one day he just hit me up on Twitter saying join this movement. He told me about it and I was like, Oh, that's a great movement. I can really reach out to individuals who worry too much and weight themselves down over little things."
The movement, which was started by West Virginia University wide receiver KJ Myers, is meant to turn the negative connotation of the term into a motivational acronym for those going through some low points in life. "Lack of Worries—Living In Fearless Effort," is the message behind the slogan.
"Now I wear it everyday, 24/7–different colors," adds Ferguson. "I started wearing pink now because my grandmother died of cancer. But it's always Lack of Worries."
A five-star recruit in the Class of 2016, Ferguson is a versatile shooting guard highly regarded for his freakish athleticism and the subject of many YouTube videos. But that doesn't mean he relies solely on his hops and explosiveness for offense, though. As witnessed at the 2016 Nike Hoop Summit, a prestigious invite-only prep all-star game that pits some of the top American seniors against some of the top international prospects, Ferguson can shoot it from deep as well. At the annual showcase, where reportedly 145 NBA scouts were credentialed, he sank an event-record seven three-pointers (including six treys in a four-minute span) on his way to earning MVP honors with a game-high of 21 points.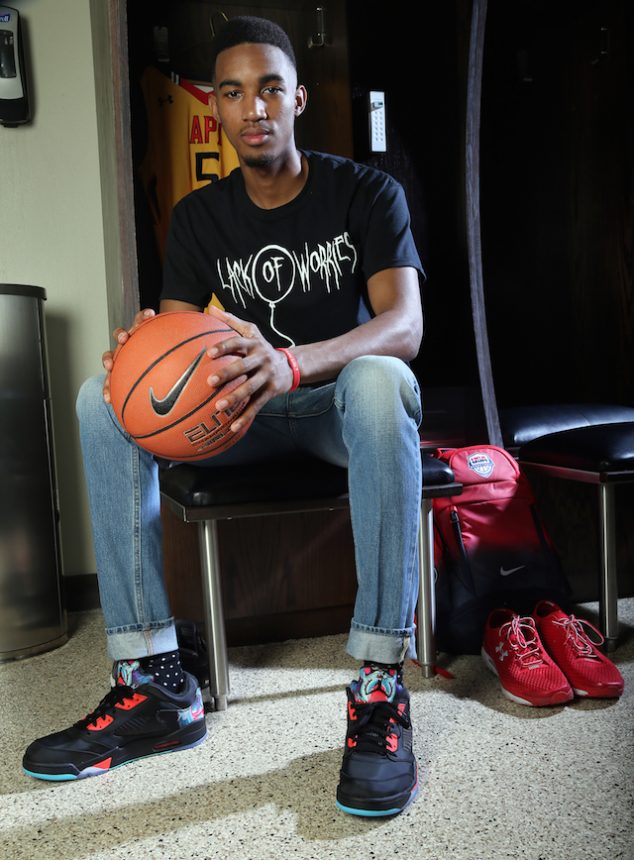 Being placed against and around the best is a challenge Ferguson has asked for since the beginning of his high school career. Literally. "My freshman year, I was homeschooled at first," says Ferguson. "One day, I just told my mom that I didn't want to be homeschooled anymore. I wanted to compete against the best and play against the best and that's the reason I went to Prime Prep Academy."
At Prime Prep, a Dallas-based charter school that closed in '15, he would share the backcourt with Nuggets point guard Emmanuel Mudiay for two seasons. The experience helped mold him into the top-15 national recruit he is today.
"It allowed me to travel around and show my talent out there, so that was probably the best decision I made,'' says Ferguson, who attended Advanced Prep International in the same city this past season. "Guarding Mudiay in practice kept making me better. He taught me a lot on the court and off the court. I still cherish that a lot."
Ferguson committed to the Arizona Wildcats just four days after his record-breaking Hoop Summit performance—at U of A, he would have helped make up one of the deepest backcourts in college basketball—but is now expected to follow in Mudiay's footsteps and head the overseas route. If we know T-Ferg, he's not worried.
—
Portraits by Layne Murdoch