Not even 24 hours after having played his final official high school basketball game, Edrice Adebayo already found himself inside a college arena. On this Sunday evening, an ACC battle between Wake Forest and Boston College brought him to Winston Salem, NC. Last night's prep career-ending game was a 14-point loss in the Class 3A state championship game. Nonetheless, the 6-10 high-flyer was ready to turn the page. After all, where he's headed next will require a good amount of that.
"I wasn't really too hung up about it," says Adebayo. "It's weird because I don't have another year to say, Yo, we can get it next year. But now I just gotta look ahead."
Signed to join the Kentucky Wildcats next season, Adebayo is on deck in a long list of elite five-star bigs who ultimately decided to take their talents to Lexington in recent years, including DeMarcus Cousins, Anthony Davis and Karl Anthony-Towns.
"I'm excited so I always think about it," says Adebayo of his looming journey to the Bluegrass State. "Coach [John] Calipari said I better ball when I get there, and that has always stuck with me. It just has motivated me to see that Coach Cal has trust in me to do the same things the other players did. You really have to be motivated when you get there."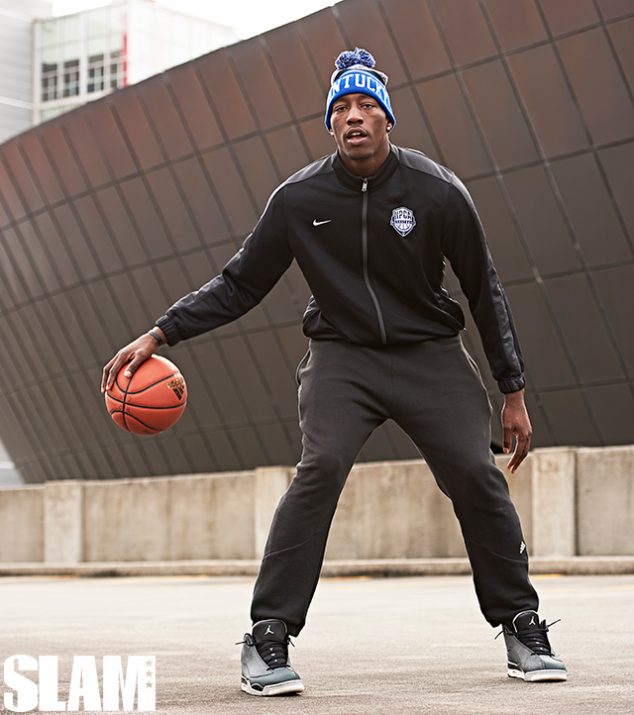 Affectionately called "Bam," a nickname he received for his notable strength as a toddler and in reference to the Flintstones character, the Washington, NC, native ended his high school career at High Point Christian Academy this year after starring at Northside High in Pinetown, NC, his first three years. The two-hour relocation to High Point was strictly business.
"I left my mom, and it was just my mom and I in the house, so it was hard to leave her, but other than that it was a smooth transition," says the future Wildcat, who adds he still traveled back home on weekends. "I just felt like I had to transfer to be better prepared for college and to play against better competition."
Bam's rise to All-American status began on an outdoor, concrete court on the side of highway US 264 on the 7th Street Playground in Washington. In an era when the comforts of an expanded AAU circuit can provide kids with an array of facility options at such a young age, Adebayo's early experience was a whole lot more modest.
"Bam trained outside before he even got in the gym," says Eric Peartree, his first AAU coach back in fifth grade and longtime mentor, who held workouts for his Delta City Ballers' youth program on the aforementioned outdoor blacktop. "He never really had access to a gym. He developed on the concrete. You don't see too many kids practice like that nowadays. Then when we had the opportunity to go to a gym, it was like gold."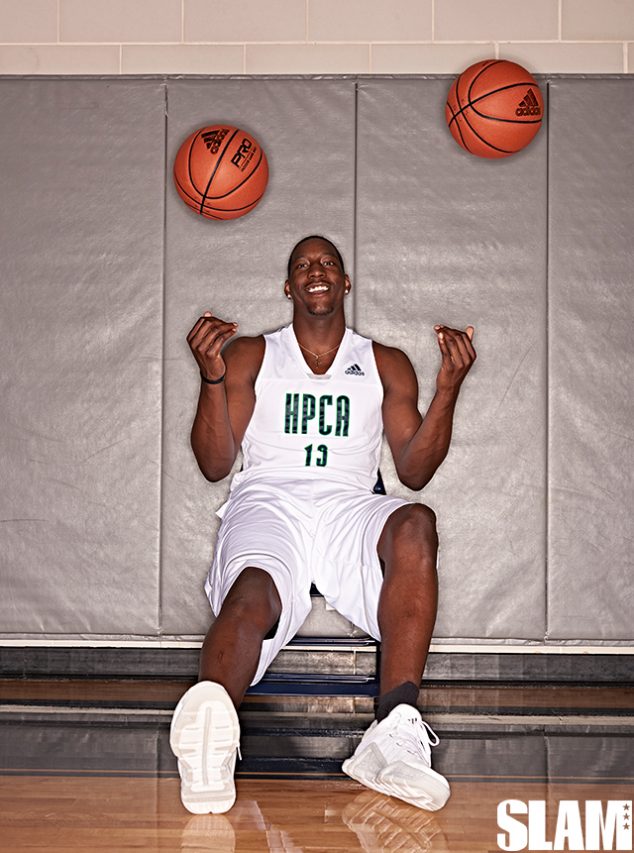 Known for his power and athleticism, Bam's above-the-rim action has been second to none at the prep level. Also highly regarded for his work on the glass and his defensive presence, he is set to graduate as one of the top power forwards the Class of 2016 has to offer. Adebayo, who averaged 19.4 points, 13.2 rebounds, 3.4 blocks and 2.0 steals per game this past season, led the Cougars to a 24-6 record.
"When I saw that people started noticing me, it just turned a switch in my head where I was like, I can provide for my family and my mom with just a basketball," he says of his motivation. "And from then on, I had a passion for it."
—
Franklyn Calle is an Assistant Editor at SLAM. Follow him on Twitter @FrankieC7.
Portraits by Chris Razyok